6 reasons why Sigourney Weaver is our ultimate icon – as she turns 71
Sigourney Weaver first cropped up on our radar when she played Ellen Ripley in the 1979 Ridley Scott film Alien – portraying a brave, intelligent and badass woman at the centre of a horror movie.
Since then, she's been one of our ultimate Hollywood heroines, inspiring us both on and off screen.
As she turns 71 today, here are a handful of reasons why we're ever so slightly obsessed with her…
1. The excellent reason she changed her name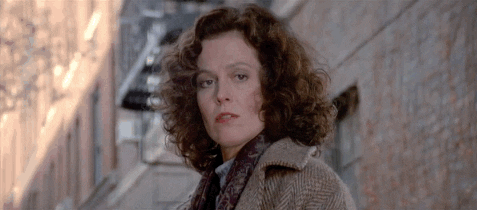 Not too many people know the Alien actress was actually born Susan Weaver in New York in 1949. However, in 1963, she was so inspired by the work of F. Scott Fitzgerald that she began using the name 'Sigourney', taking it from the Great Gatsby character Mrs. Sigourney Howard.
2. She's a major environmentalist
After making the 1988 film Gorillas In The Mist, which tells the true story of naturist Dian Fossey and her work in Rwanda with mountain gorillas, Weaver became a tireless champion for the species' protection.
In fact, she has been honorary chair of the Dian Fossey Gorilla Fund for the past 30 years. She also made headlines in 2006 when she spoke passionately about the widespread threat to ocean habitats posed by deep-sea trawling at the start of a United Nations General Assembly policy deliberation.
3. She has always been a style icon
At over six feet tall, Sigourney Weaver could wear practically anything and look fantastic, but in the Seventies and Eighties, her style was flawless. From red carpets to official engagements, Weaver wasn't afraid to experiment with the trends of the day, like sheer fabrics, shoulder pads and bold colours.
What's great about the Alien actress though is her style just gets better with age. Now at 71, she knows how to dress for the decade, looking incredibly chic in tailored trouser suits, Oxford shirts and form-fitting dresses.
4. She's the ultimate champion of natural beauty
While other stars made the mistake of experimenting with the dodgy trends of decades past (think perms, electric blue eyeshadow or lashings of lip liner), Weaver has stuck to the same basic beauty formula.
She kept her face fresh, adding just a touch of mascara and a swipe of lipstick in a natural shade. We also love that she's been the biggest cheerleader for fuss-free hair, often letting her natural curls go free on the red carpet.
5. She has racked up some pretty impressive career highs
There's no doubt Weaver changed the landscape for women in film. She's been nominated three times for an Academy Award, three Baftas (she won one) and seven Golden Globes (with two wins). She's also racked up Tony and Drama Desk awards nominations for her work on the stage.
Notably, Weaver broke the Hollywood mould in Alien by portraying a strong, intelligent woman as the protagonist in a horror movie. In fact, Sigourney is one of the few actresses to have been nominated for an Oscar for a performance in the horror genre.
6. She still looks incredible at 71
We're not sure if Weaver is secretly a vampire, but she somehow makes 71 look like 41. Seriously, the woman does not age. We'd love to know her beauty  and lifestyle tips because not only does she look great, but she's still working too – last year, Weaver confirmed she'll returning to her iconic role as Dana Barrett in Ghostbusters: Afterlife.
Here's hoping she'll dish all her anti-ageing secrets on her Instagram sometime soon.
The following two tabs change content below.
The Press Association
News from the Press Association - the national news agency for the UK and Ireland
Latest posts by The Press Association (see all)
Leave a Comment!
Loading Comments