8 American dishes to celebrate the Fourth of July
Happy Independence Day! The Fourth of July is one of the biggest holidays on the US calendar, and many households will be serving up a range of all-American dishes to celebrate the day.
When these kinds of days come around it's always worthwhile remembering the history behind them. For many Americans, it's not a day of independence – but rather a reminder of the people who colonised their land.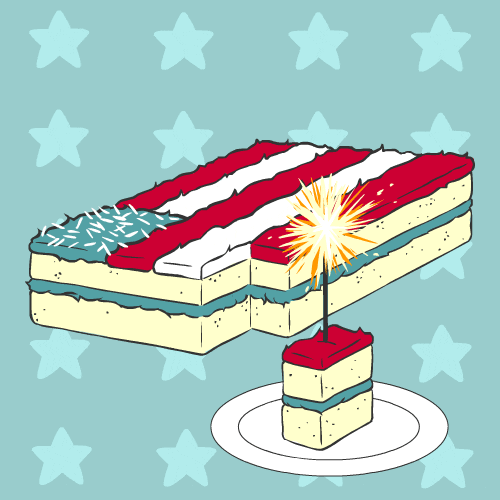 Even though this history shouldn't be ignored, many people use the holiday to instead spend quality time with friends and family. It can be seen as more of an opportunity to celebrate the Fourth of July and a day off work, rather than Independence Day itself.
Food is arguably at the centre of any reputable celebration, so here are some classic American dishes you can try yourself to really get into the festive spirit.
1. American flag cake
What better way to celebrate the flag than with an actual flag made out of cake? Luckily the star-spangled banner isn't too hard to replicate with the help of icing, strawberries and blueberries.
This probably isn't one for perfectionists, unless you'd enjoy spending hours emblazoning 50 stars onto your cake. You won't need a specific recipe for this – just whip up your favourite sponge and get decorating.
2. Honey bourbon BBQ pork chops
No Fourth of July party is complete without a BBQ. If you're feeling particularly low maintenance, you can slap basically anything you want onto the grill and you're good to go. However, if you're feeling a bit more fancy, put in a bit more effort with these honey bourbon BBQ pork chops.
3. Coleslaw
Coleslaw is the perfect accompaniment to ribs. It's crunchy, zesty and refreshing. American food isn't exactly known for being the healthiest, and coleslaw is no exception – even though it's packed full of veg, this is off-set by a whole lot of mayonnaise (although you can substitute the mayo for yoghurt).
4. Mini burger sliders
Most Independence Day parties are pretty casual BBQ affairs, and you want the food to match this vibe. That's why sliders are perfect – mini burgers that are in the party spirit and count as finger food. It also helps that they're super cute and highly Instagrammable – see for yourself with this recipe.
5. Potato salad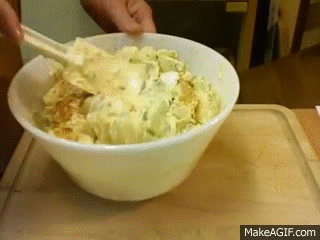 It's basically law that any American BBQ has to include a big old serving of potato salad. Much like coleslaw, this isn't the most virtuous dish (and features that usual suspect, mayonnaise) – but hey, this is a public holiday, you can eat your greens the rest of the week.
Few chefs are as iconically American as Martha Stewart, so you should probably give her all-American potato salad a go.
6. Corn on the cob
If you're already firing up your BBQ, it would be rude not to chuck on some corn. Chargrill, add butter, salt, pepper and paprika, and you're good to go.
7. S'mores
This is more of an American camp delicacy than a specifically Fourth of July dish, but still worth making. They're easily rustled up on the BBQ once you're done with the savoury stuff, and just involves three ingredients: Biscuits, chocolate and marshmallows. Just sandwich the chocolate and marshmallows between the biscuits and you've got a deliciously sweet and gooey pudding.
8. Apple pie
Ever heard the phrase: "As American as apple pie"? It's long been a symbol of the USA, and is a must at any Independence Day celebration. Try out this recipe for a particularly wholesome way to end your cook-off.
The following two tabs change content below.
The Press Association
News from the Press Association - the national news agency for the UK and Ireland
Latest posts by The Press Association (see all)
Leave a Comment!
Community Terms & Conditions
Content standards
These content standards apply to any and all material which you contribute to our site (contributions), and to any interactive services associated with it.
You must comply with the spirit of the following standards as well as the letter. The standards apply to each part of any contribution as well as to its whole.
Contributions must:
be accurate (where they state facts); be genuinely held (where they state opinions); and comply with applicable law in the UK and in any country from which they are posted.
Contributions must not:
contain any material which is defamatory of any person; or contain any material which is obscene, offensive, hateful or inflammatory; or promote sexually explicit material; or promote violence; promote discrimination based on race, sex, religion, nationality, disability, sexual orientation or age; or infringe any copyright, database right or trade mark of any other person; or be likely to deceive any person; or be made in breach of any legal duty owed to a third party, such as a contractual duty or a duty of confidence; or promote any illegal activity; or be threatening, abuse or invade another's privacy, or cause annoyance, inconvenience or needless anxiety; or be likely to harass, upset, embarrass, alarm or annoy any other person; or be used to impersonate any person, or to misrepresent your identity or affiliation with any person; or give the impression that they emanate from us, if this is not the case; or advocate, promote or assist any unlawful act such as (by way of example only) copyright infringement or computer misuse.
Nurturing a safe environment
Our Silversurfers community is designed to foster friendships, based on trust, honesty, integrity and loyalty and is underpinned by these values.
We don't tolerate swearing, and reserve the right to remove any posts which we feel may offend others... let's keep it friendly!