As Aileen heads our way, here's all you need to know about how storms are named
The next one's going to be called Brian
Storm Aileen is the first named storm of the season, set to bring winds of up 75-miles-per-hour to parts of the UK and Ireland this week.
A yellow weather warning for rain has been issued for parts of Northern Ireland, northern England and southern Scotland, which warns of 30-40 mm (1.2 to 1.6 inches) of rain falling within six to nine hours.
If that's got you thinking about why this storm is called Aileen and how storms are named, here's all you need to know:
Why do we name storms?
The Met Office and Met Eireann launched the scheme in 2015 to name storms as part of efforts to raise awareness of extreme weather events in the UK and Ireland and prompt people to take action to prevent harm to themselves and their property.
How are the names chosen?
The public make suggestions to the Met Office, which are then combined with names from Met Eireann, and a full list is announced at the beginning of the storm season in early autumn.
What is the format for the list of names?
The list of monikers is drawn up in alphabetical order, alternating between male and female names.
Storms are not named using the letters Q, U, X, Y or Z in line with international naming conventions, and names associated with storms which have caused a loss of life elsewhere in the world are not used.
When does bad weather get a name?
A storm is named when it is deemed to have the potential to cause a medium or high impact on the UK and/or Ireland, so weather systems where an amber or red warning is expected to be issued by Met Eireann and/or the Met Office will get a name.
So after Aileen, what's coming next?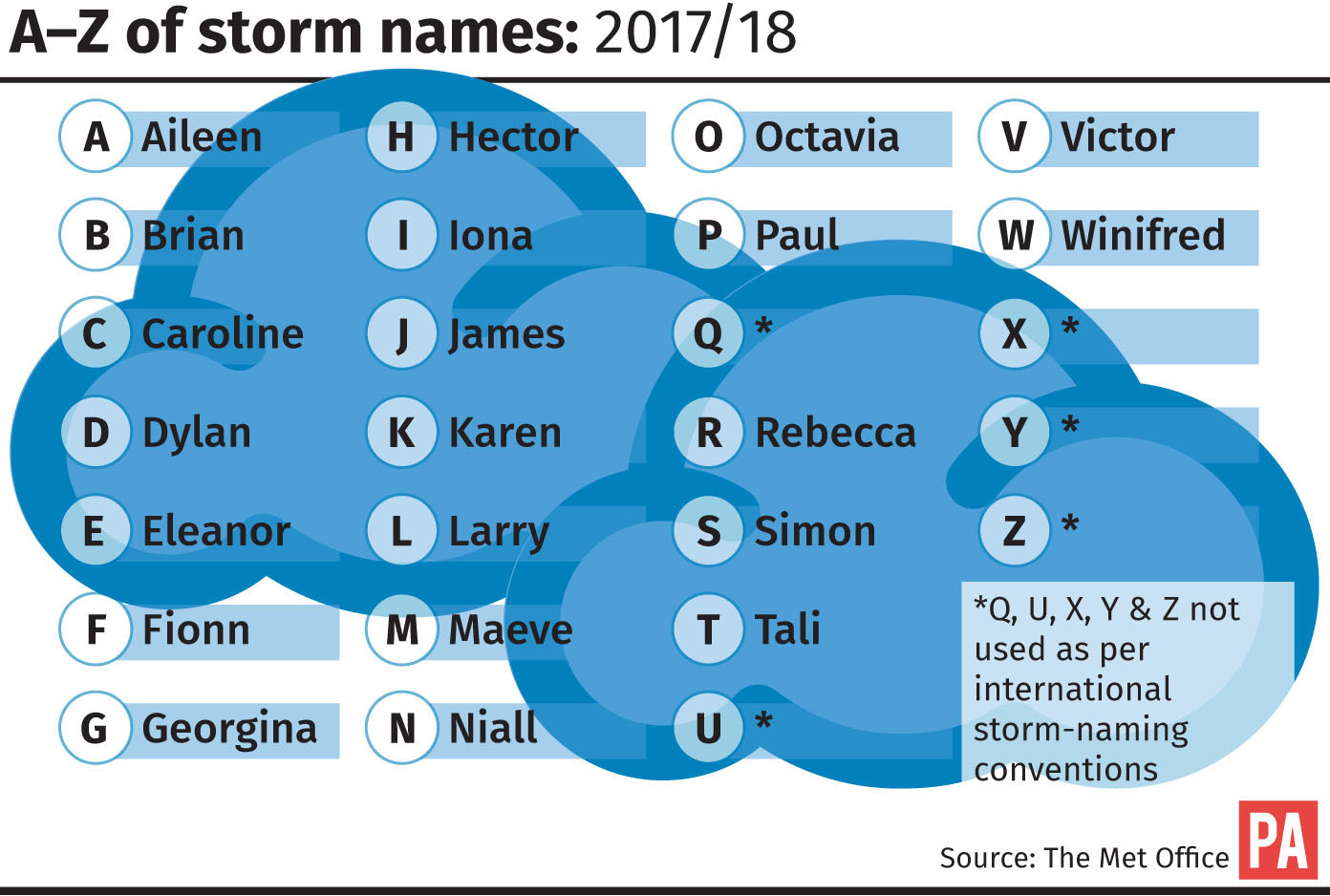 The full list for this year's storms is: Aileen, Brian, Caroline, Dylan, Eleanor, Fionn, Georgina, Hector, Iona, James, Karen, Larry, Maeve, Niall, Octavia, Paul, Rebecca, Simon, Tali, Victor, Winifred.
Are we likely to see Storm Winifred?
Forecasters say it is too early to know how stormy this winter will be, but for comparison, the 2016-17 season saw five storms named, from Angus in late November to Ewan at the end of February.
In the 2015-16 season, 11 storms were named, from Abigail in mid-November to Katie at the end of March.
Does naming storms have an impact?
The Met Office said research conducted after named storms show increases in awareness and action, with 89% of people polled after last year's Storm Doris aware of the severe weather.
Most (94%) of those aware of the storm had found the severe weather warnings useful, and 82% of those who had taken action felt they were right to do so, the survey found.
The following two tabs change content below.
The Press Association
News from the Press Association - the national news agency for the UK and Ireland
Latest posts by The Press Association (see all)
Leave a Comment!
Community Terms & Conditions
Content standards
These content standards apply to any and all material which you contribute to our site (contributions), and to any interactive services associated with it.
You must comply with the spirit of the following standards as well as the letter. The standards apply to each part of any contribution as well as to its whole.
Contributions must:
be accurate (where they state facts); be genuinely held (where they state opinions); and comply with applicable law in the UK and in any country from which they are posted.
Contributions must not:
contain any material which is defamatory of any person; or contain any material which is obscene, offensive, hateful or inflammatory; or promote sexually explicit material; or promote violence; promote discrimination based on race, sex, religion, nationality, disability, sexual orientation or age; or infringe any copyright, database right or trade mark of any other person; or be likely to deceive any person; or be made in breach of any legal duty owed to a third party, such as a contractual duty or a duty of confidence; or promote any illegal activity; or be threatening, abuse or invade another's privacy, or cause annoyance, inconvenience or needless anxiety; or be likely to harass, upset, embarrass, alarm or annoy any other person; or be used to impersonate any person, or to misrepresent your identity or affiliation with any person; or give the impression that they emanate from us, if this is not the case; or advocate, promote or assist any unlawful act such as (by way of example only) copyright infringement or computer misuse.
Nurturing a safe environment
Our Silversurfers community is designed to foster friendships, based on trust, honesty, integrity and loyalty and is underpinned by these values.
We don't tolerate swearing, and reserve the right to remove any posts which we feel may offend others... let's keep it friendly!