The best (and worst) European countries to travel to if you're vegetarian
The numbers of vegetarians has risen dramatically over the past ten years – nine million Brits live meat-free lives, according to new research.
But how easy is it to find good vegetarian food when you travel? The Eco Experts study has revealed that the best country in Europe for veggies is actually Switzerland.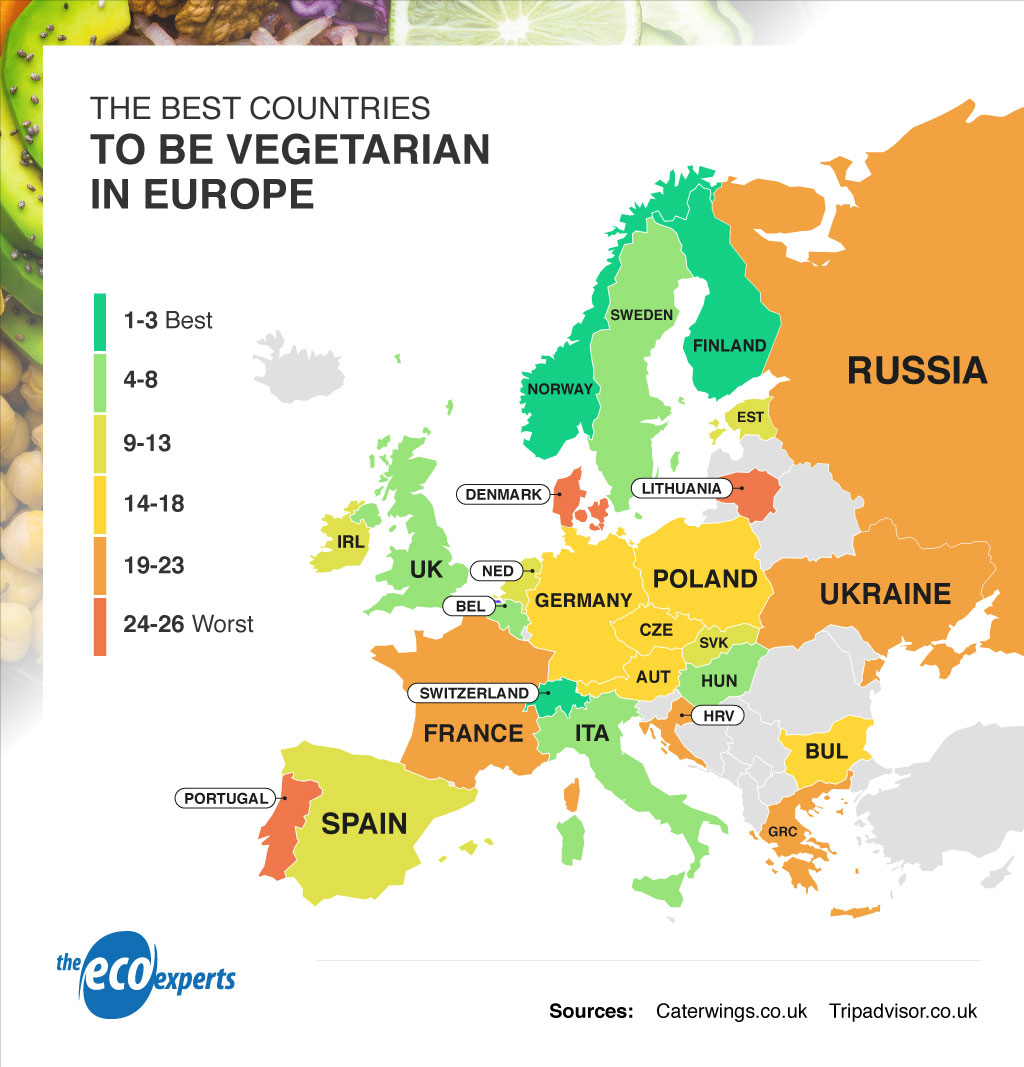 The research looked at 26 countries, comparing the density of vegetarian-friendly restaurants, annual meat consumption and the price of meat (to show the cost-saving of not eating it).
Here are the best spots in Europe for a plant-based break…
Switzerland
This landlocked country has the highest number of veggie-friendly restaurants in Europe, with almost 166 per 100,000 people, and the Swiss population come in 8th for the lowest amount of meat consumed each year, at 74.7kg per person.
There's no better country in the world for sharing a fondue with friends, traditionally made with Swiss cheeses Gruyère and Emmental, with wine and garlic, and a growing vegan and veggie food scene means there are loads of restaurants to choose from.
Try: Elle 'n' Belle, Limmatstrasse 118, 8005 Zürich, Switzerland (vegan).
Finland
If Switzerland doesn't take your fancy,  head to some of the Nordic countries; Finland, Norway and Sweden take second, third and fourth places in the veggie table. You might have thought Finnish cuisine is all about smoked fish and meatballs but many traditional dishes are meat-free. Karelian pie is made out of rye dough and filled with rice pudding or mashed potatoes, there's a garlic soup called valkosipulikeitto and an amazing 'bread cheese' called leipäjuusto, traditionally eaten with cloudberry jam.
Try: OmNam, Annankatu 29 B, 00100 Helsinki, Finland (vegan).
Norway
Norway's top three place might be surprising considering local delicacies include reindeer stew and sheep's head. Traditional Norwegian food isn't really aimed at veggies, but the study found it to be very vegetarian-friendly overall.
Try: Nordvegan, Kristian IVs gate 15B, 0164 Oslo, Norway (vegan).

And the worst are…
Portugal
The country responsible for francesinha (a belly-busting sandwich made with many different types of meat and cheese) is rock bottom for being vegetarian-friendly. The Portuguese love their meat and according to the study, they have the lowest number of vegetarian restaurants in Europe, with just over 40 meat-free eateries to every 100,000 people. So plan meals carefully…
Try: Jardim dos Sentidos, R. da Mãe de Água 3, 1250-154 Lisbon, Portugal.
Denmark
With three Nordic countries in the top five, it's a surprise Denmark fared so badly – although the country is a major exporter of pork and the national diet reflects that. There may be a comparatively low number of vegetarian restaurants, but the traditional Danish smørebrød (open-faced sandwiches on dark rye bread) comes in veggie options too like egg, avocado or potato.
Try: Souls, Melchiors Pl. 3, 2100 København Ø, Denmark (vegan).
Lithuania
Third from the bottom was Lithuania, known for hearty dishes like pork-filled dumplings and soups made with meat stock. But many local favourites are based on root vegetables; chilled borscht is a beetroot and kefir soup served with hard boiled eggs, and you'll find potato pancakes everywhere.
Try: Gyvas Baras, Trakų g. 11, Vilnius 01132, Lithuania (vegan).
To find vegetarian and vegan restaurants when you travel visit The Happy Cow.
The following two tabs change content below.
The Press Association
News from the Press Association - the national news agency for the UK and Ireland
Latest posts by The Press Association (see all)
Leave a Comment!
Community Terms & Conditions
Content standards
These content standards apply to any and all material which you contribute to our site (contributions), and to any interactive services associated with it.
You must comply with the spirit of the following standards as well as the letter. The standards apply to each part of any contribution as well as to its whole.
Contributions must:
be accurate (where they state facts); be genuinely held (where they state opinions); and comply with applicable law in the UK and in any country from which they are posted.
Contributions must not:
contain any material which is defamatory of any person; or contain any material which is obscene, offensive, hateful or inflammatory; or promote sexually explicit material; or promote violence; promote discrimination based on race, sex, religion, nationality, disability, sexual orientation or age; or infringe any copyright, database right or trade mark of any other person; or be likely to deceive any person; or be made in breach of any legal duty owed to a third party, such as a contractual duty or a duty of confidence; or promote any illegal activity; or be threatening, abuse or invade another's privacy, or cause annoyance, inconvenience or needless anxiety; or be likely to harass, upset, embarrass, alarm or annoy any other person; or be used to impersonate any person, or to misrepresent your identity or affiliation with any person; or give the impression that they emanate from us, if this is not the case; or advocate, promote or assist any unlawful act such as (by way of example only) copyright infringement or computer misuse.
Nurturing a safe environment
Our Silversurfers community is designed to foster friendships, based on trust, honesty, integrity and loyalty and is underpinned by these values.
We don't tolerate swearing, and reserve the right to remove any posts which we feel may offend others... let's keep it friendly!