Endangered Species Day: 5 critically endangered animals you'd really miss if they were gone
These iconic creatures could soon disappear.
You might think extinction only happens to obscure animals – a rare mollusc here, an unpronounceable tree frog there – but fame is no defence against habitat loss, poaching, and predation.
In 2019 alone, we lost the Sumatran rhino, and the Chinese paddlefish among others, and more will follow before 2020 is through.
It's Endangered Species Day, and while all extinctions matter, these critically endangered animals would leave very noticeable holes…
1. Amur Leopard
Found in a remote corner of the Russian far east, not far from the North Korean border, the Amur leopard is used to surviving in difficult circumstances, but poaching and a dwindling food supply have ground the wild population down to double digits.
Cute but definitely not cuddly, these fleet-footed predators have long been hunted for their gorgeous spotted fur, and their habitat is now patrolled by armed anti-poaching brigades. Today only 84 confirmed individuals remain – actually something of a recovery from a nadir of around 30 in 2007.
2. Orangutan
So iconic they're sometimes used (incorrectly) as a byword for monkeys, these apes are solitary, omnivorous, and disconcertingly human. Found in the jungles of South East Asia, orangutans have co-starred with David Attenborough more than once, and invariably charm viewers with their strange, flattened faces, complex social structures, and booming, throaty call.
There are three species of orangutan. Sumatran orangutan numbers around 14,000, the Bornean orangutan around 100,000, and the recently discovered Tapanuli orangutan, no more than 800 (almost extinct).
3. Hawksbill Turtle
Six of the seven species of sea turtle are listed as threatened, but the Hawksbill bears the unfortunate honour of being one of the most threatened of the lot. Caught as by-catch, snared with fishhooks, choked by pollution, stripped of their litters, uprooted by coral bleaching, and hunted for their shimmering shells, every human horror imaginable has been visited on these marine reptiles, and conservationists have spent decades trying to revive the ailing population.
In theory, the turtle has a global distribution, but the Hawksbill has been on the IUCN Red List since 1982, and scientists estimate that numbers have plummeted by as much as 80% during the last century.
4. Sumatran Tiger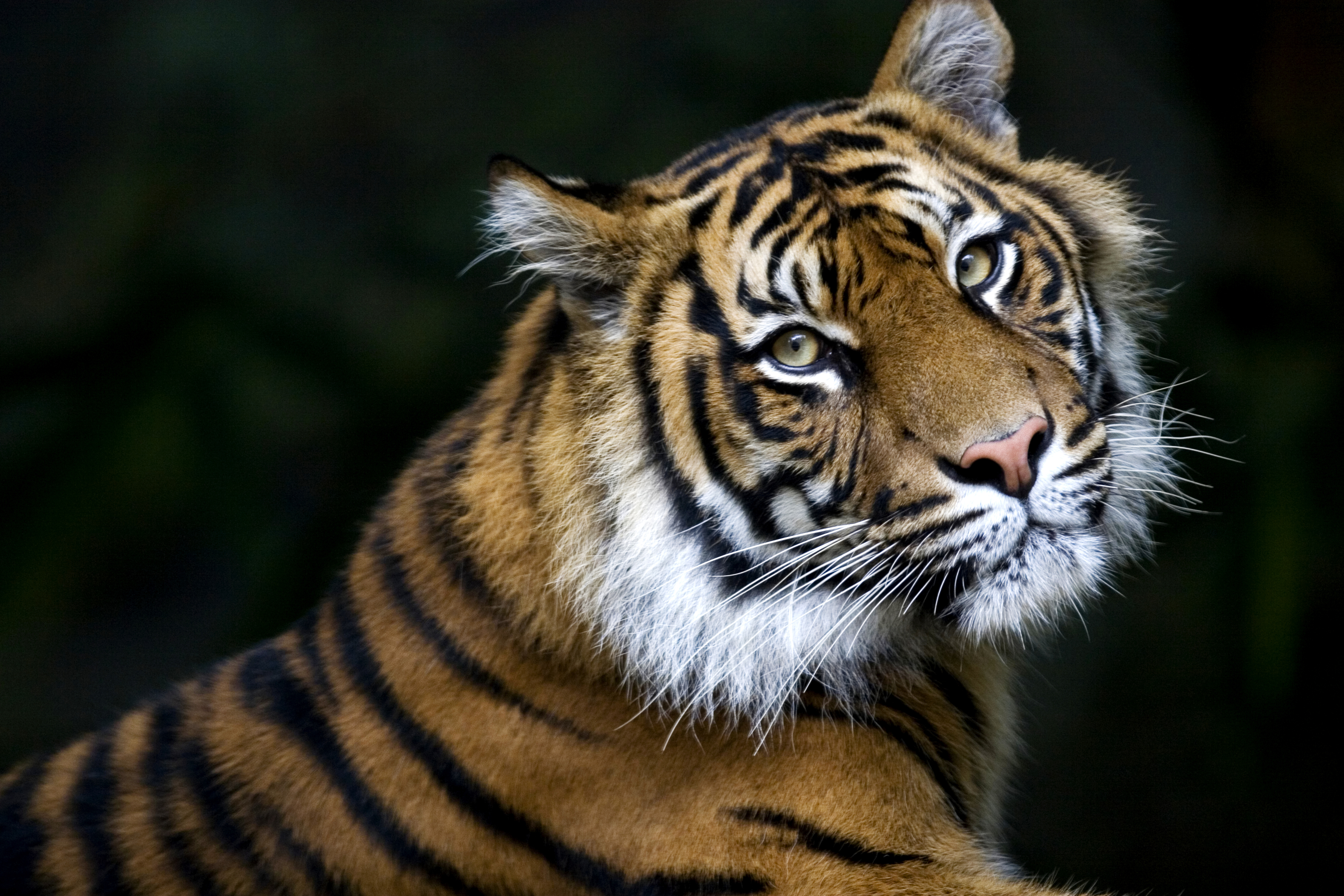 The Siberian tiger has long been a poster child for struggling species, but the equatorial islands of Indonesia host a tiger of even greater concern. The smallest surviving subspecies, the Sumatran tiger is confined to ever-diminishing pockets of Sumatran jungle, and feeds on mid-tier mammals like monkeys, muntjac deer, and tapir.
The culprits are the same as always – habitat loss, poaching – and despite a Herculean conservation effort, fewer than 400 wild tigers remain. There used to be three species of tiger stalking Indonesia's forests. The Javan tiger and Bali tiger are both already extinct.
5. Vaquita
Probably the world's most endangered mammal, the entire wild population of vaquita is thought to consist of 10 individuals – the same number that were killed in gillnets between 2016 and 2019. A small porpoise endemic to Mexico's Gulf of California, the vaquita was only discovered in 1958, and just a few decades later its several-million-year-ancestry on Earth looks likely to come to an end.
In 2012, there were around 200 wild vaquita, by 2014 that number had halved, and in 2019 there were fewer than 20. By 2021, there may be none at all.
The following two tabs change content below.
The Press Association
News from the Press Association - the national news agency for the UK and Ireland
Latest posts by The Press Association (see all)
Leave a Comment!
Community Terms & Conditions
Content standards
These content standards apply to any and all material which you contribute to our site (contributions), and to any interactive services associated with it.
You must comply with the spirit of the following standards as well as the letter. The standards apply to each part of any contribution as well as to its whole.
Contributions must:
be accurate (where they state facts); be genuinely held (where they state opinions); and comply with applicable law in the UK and in any country from which they are posted.
Contributions must not:
contain any material which is defamatory of any person; or contain any material which is obscene, offensive, hateful or inflammatory; or promote sexually explicit material; or promote violence; promote discrimination based on race, sex, religion, nationality, disability, sexual orientation or age; or infringe any copyright, database right or trade mark of any other person; or be likely to deceive any person; or be made in breach of any legal duty owed to a third party, such as a contractual duty or a duty of confidence; or promote any illegal activity; or be threatening, abuse or invade another's privacy, or cause annoyance, inconvenience or needless anxiety; or be likely to harass, upset, embarrass, alarm or annoy any other person; or be used to impersonate any person, or to misrepresent your identity or affiliation with any person; or give the impression that they emanate from us, if this is not the case; or advocate, promote or assist any unlawful act such as (by way of example only) copyright infringement or computer misuse.
Nurturing a safe environment
Our Silversurfers community is designed to foster friendships, based on trust, honesty, integrity and loyalty and is underpinned by these values.
We don't tolerate swearing, and reserve the right to remove any posts which we feel may offend others... let's keep it friendly!