Have you seen this incredible Cafe Wall optical illusion?
Are the lines sloped? No, they are not.
The internet loves a good old mind-boggling optical illusion and the latest one to cause a stir on social media is an artist's take on the famous Cafe Wall illusion.
The artwork by Victoria Skye features alternating black and light blue "bricks" which appear to be sloped.
But here's the thing – the bricks aren't sloped. They are parallel straight dividing lines and your eyes are actually deceiving you.
And of course, no-one can get their head around this.
The Cafe Wall was made famous by British psychologist Richard Gregory in 1973 – inspired by a tiled wall of a cafe in Bristol.
"The illusion works because the light and dark contrasting edges interact in opposite directions along the straight edge, therefore tricking the brain into thinking there is a slant in the line," Skye explained.
"If you blur the image, or look at it from the side at eye level, the effect disappears because you cannot resolve the tiny white-black interactions once they are blurred, so the brain is no longer tricked."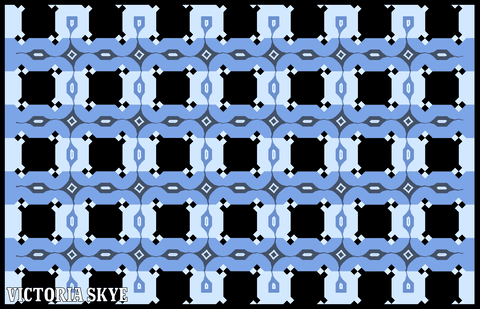 Skye, who is a professional magician and illusion artist, created her artwork using Photoshop.
"I have hundreds of variations that I have created by way of experimentation with shapes, colours and by using the influence of other illusions or illusion artists before me," she said.
"This particular one is a combination of variations used by a brilliant illusion creator named Akiyoshi Kitaoka and the Cafe Wall made famous by Richard Gregory.
"Other versions of this effect were later discovered and in my version I have summed two very strong versions of this effect to heighten the illusion even more."
To see more examples of Skye's incredible illusion art, check out her work here.
The following two tabs change content below.
The Press Association
News from the Press Association - the national news agency for the UK and Ireland
Latest posts by The Press Association (see all)
Leave a Comment!
Community Terms & Conditions
Content standards
These content standards apply to any and all material which you contribute to our site (contributions), and to any interactive services associated with it.
You must comply with the spirit of the following standards as well as the letter. The standards apply to each part of any contribution as well as to its whole.
Contributions must:
be accurate (where they state facts); be genuinely held (where they state opinions); and comply with applicable law in the UK and in any country from which they are posted.
Contributions must not:
contain any material which is defamatory of any person; or contain any material which is obscene, offensive, hateful or inflammatory; or promote sexually explicit material; or promote violence; promote discrimination based on race, sex, religion, nationality, disability, sexual orientation or age; or infringe any copyright, database right or trade mark of any other person; or be likely to deceive any person; or be made in breach of any legal duty owed to a third party, such as a contractual duty or a duty of confidence; or promote any illegal activity; or be threatening, abuse or invade another's privacy, or cause annoyance, inconvenience or needless anxiety; or be likely to harass, upset, embarrass, alarm or annoy any other person; or be used to impersonate any person, or to misrepresent your identity or affiliation with any person; or give the impression that they emanate from us, if this is not the case; or advocate, promote or assist any unlawful act such as (by way of example only) copyright infringement or computer misuse.
Nurturing a safe environment
Our Silversurfers community is designed to foster friendships, based on trust, honesty, integrity and loyalty and is underpinned by these values.
We don't tolerate swearing, and reserve the right to remove any posts which we feel may offend others... let's keep it friendly!