Should we be double masking?
It's thought layering two masks on top of each other could help potentially slow the spread of Covid-19
Wearing a face mask has become part of daily life during the pandemic – but what about donning two?
Double masking is particularly popular in America – President Joe Biden and Vice President Kamala Harris have been seen wearing two masks at once – with the US Centres for Disease Control and Prevention (CDC) saying: "Wearing two masks can improve fit and give you better protection."
What is double masking?
'Double masking' refers to wearing two masks, one on top of another. However, you shouldn't layer any type of mask – it should be a tightly fitting surgical mask followed by a cloth mask over the top.
What are the potential benefits?
For NHS consultant and co-founder of Skindoc UK, Dr Sreedhar Krishna,  when it comes to the effectiveness of masks, "it all comes down to the fit", which double masking could potentially help with.
"If you want to wear a surgical mask inside and a cloth mask outside to seal up the surgical mask's fit, that seems very reasonable," he says, but notes a single, well-fitting mask would also do the job.
When might you not want to double mask?
If you have a really tight and well fitting mask, "I would suggest it's probably not a good idea to put a second mask on, because it will probably restrict airflow to the extent where even someone with normal respiratory capacity could end up with some difficulties," says Krishna.
What do you need to wary of with double masking?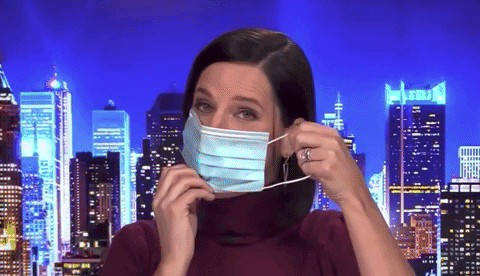 For Krishna, one problem is people thinking they're "invincible" when double masking; it shouldn't mean other precautions like social distancing, following lockdown measures and regular hand washing go out the window.
"In itself, it's not a golden bullet, and I'd probably be a bit reticent because people may think they're invincible if they're wearing a double mask, which is definitely not the case," he says.
He also warns against using the wrong types of masks. "If your internal mask is poorly fitted and you put something else up top – like two surgical masks one on top of another – you may actually be making things worse for yourself," Krishna suggests.
What common mistakes are people making with masks?
Krishna calls ill-fitting masks a "big, big problem". Whether you're wearing one mask or two, Krishna says they need to be "encroaching on your nose" and "a little bit uncomfortable".
If your mask isn't tight, the doctor explains, "although you may be protected from droplet spread if somebody coughs in your face, if you're in an infected environment with aerosol transmission, it could just slip in through the top of your mask very easily." Not regularly washing reusable masks can also "create lots of difficulties", he says, including skin issues such as acne.
"The best available scientific evidence is that, when used correctly, wearing a face covering may reduce the spread of coronavirus droplets in certain circumstances, helping to protect others," notes official face covering guidance on gov.uk. "Because face coverings are mainly intended to protect others from coronavirus (COVID-19) rather than the wearer, they are not a replacement for social distancing and regular hand washing."
Should we be double masking? Or do you think it may make people feel invincible and less likely to hand-wash or social distance? 
Leave a Comment!
Community Terms & Conditions
Content standards
These content standards apply to any and all material which you contribute to our site (contributions), and to any interactive services associated with it.
You must comply with the spirit of the following standards as well as the letter. The standards apply to each part of any contribution as well as to its whole.
Contributions must:
be accurate (where they state facts); be genuinely held (where they state opinions); and comply with applicable law in the UK and in any country from which they are posted.
Contributions must not:
contain any material which is defamatory of any person; or contain any material which is obscene, offensive, hateful or inflammatory; or promote sexually explicit material; or promote violence; promote discrimination based on race, sex, religion, nationality, disability, sexual orientation or age; or infringe any copyright, database right or trade mark of any other person; or be likely to deceive any person; or be made in breach of any legal duty owed to a third party, such as a contractual duty or a duty of confidence; or promote any illegal activity; or be threatening, abuse or invade another's privacy, or cause annoyance, inconvenience or needless anxiety; or be likely to harass, upset, embarrass, alarm or annoy any other person; or be used to impersonate any person, or to misrepresent your identity or affiliation with any person; or give the impression that they emanate from us, if this is not the case; or advocate, promote or assist any unlawful act such as (by way of example only) copyright infringement or computer misuse.
Nurturing a safe environment
Our Silversurfers community is designed to foster friendships, based on trust, honesty, integrity and loyalty and is underpinned by these values.
We don't tolerate swearing, and reserve the right to remove any posts which we feel may offend others... let's keep it friendly!