UK set for sunshine and temperatures rivalling the Med next week
Winter may finally be over as Mediterranean temperatures are set to hit many parts of Britain next week.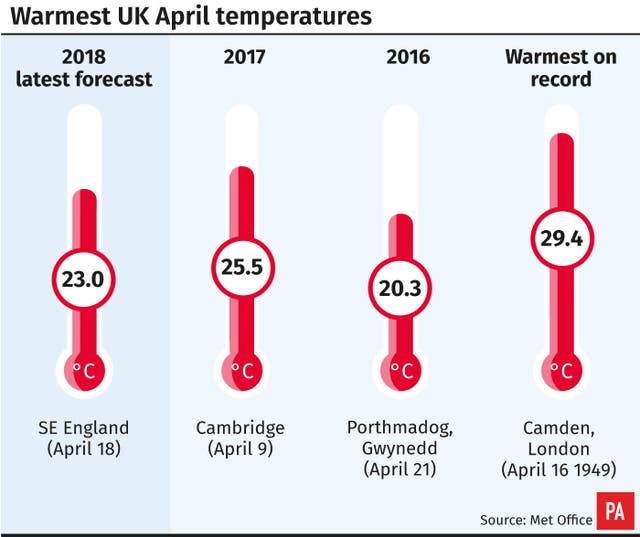 Forecasters say the south-east of England could see temperatures hitting the mid-20s (C) by the end of the week – which will be on a par with the Costa del Sol, Rome and Greece.
An influx of warm, continental air from Monday will see the biggest impact in the south-east of England, but the whole of England and Wales is set for warm sunny weather with temperatures 10C above the norm for mid-April.
The Met Office says thermometers will rise gradually through the week but has warned that fronts from the Atlantic, battling to move in from the west, will mean some areas of western Scotland and Northern Ireland could see more showery weather.
Met Office meteorologist Sarah Kent said this tussle between the warm air from the south and the wet weather in the west – which will bring rain to most places on Sunday – will finally be won by the continental influence on Monday.
She said temperatures in the south-east could hit 15 or 16C at the start of the working week.
Ms Kent said: "By Tuesday across London we could see 18C, maybe 19C. By Wednesday, there's still going to be some patchy rain in parts of the north-west but England and Wales will have this continental air coming in.
"So, dry weather for them, plenty of sunshine again.
"Temperatures on Wednesday will again be highest in the south-east. London could see between 20C and 23C. And in fact, going further north, places like York could see 18C to 20c. And, even for Glasgow, it could be 17C or 18C on Wednesday."
Ms Kent said: "The trend into the end of the week is to continue this feed of warmer continental air across England and Wales. Those frontal systems are always trying to battle into the north-west, so it could be cloudier there with some more mixed weather at times.
"But, by the end of the week, in the that far south-eastern corner we could see temperatures into the low to mid-20s."
Ms Kent said that these temperatures will be above the average for mid April.
She said London will normally expect to see levels of 13C to 14C at this time of year with an average of 12-13C normal for southern England.
The Met Office said Saturday is likely to be the best day of the coming weekend, with temperatures reaching the mid to high teens in some places.
But Sunday will see rain at times across much of Britain as the country braces itself for the sun to come.
European forecasters are predicting temperatures in the low 20s for Malaga, Rome and Athens next week.
The following two tabs change content below.
The Press Association
News from the Press Association - the national news agency for the UK and Ireland
Latest posts by The Press Association (see all)
Leave a Comment!
Community Terms & Conditions
Content standards
These content standards apply to any and all material which you contribute to our site (contributions), and to any interactive services associated with it.
You must comply with the spirit of the following standards as well as the letter. The standards apply to each part of any contribution as well as to its whole.
Contributions must:
be accurate (where they state facts); be genuinely held (where they state opinions); and comply with applicable law in the UK and in any country from which they are posted.
Contributions must not:
contain any material which is defamatory of any person; or contain any material which is obscene, offensive, hateful or inflammatory; or promote sexually explicit material; or promote violence; promote discrimination based on race, sex, religion, nationality, disability, sexual orientation or age; or infringe any copyright, database right or trade mark of any other person; or be likely to deceive any person; or be made in breach of any legal duty owed to a third party, such as a contractual duty or a duty of confidence; or promote any illegal activity; or be threatening, abuse or invade another's privacy, or cause annoyance, inconvenience or needless anxiety; or be likely to harass, upset, embarrass, alarm or annoy any other person; or be used to impersonate any person, or to misrepresent your identity or affiliation with any person; or give the impression that they emanate from us, if this is not the case; or advocate, promote or assist any unlawful act such as (by way of example only) copyright infringement or computer misuse.
Nurturing a safe environment
Our Silversurfers community is designed to foster friendships, based on trust, honesty, integrity and loyalty and is underpinned by these values.
We don't tolerate swearing, and reserve the right to remove any posts which we feel may offend others... let's keep it friendly!