Baked Brie recipe with blackcurrants, pecans, honey and herbs
Baked brie – gooey and straight from the oven – is the perfect crowd-pleaser if you've got guests round. This version by Elly McCausland pimps the classic with tangy blackcurrants, buttery pecans and fragrant herbs.
"I like to serve it with Scandinavian-style rye crackers but a good, crusty baguette is also an excellent vehicle for transporting cheese to mouth," she says. "I highly recommend seeking out blackcurrant vinegar (I get it from demijohn.co.uk), but you could replace it with the more common raspberry vinegar, or a good, syrupy balsamic."
Baked Brie recipe with blackcurrants, pecans, honey and herbs
Ingredients
Serves 4–6
45g pecan nuts
250g wedge of brie
70g fresh or frozen blackcurrants
2tsp thyme leaves or finely chopped rosemary needles
3tsp blackcurrant vinegar or balsamic vinegar
3–4tsp runny honey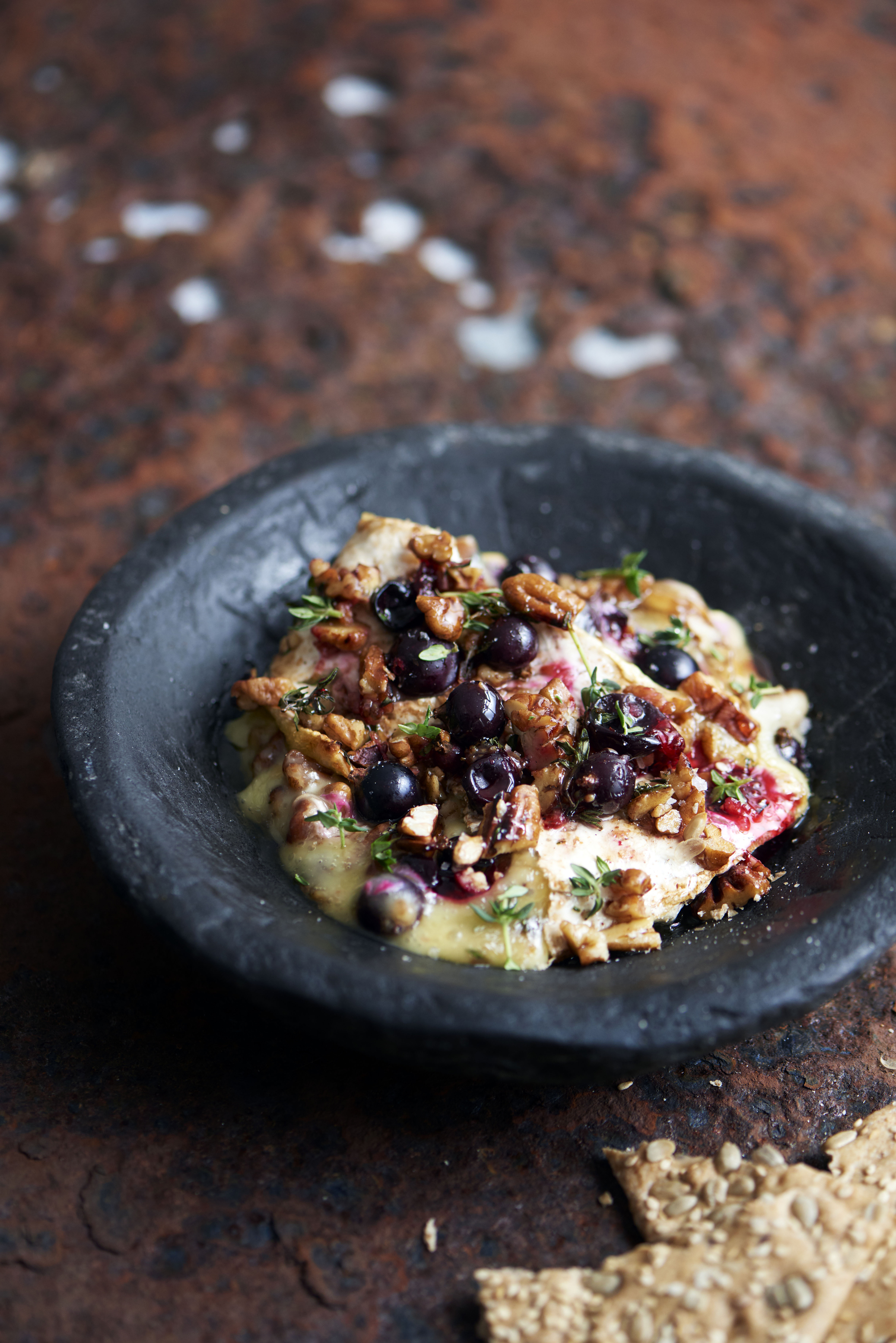 Method
1. Pre-heat the oven to 190°C/170°C fan/gas mark 5.
2. Put the pecans in a small oven dish and place in the oven for eight minutes, until toasted. Remove (leave the oven on), set aside to cool, then roughly chop.
3. Take a small baking dish, the right size to fit the piece of brie snugly. Slice the brie horizontally in half (so you have two flat triangles). Put one half in the dish, cut side up. Take half the toasted pecans and press them gently into the cheese. Do the same with the blackcurrants (some will fall off the sides into the dish – that's fine, but try to get as many as possible on the cheese). Sprinkle over half the thyme or rosemary, then drizzle over half the vinegar and half the honey.
4. Put the other piece of brie on top, rind side upwards (so you have essentially sandwiched the cheese back together as the wedge it was). Press the remaining pecans and blackcurrants onto the top of the cheese (again, some will fall off). Drizzle over the remaining vinegar and honey and sprinkle with the remaining thyme or rosemary.
5. Bake for 10–15 minutes, or until the cheese has melted and spread out a little in the dish. Remove from the oven, leave for five minutes, then dive in with crackers or good crusty bread.
The Botanical Kitchen by Elly McCausland, photography by Polly Webster, is published by Bloomsbury Absolute, priced £26. Available now.
The following two tabs change content below.
The Press Association
News from the Press Association - the national news agency for the UK and Ireland
Latest posts by The Press Association (see all)
Leave a Comment!
Community Terms & Conditions
Content standards
These content standards apply to any and all material which you contribute to our site (contributions), and to any interactive services associated with it.
You must comply with the spirit of the following standards as well as the letter. The standards apply to each part of any contribution as well as to its whole.
Contributions must:
be accurate (where they state facts); be genuinely held (where they state opinions); and comply with applicable law in the UK and in any country from which they are posted.
Contributions must not:
contain any material which is defamatory of any person; or contain any material which is obscene, offensive, hateful or inflammatory; or promote sexually explicit material; or promote violence; promote discrimination based on race, sex, religion, nationality, disability, sexual orientation or age; or infringe any copyright, database right or trade mark of any other person; or be likely to deceive any person; or be made in breach of any legal duty owed to a third party, such as a contractual duty or a duty of confidence; or promote any illegal activity; or be threatening, abuse or invade another's privacy, or cause annoyance, inconvenience or needless anxiety; or be likely to harass, upset, embarrass, alarm or annoy any other person; or be used to impersonate any person, or to misrepresent your identity or affiliation with any person; or give the impression that they emanate from us, if this is not the case; or advocate, promote or assist any unlawful act such as (by way of example only) copyright infringement or computer misuse.
Nurturing a safe environment
Our Silversurfers community is designed to foster friendships, based on trust, honesty, integrity and loyalty and is underpinned by these values.
We don't tolerate swearing, and reserve the right to remove any posts which we feel may offend others... let's keep it friendly!