Turkey meatballs in tomato sauce
Turkey meatballs are really light and full of flavour and succulent, as well as being lower in fat. Make a batch – half for tea and half to be frozen for future outings.
Ingredients:
(Serves 4-6)
50g fresh white breadcrumbs
75ml whole milk
500g minced turkey thighs
2 garlic cloves, crushed or finely grated
Finely grated zest of 1 lemon
1 egg, beaten
40g pecorino or Parmesan cheese, finely grated, plus extra to serve
2tsp finely chopped fresh oregano, or 1tsp dried oregano
About ¼ nutmeg, freshly grated
1tsp fine salt
freshly ground black pepper
For the tomato sauce:
2tbsp olive oil
1 small onion, finely diced
2 garlic cloves, crushed
1 heaped tbsp tomato purée
1tsp paprika (mild or hot)
2 × 400g tins chopped tomatoes
1 large handful of basil leaves
½–1tsp caster sugar (optional)
Salt and pepper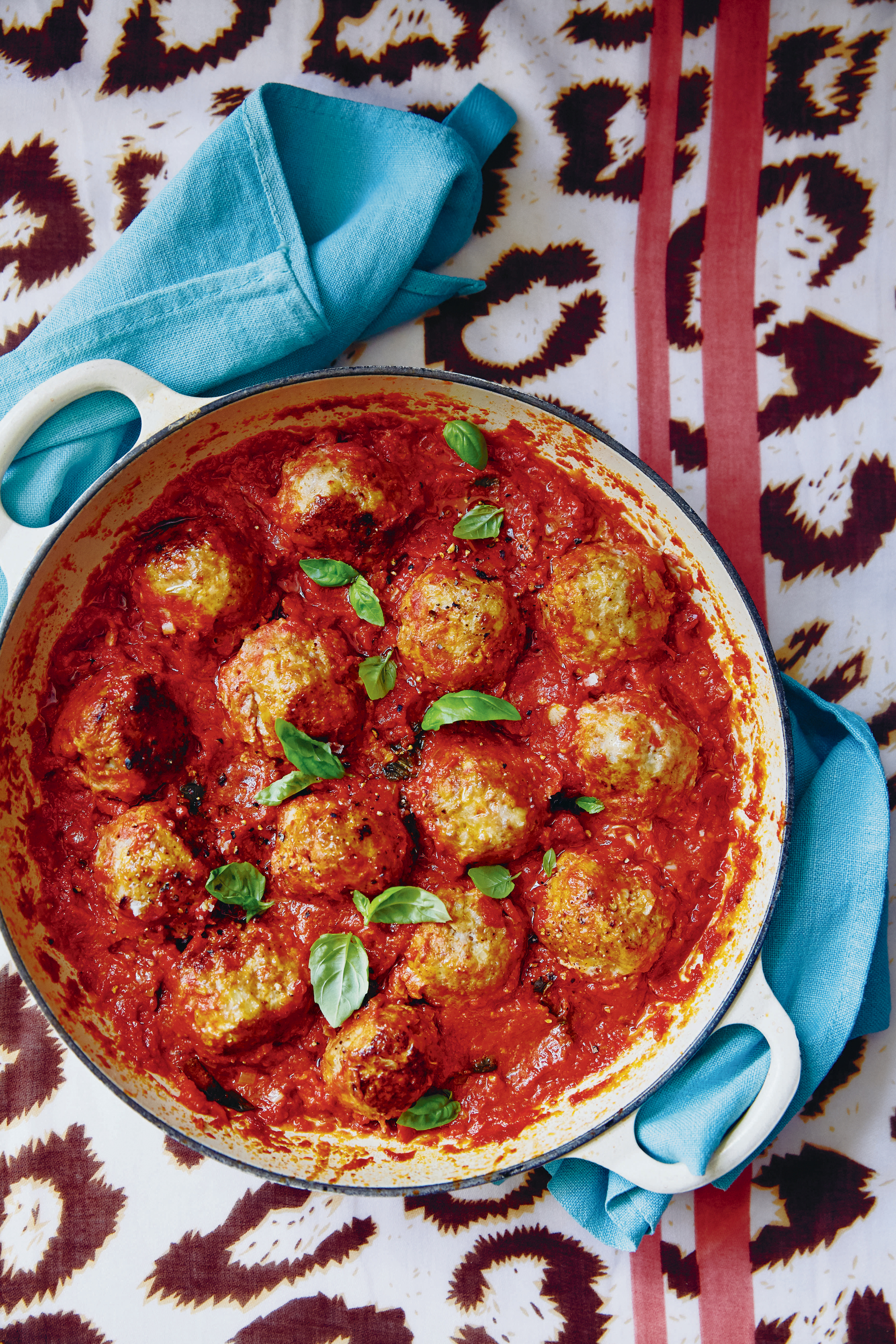 Method:
1. First, make the tomato sauce. Heat the oil in a large sauté pan or shallow casserole over a medium heat. Add the onion and a good pinch of salt and gently fry for five to 10 minutes until softened. Add the garlic and fry for two minutes, then stir in the tomato purée and paprika and cook for another two minutes.
2. Tip in the tomatoes and chopped basil, then gently simmer for 20 minutes. Taste to check the seasoning, adding salt, pepper and a little sugar to balance the acidity of the tomatoes if needed.
3. Meanwhile, make the meatballs. Place the breadcrumbs in a large mixing bowl and pour over the milk. Add the turkey, garlic, lemon zest, egg, cheese, oregano, nutmeg, salt and a good grinding of black pepper. Using your hands, gently combine, taking care not to overmix. With wet hands, gently shape the mixture into about 20 small–medium meatballs (about the size of golf balls – roughly 40g each and 5cm in diameter).
4. Gently drop the meatballs into the simmering sauce, cover with a lid and simmer for 20 minutes, turning them after about 10 minutes and giving the pan a shake from time to time.
5. Remove the lid and simmer for another five minutes. Serve the meatballs with the basil leaves and a grating of pecorino or Parmesan.
Leave a Comment!
Community Terms & Conditions
Content standards
These content standards apply to any and all material which you contribute to our site (contributions), and to any interactive services associated with it.
You must comply with the spirit of the following standards as well as the letter. The standards apply to each part of any contribution as well as to its whole.
Contributions must:
be accurate (where they state facts); be genuinely held (where they state opinions); and comply with applicable law in the UK and in any country from which they are posted.
Contributions must not:
contain any material which is defamatory of any person; or contain any material which is obscene, offensive, hateful or inflammatory; or promote sexually explicit material; or promote violence; promote discrimination based on race, sex, religion, nationality, disability, sexual orientation or age; or infringe any copyright, database right or trade mark of any other person; or be likely to deceive any person; or be made in breach of any legal duty owed to a third party, such as a contractual duty or a duty of confidence; or promote any illegal activity; or be threatening, abuse or invade another's privacy, or cause annoyance, inconvenience or needless anxiety; or be likely to harass, upset, embarrass, alarm or annoy any other person; or be used to impersonate any person, or to misrepresent your identity or affiliation with any person; or give the impression that they emanate from us, if this is not the case; or advocate, promote or assist any unlawful act such as (by way of example only) copyright infringement or computer misuse.
Nurturing a safe environment
Our Silversurfers community is designed to foster friendships, based on trust, honesty, integrity and loyalty and is underpinned by these values.
We don't tolerate swearing, and reserve the right to remove any posts which we feel may offend others... let's keep it friendly!