Vegetarian biryani recipe
This Middle Eastern take on the spicy Indian dish is made with rice and vermicelli noodles
Created by Iraqi chef Dhuha from Eat Offbeat, the New York catering company that employs refugees who have resettled in the city, this Middle Eastern version of the Indian classic is made with cinnamon-scented rice, vermicelli noodles, potatoes and raisins.
Ingredients:
(serves 4 – 6)
2tbsp canola oil
150g wheat vermicelli noodles
150g fresh or frozen peas
1 medium carrot, diced
1 medium russet potato, peeled and diced
50g black or golden raisins (or a combination)
200g basmati rice
1 cinnamon stick
1/4tsp ground turmeric
2tsp kosher salt
1tbsp seven spices or biryani spices
1/2tsp ground cardamom
1tsp ground cinnamon
Method:
Heat one tablespoon of the oil in a small saucepan over medium-high heat. Once the oil is hot, add the vermicelli and toast until the noodles are golden, about two minutes. Carefully add half a cup (around 473ml) of water to the pot, cover it, and bring the water to a boil. Reduce the heat to low and simmer until the noodles are tender and the water is absorbed, about 10 minutes. Remove the pot from the heat and set it aside.
Heat the remaining one tablespoon of oil in a large non-stick skillet over high heat. Once the oil is hot, add the peas, carrot, and potato and pan-fry until they are tender and starting to brown, about 10 minutes. Stir in the raisins and cook until they plump and begin to brown, about two minutes more. Remove the pan from the heat and set it aside.
Bring one and a half cups (around 355ml) of water and the rice, cinnamon stick, turmeric, and salt to a boil in a large pot over high heat. Once the water is boiling, cover the pot, reduce the heat to low, and simmer until the rice is cooked, 10 to 15 minutes.
Whisk together the seven spices, cardamom, and ground cinnamon in a small bowl.
Add the vermicelli to the rice, then gently stir in the spices, making sure to evenly incorporate them and coat the grains. Stir in the vegetables and raisins. Serve immediately.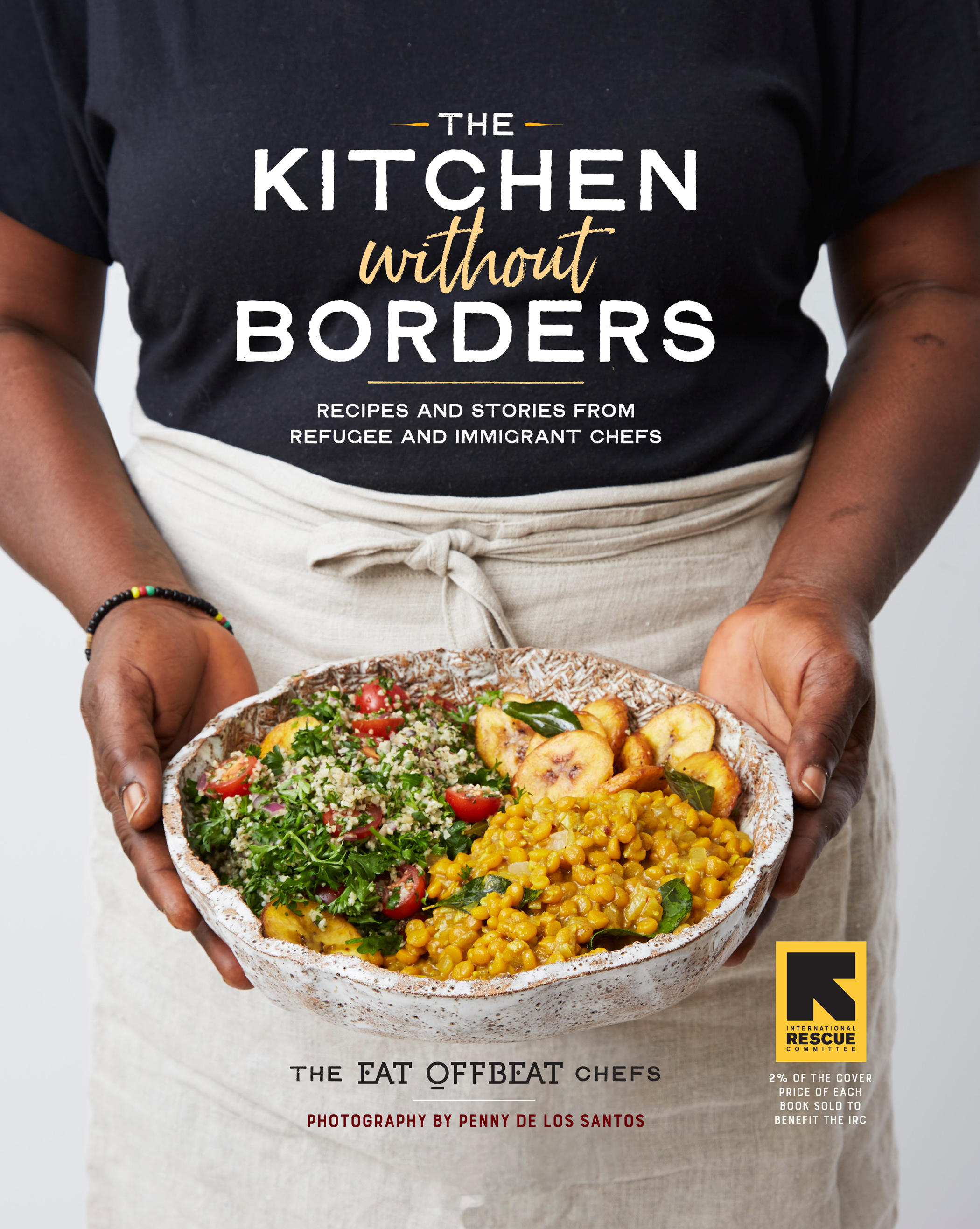 The Kitchen Without Borders: Recipes And Stories From Refugee And Immigrant Chefs by The Eat Offbeat Chefs. Order from Amazon here.
The following two tabs change content below.
The Press Association
News from the Press Association - the national news agency for the UK and Ireland
Latest posts by The Press Association (see all)
Leave a Comment!
Community Terms & Conditions
Content standards
These content standards apply to any and all material which you contribute to our site (contributions), and to any interactive services associated with it.
You must comply with the spirit of the following standards as well as the letter. The standards apply to each part of any contribution as well as to its whole.
Contributions must:
be accurate (where they state facts); be genuinely held (where they state opinions); and comply with applicable law in the UK and in any country from which they are posted.
Contributions must not:
contain any material which is defamatory of any person; or contain any material which is obscene, offensive, hateful or inflammatory; or promote sexually explicit material; or promote violence; promote discrimination based on race, sex, religion, nationality, disability, sexual orientation or age; or infringe any copyright, database right or trade mark of any other person; or be likely to deceive any person; or be made in breach of any legal duty owed to a third party, such as a contractual duty or a duty of confidence; or promote any illegal activity; or be threatening, abuse or invade another's privacy, or cause annoyance, inconvenience or needless anxiety; or be likely to harass, upset, embarrass, alarm or annoy any other person; or be used to impersonate any person, or to misrepresent your identity or affiliation with any person; or give the impression that they emanate from us, if this is not the case; or advocate, promote or assist any unlawful act such as (by way of example only) copyright infringement or computer misuse.
Nurturing a safe environment
Our Silversurfers community is designed to foster friendships, based on trust, honesty, integrity and loyalty and is underpinned by these values.
We don't tolerate swearing, and reserve the right to remove any posts which we feel may offend others... let's keep it friendly!