Judi Dench's most fashionable moments from the 50s to today
At 85 years old, Judi Dench has become British Vogue's oldest cover star.
The actor – known for her roles in the James Bond franchise, Shakespeare in Love and more – is on the front cover of the fashion magazine's June issue.
In the accompanying profile, her daughter Finty Williams says: "After the photoshoot, she came back literally thinking she was Beyoncé."
This isn't the first time Dench has made a fashion splash. Not only has she been ruling the stage and the screen since the Fifties, but she's had some pretty incredible looks along the way.
Her style has always been timeless and classic, not slavishly tied to trends. Here are some of her biggest fashion moments.
The Fifties…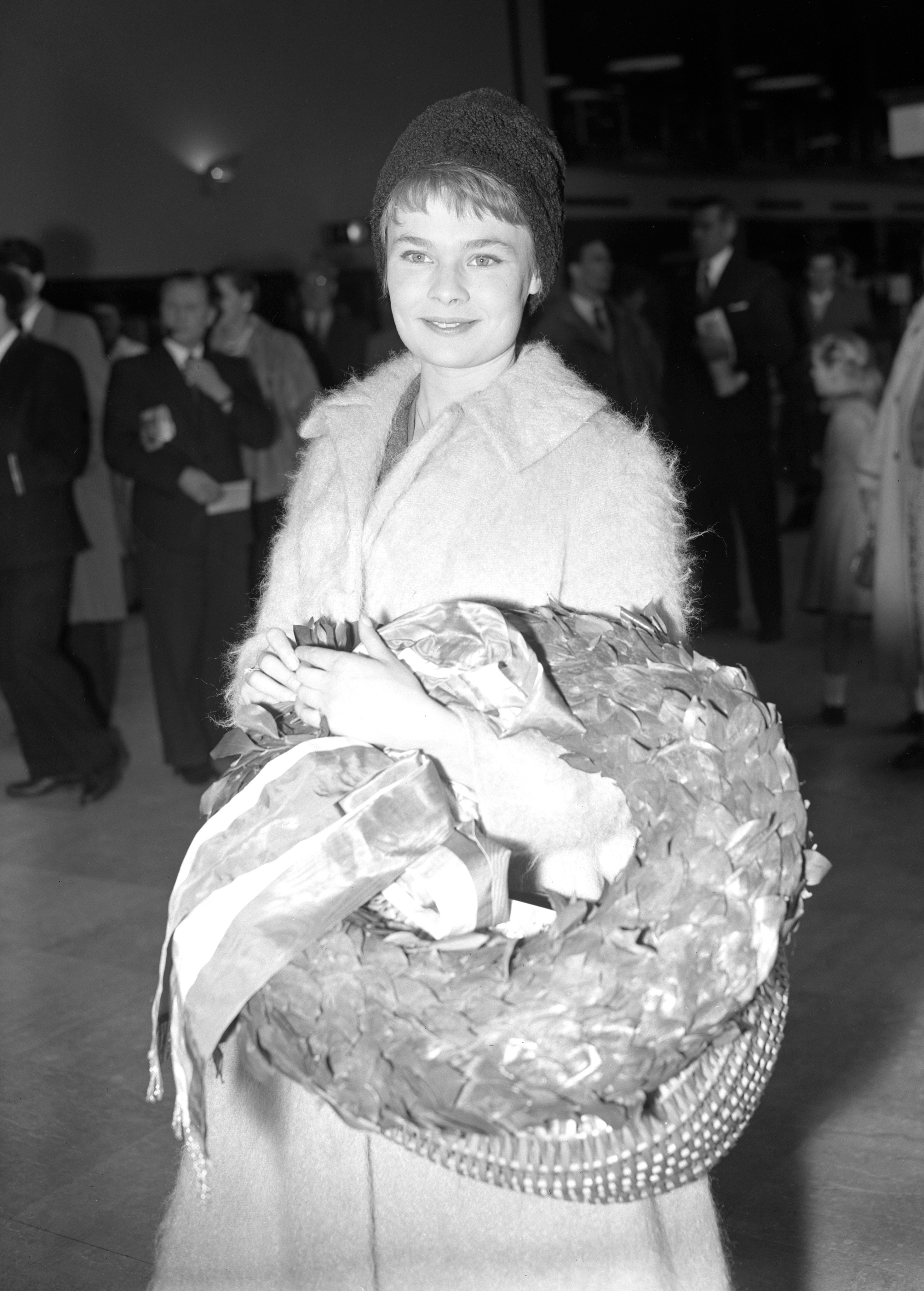 Nowadays, most of us board flights wearing leggings and hoodies. This wasn't the case in the 1950s; back in 1959, Dench touched down in London in a particularly chic, shaggy coat. Of course, this was all topped off by her signature pixie crop – a look the 85-year-old still models today.
The Sixties…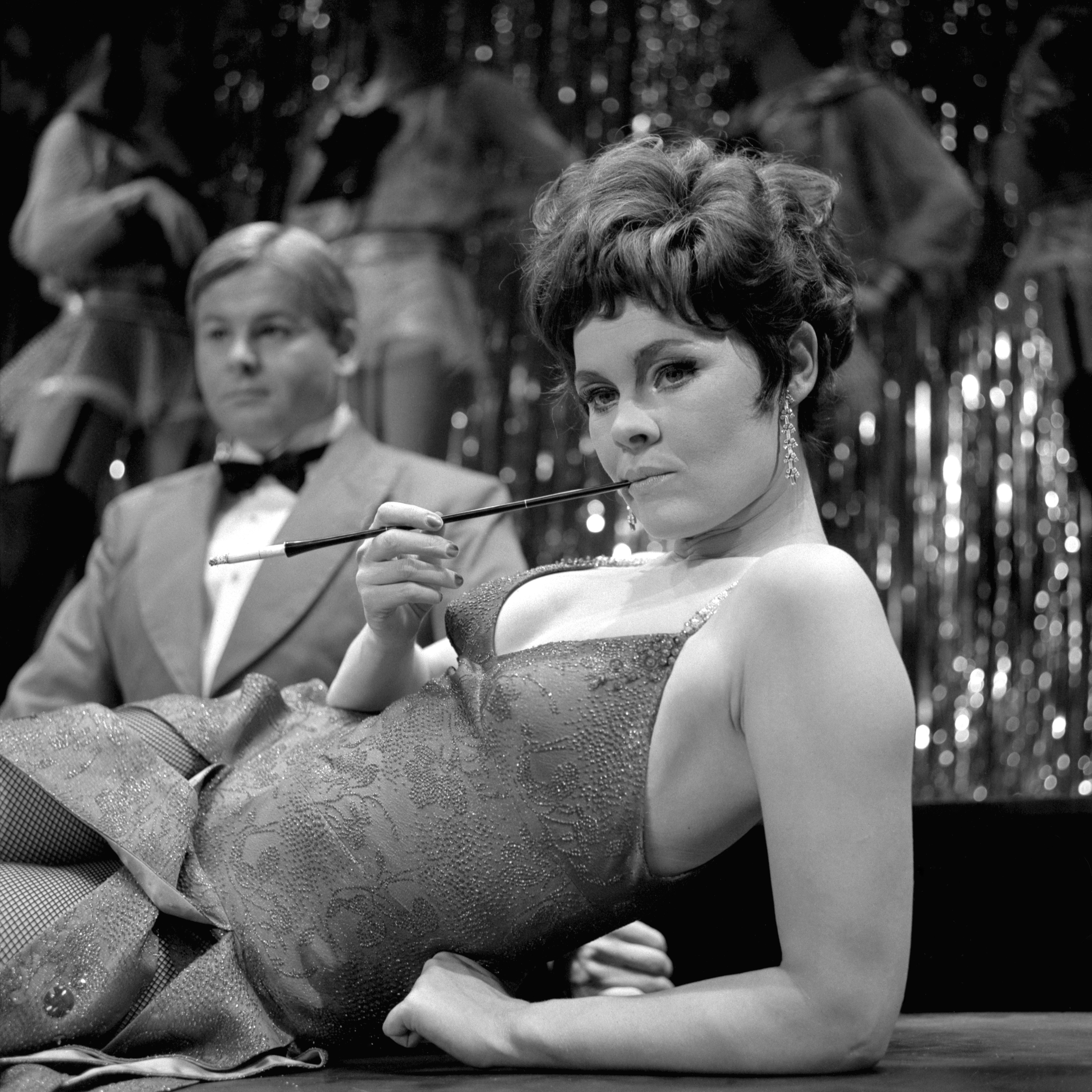 Even though this is a stage costume, we're still counting it as a huge fashion moment. Back in 1968, Dench played Sally Bowles in the musical Cabaret, and did so in a series of racy outfits befitting the iconic character.
The Seventies…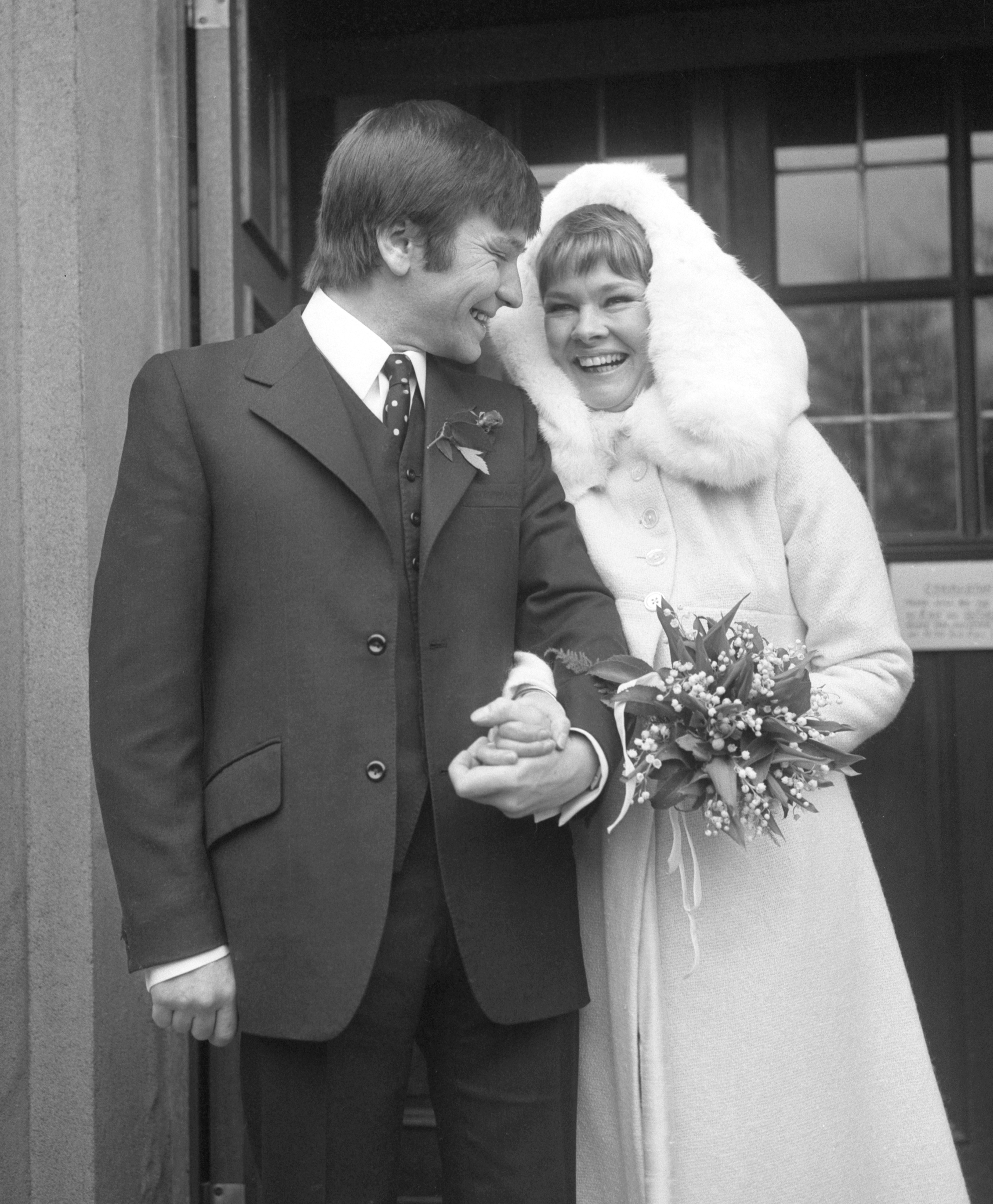 Dench married fellow actor Michael Williams in February 1971. She did so in an outfit perfect for a winter bride, wearing a white coat with a fur hood and a big grin on her face.
The Eighties…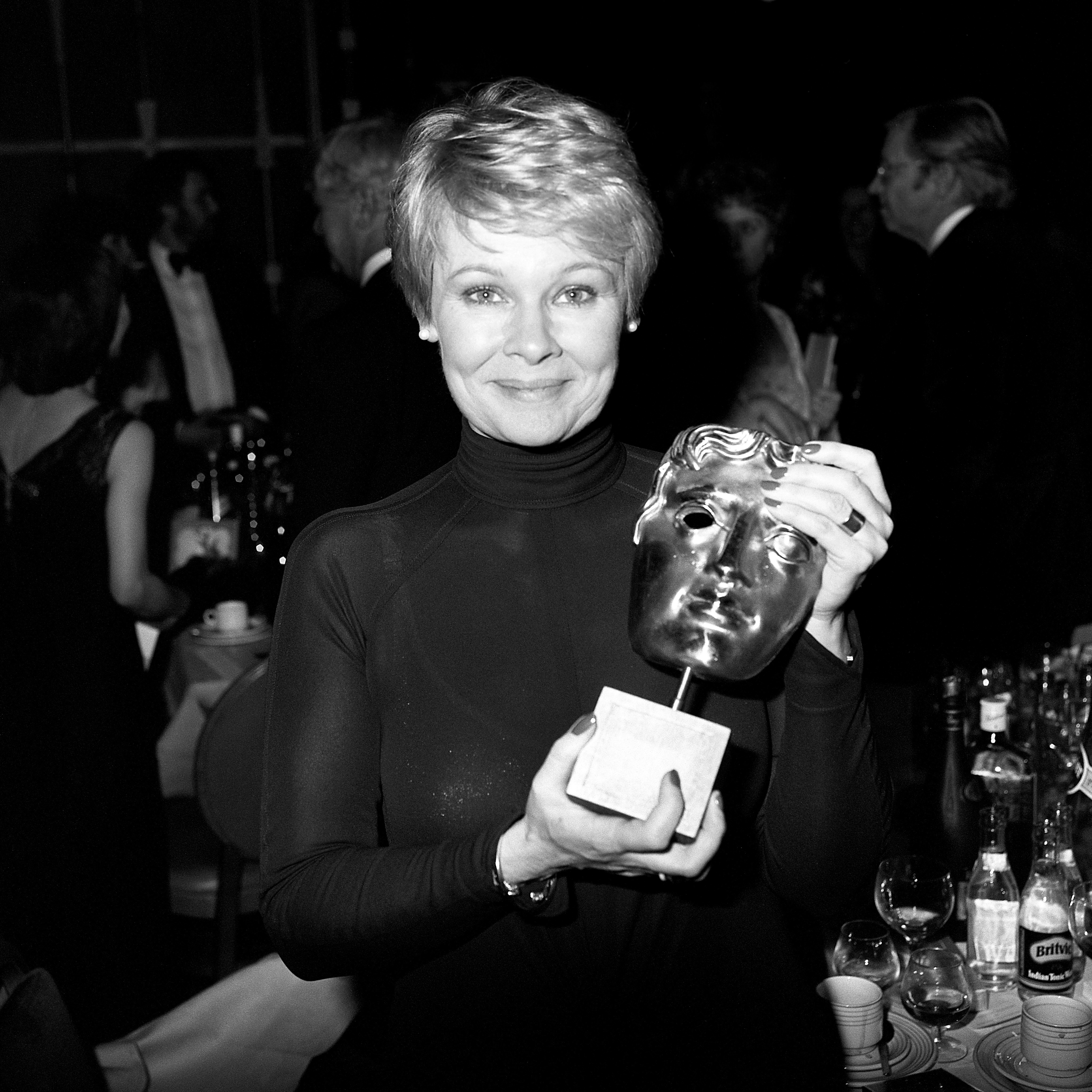 Dench kept things sleek and elegant for the 1982 Baftas, wearing a black turtleneck outfit which would still very much work on the red carpet today.
The Nineties…
When winning the best actress award for playing Queen Victoria in Mrs Brown at the 1998 Baftas, Dench showed you can never go wrong with a black velvet evening gown.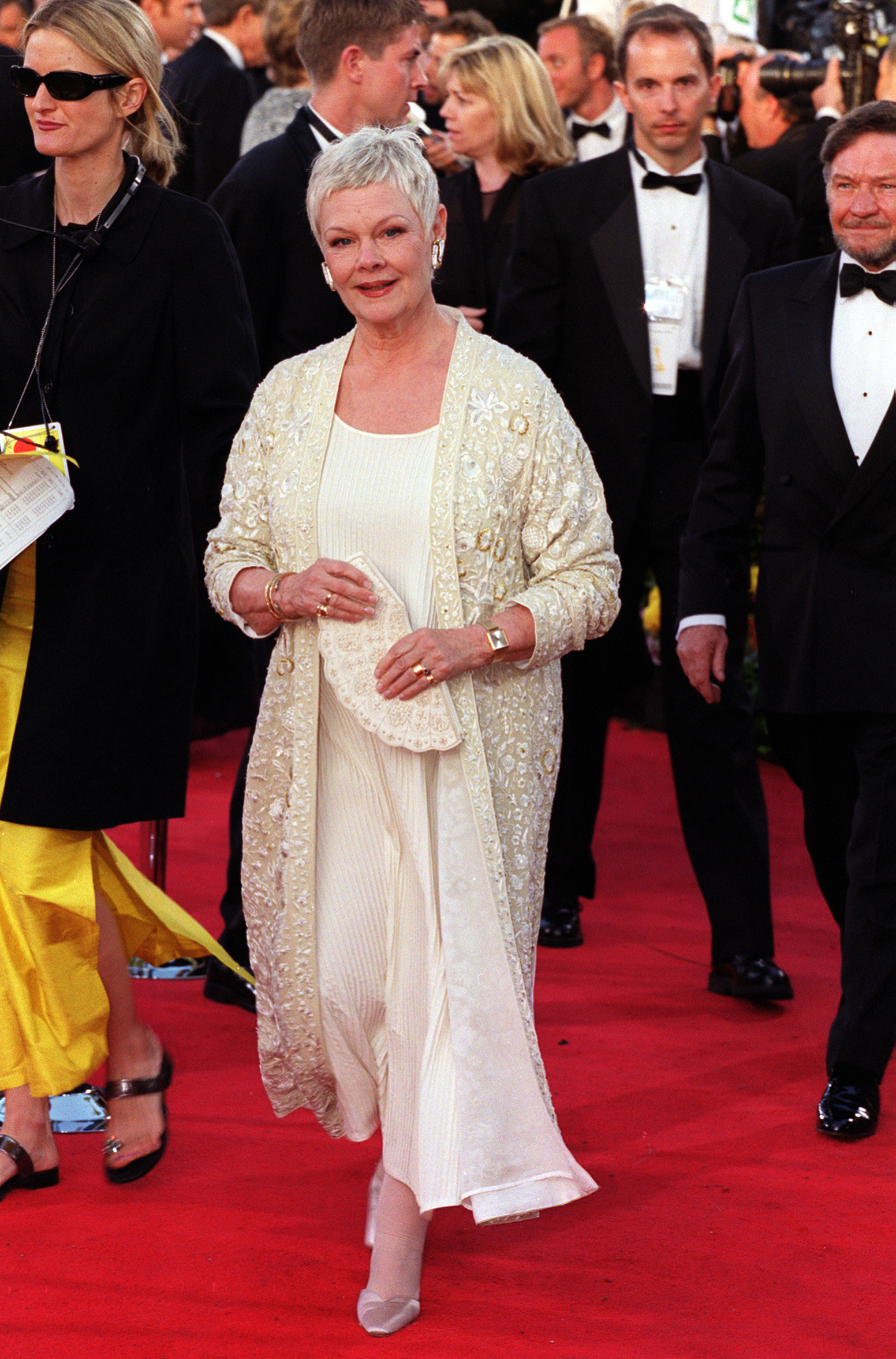 But her undoubted signature style can be seen in her 1999 Oscars outfit, when she won best supporting actress for her role in Shakespeare in Love. It involved a floaty long dress, a chic coat over the top, and in this instance we have to give a special shout out to her intricate clutch.
The Noughties…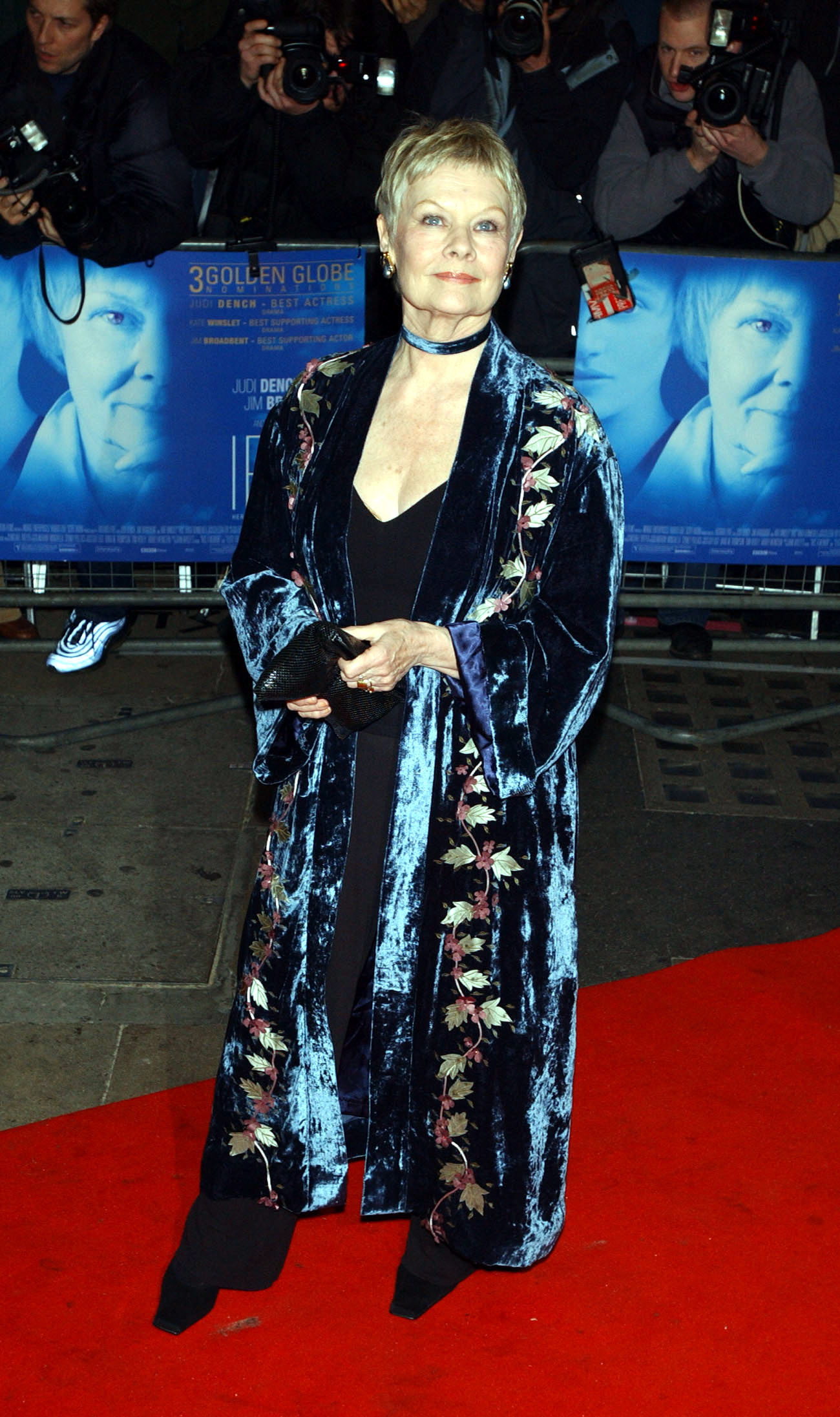 Let's take a moment to appreciate the actor's blue crushed velvet coat and matching choker, worn to the premiere of Iris in 2002 – and hope she still has the jacket in her wardrobe.

The Noughties was also very much Dench's black phase, but she showed dark colours don't have to be boring at the 2002 Academy Awards with a gown featuring delicate detailing around the waist.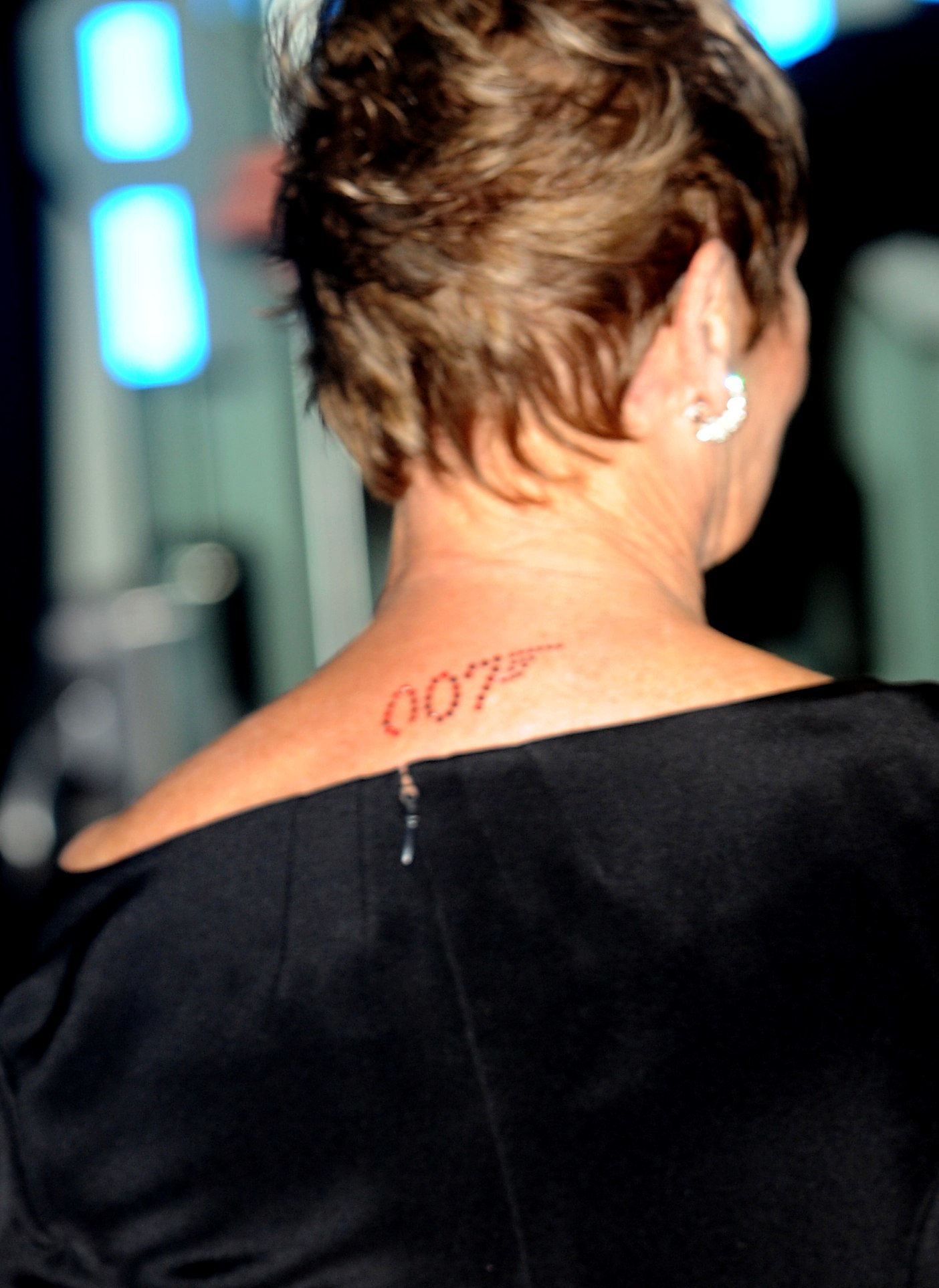 Like the legend that she is, for the premiere of Quantum Of Solace in 2008, Dench bedazzled '007' onto the back of her neck.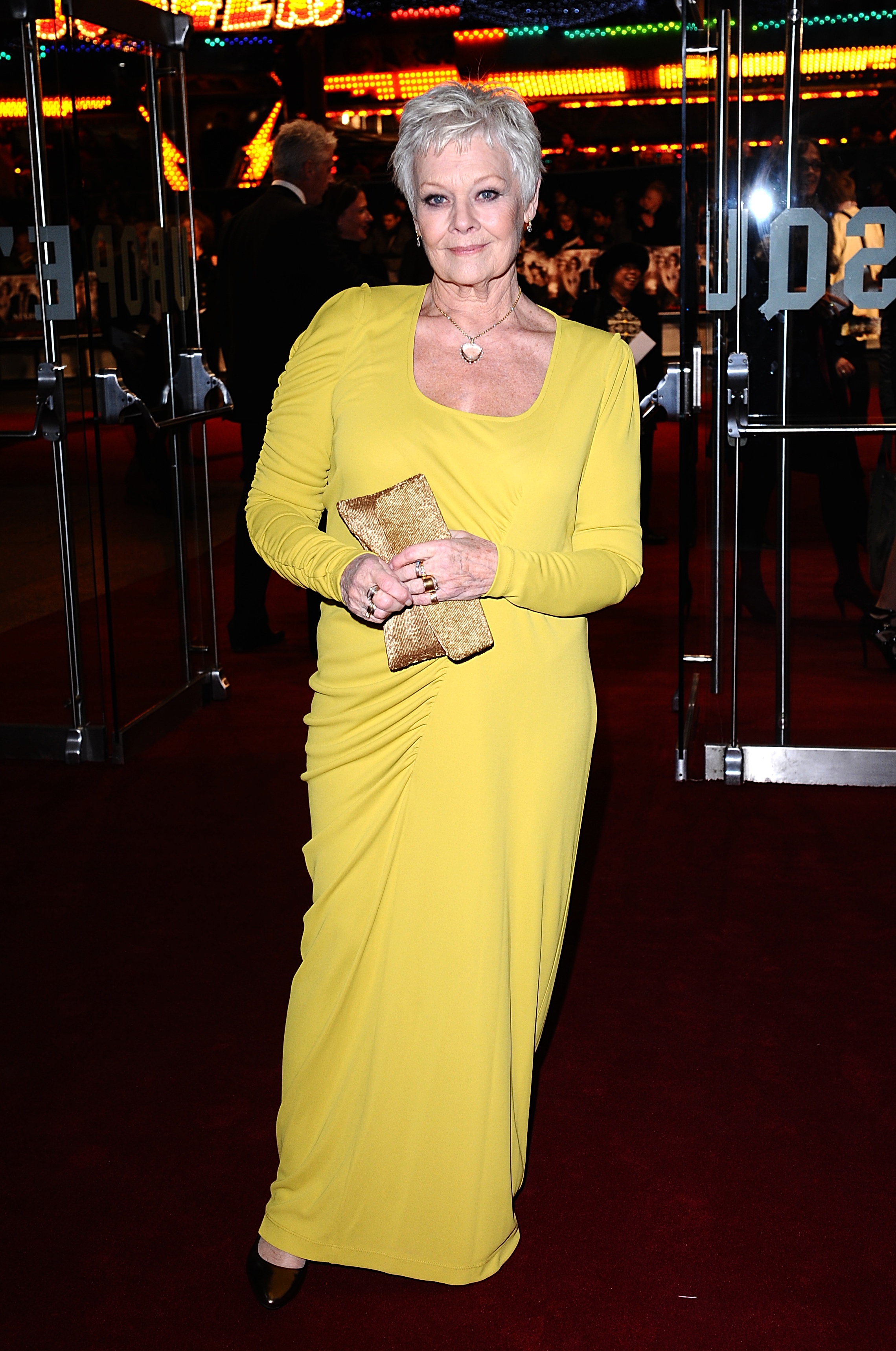 Dench didn't used to wear a lot of colour, which is what makes the lemon gown worn to the premiere of Nine in 2009 such a knockout.
The 2010s…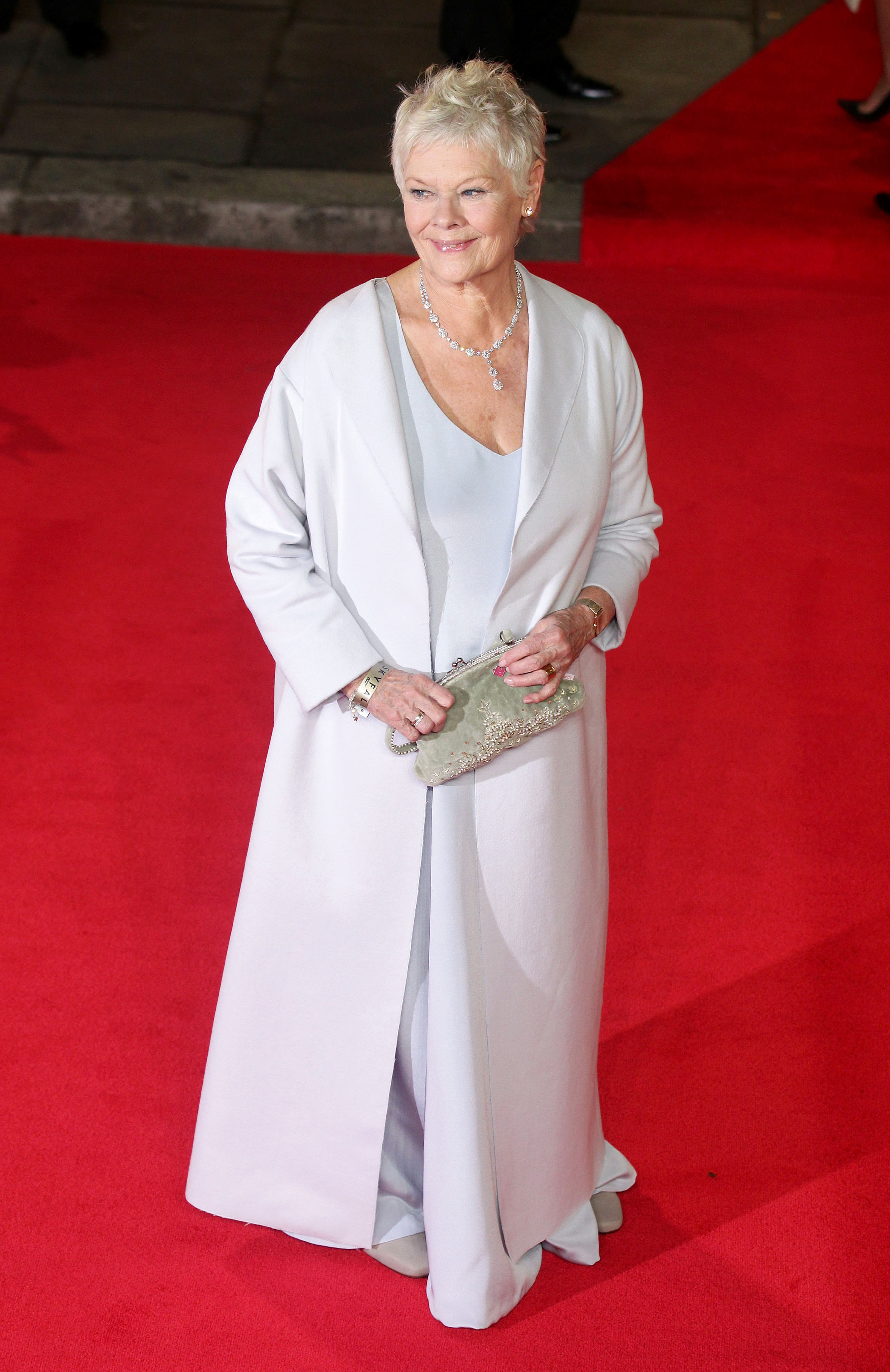 There was a stage when Dench would only really be seen wearing black on the red carpet. However, over the past decade or so she's embraced colour, and is often seen wearing white – for example, the chic outfit for the 2012 premiere of Skyfall.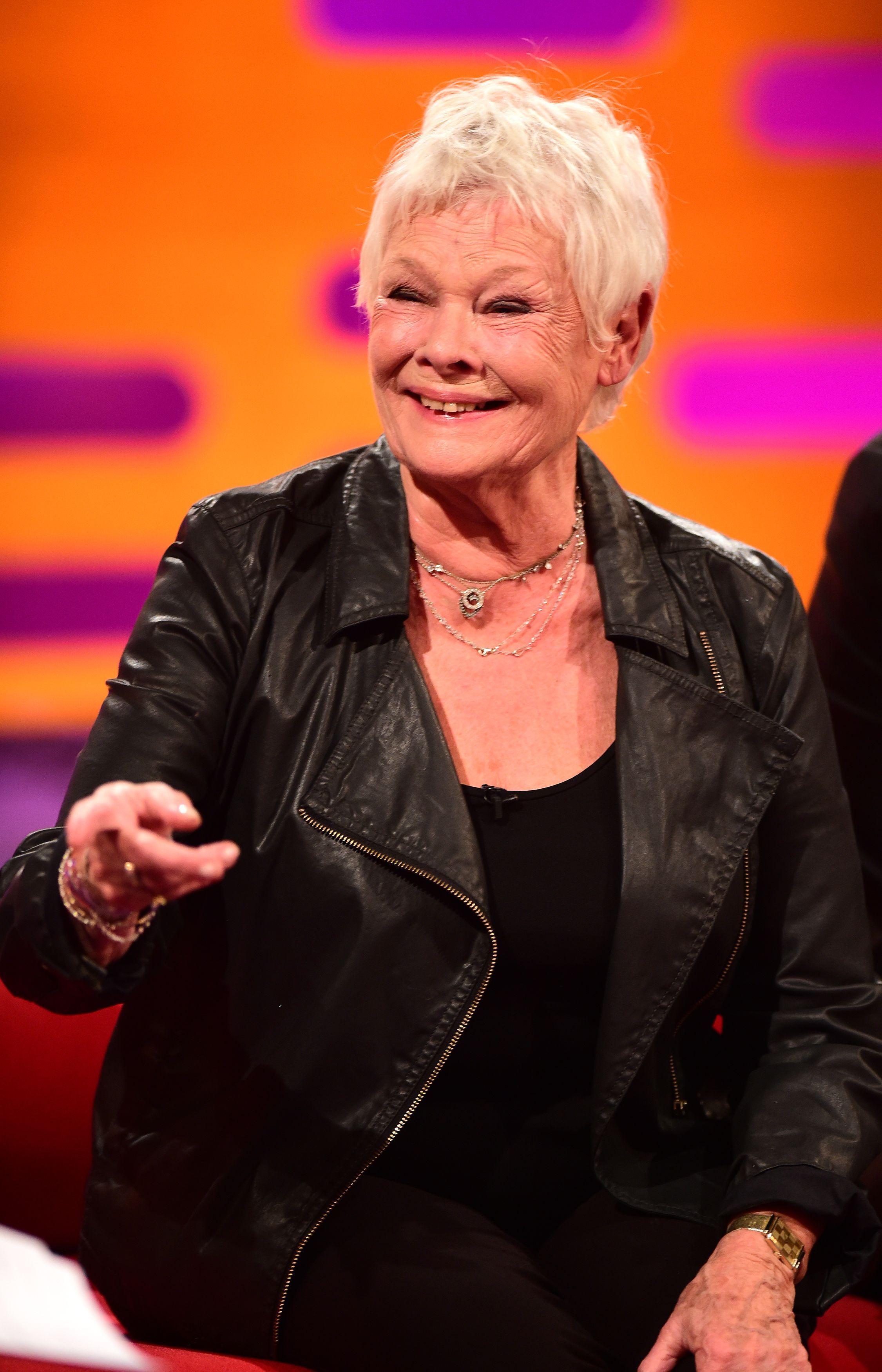 The only arbiter of cool we're interested in, Dench wore a black leather biker jacket on The Graham Norton show in 2014. She layered lots of delicate necklaces together – a jewellery trend which has recently taken over, making her a bon afide style icon.
For the 2017 premiere of Victoria and Abdul, a film about the friendship between Queen Victoria and her Indian servant, Dench stepped out in a pale blue outfit with an beautifully embroidered coat.
The following two tabs change content below.
The Press Association
News from the Press Association - the national news agency for the UK and Ireland
Latest posts by The Press Association (see all)
Leave a Comment!
Community Terms & Conditions
Content standards
These content standards apply to any and all material which you contribute to our site (contributions), and to any interactive services associated with it.
You must comply with the spirit of the following standards as well as the letter. The standards apply to each part of any contribution as well as to its whole.
Contributions must:
be accurate (where they state facts); be genuinely held (where they state opinions); and comply with applicable law in the UK and in any country from which they are posted.
Contributions must not:
contain any material which is defamatory of any person; or contain any material which is obscene, offensive, hateful or inflammatory; or promote sexually explicit material; or promote violence; promote discrimination based on race, sex, religion, nationality, disability, sexual orientation or age; or infringe any copyright, database right or trade mark of any other person; or be likely to deceive any person; or be made in breach of any legal duty owed to a third party, such as a contractual duty or a duty of confidence; or promote any illegal activity; or be threatening, abuse or invade another's privacy, or cause annoyance, inconvenience or needless anxiety; or be likely to harass, upset, embarrass, alarm or annoy any other person; or be used to impersonate any person, or to misrepresent your identity or affiliation with any person; or give the impression that they emanate from us, if this is not the case; or advocate, promote or assist any unlawful act such as (by way of example only) copyright infringement or computer misuse.
Nurturing a safe environment
Our Silversurfers community is designed to foster friendships, based on trust, honesty, integrity and loyalty and is underpinned by these values.
We don't tolerate swearing, and reserve the right to remove any posts which we feel may offend others... let's keep it friendly!