7 of the best places in the world to see the Northern Lights
Green sky at night, tourist's delight.
Like the Mona Lisa or the Taj Mahal, the aurora borealis – the Northern Lights – is one of those sights that Google Images simply cannot do justice to.
For centuries this celestial lights show has sent travellers scrambling to remote and inhospitable environments, hoping to witness the phenomenon first-hand.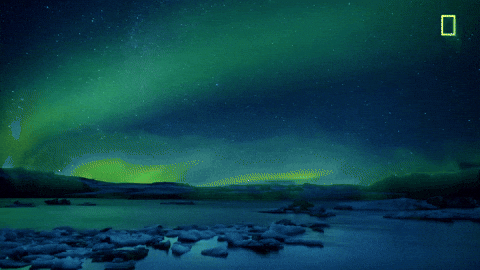 A fickle beast, you're never guaranteed a good viewing, but these luminous locations offer your best bet…
1. Tromsø, Norway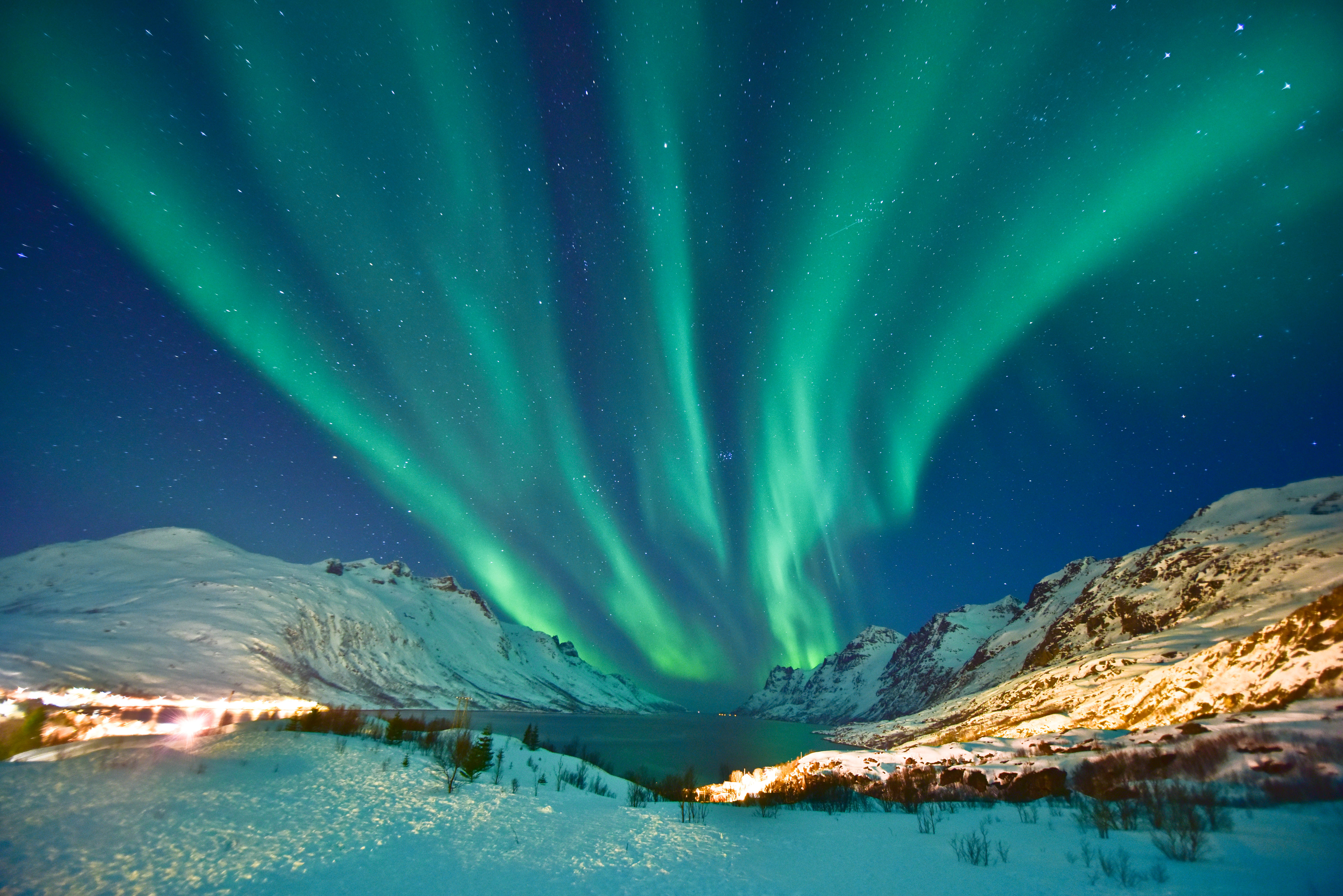 Ever since the aurora moved Joanna Lumley to tears on a visit to Tromsø in a BBC programme in 2008, the coastal city has become the unofficial northern lights capital of the world. In the heart of the Norwegian Arctic, December visitors can expect a mere three hours of partial daylight, leaving 21 left for aurora-hunting.
Book onto a guided 'aurora safari', brave the bitter winds on a husky sled, or simply step outside and look up. For a different sort of sensory experience, Tromsø has more pubs and bars per capita than anywhere else in Norway.
2. Reykjavik, Iceland
If Tromsø is the foremost city for the Northern Lights, Iceland is the foremost country. With only 360,000 people scattered across a land mass five times the size of Wales, it is extremely easy to get away from light pollution, and the entire island sits slap bang in the middle of the aurora zone. For next-level sky-gazing try Hotel Rangá, a rural resort offering outdoor hot tubs and an aurora alert service.
Despite its frost-bitten branding, Iceland is actually slightly warmer than the some areas of the Scandinavian Arctic, and at these temperatures every degree counts.
3. Fairbanks, Alaska
With a full eight months of aurora goodness stretching from August until mid-April, Alaska is a versatile, if slightly neglected Northern Lights destination, lying directly beneath the aurora band.
The further north you go the higher your chance of sightings, but for ease of access, Fairbanks and its environs have become a go-to middle ground. The former gold rush town has mercifully well-developed infrastructure, and more than enough aurora to go round.
4. Rovaniemi, Finland
The official home of Santa Claus – according to festive tradition, not just the Finnish tourist board – Rovaniemi is the capital of Lapland, and comes complete with wild reindeer, ample fir forests, and, of course, a smattering of branded 'Santa's grottoes'.
But it's not just the magic of Christmas that lights up the North Finnish skies – the aurora here is almost as strong as in neighbouring Norway, and the ways of seeing it equally inventive. Get a closer look in a small passenger plane, or hire a glass-topped igloo to sleep beneath a lot more than just the stars.
5. Svalbard, Norway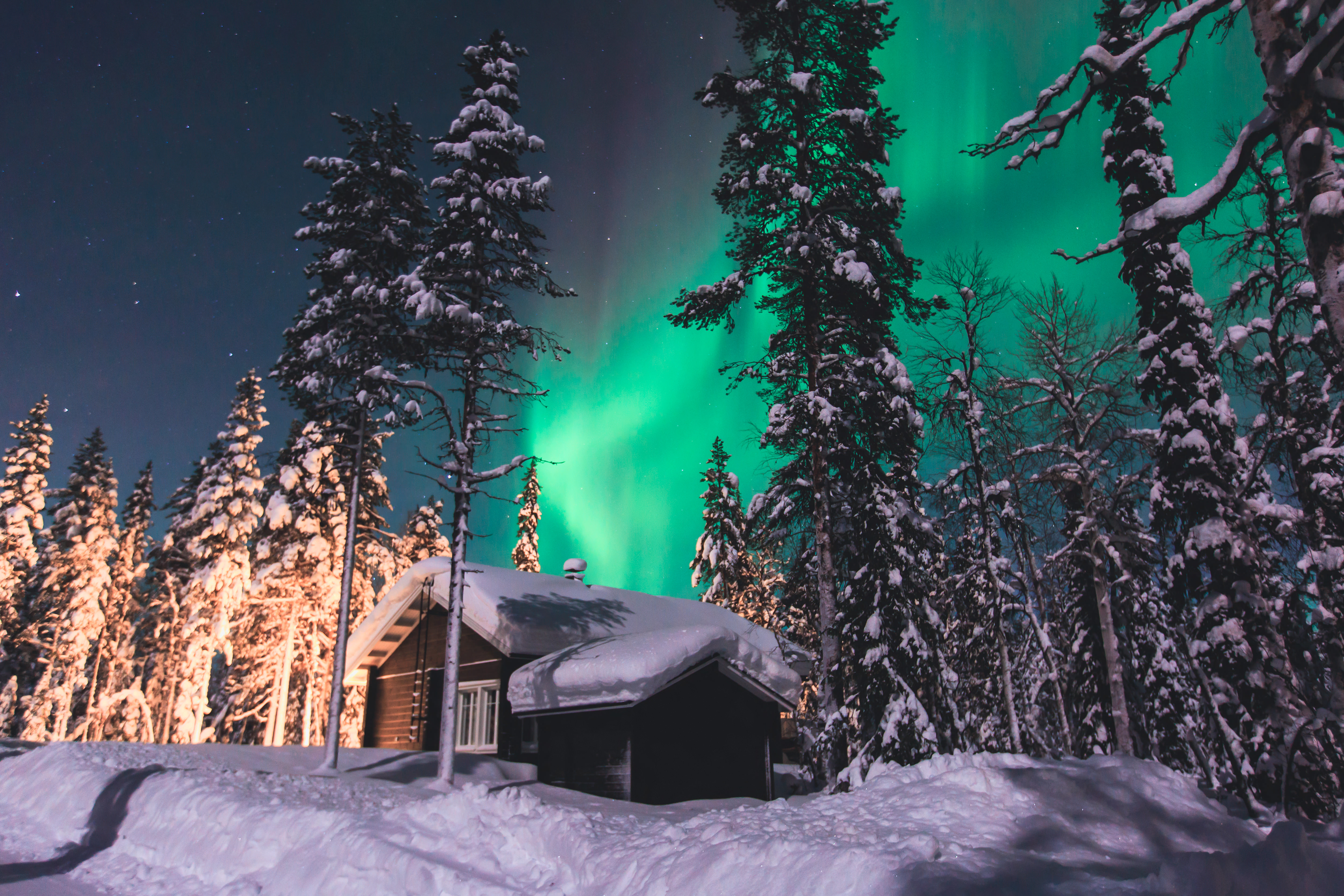 Ensconced deep within the Arctic Circle, Svalbard hosts the world's northernmost town (with a population of more than 1,000), goes 100 days a year without seeing the sun, and contains comfortably more polar bears than people. It gains points for providing a comprehensive winter experience.
Cut adrift in the Arctic Ocean, visitors can experience the lights by boat, dog sled, snowshoe, snowmobile or even a luxury snowcat. When the light returns it returns quickly, so the viewing season is a short October to February. However, if they're there, you'll see them.
6. Whitehorse, Canada
The Canadian north is remote, wild, and blisteringly cold. Whitehorse in mid-winter sees highs of -10 degrees and lows of -18, so you'd best be dressed up like the Michelin Man before braving the frozen land.
For the hardy few, the rewards can be spectacular. Just to the East of Alaska, in Yukon Province, Canada, Whitehorse shares the long aurora season, and is gloriously unimpeded by pollution.
7. Nuuk, Greenland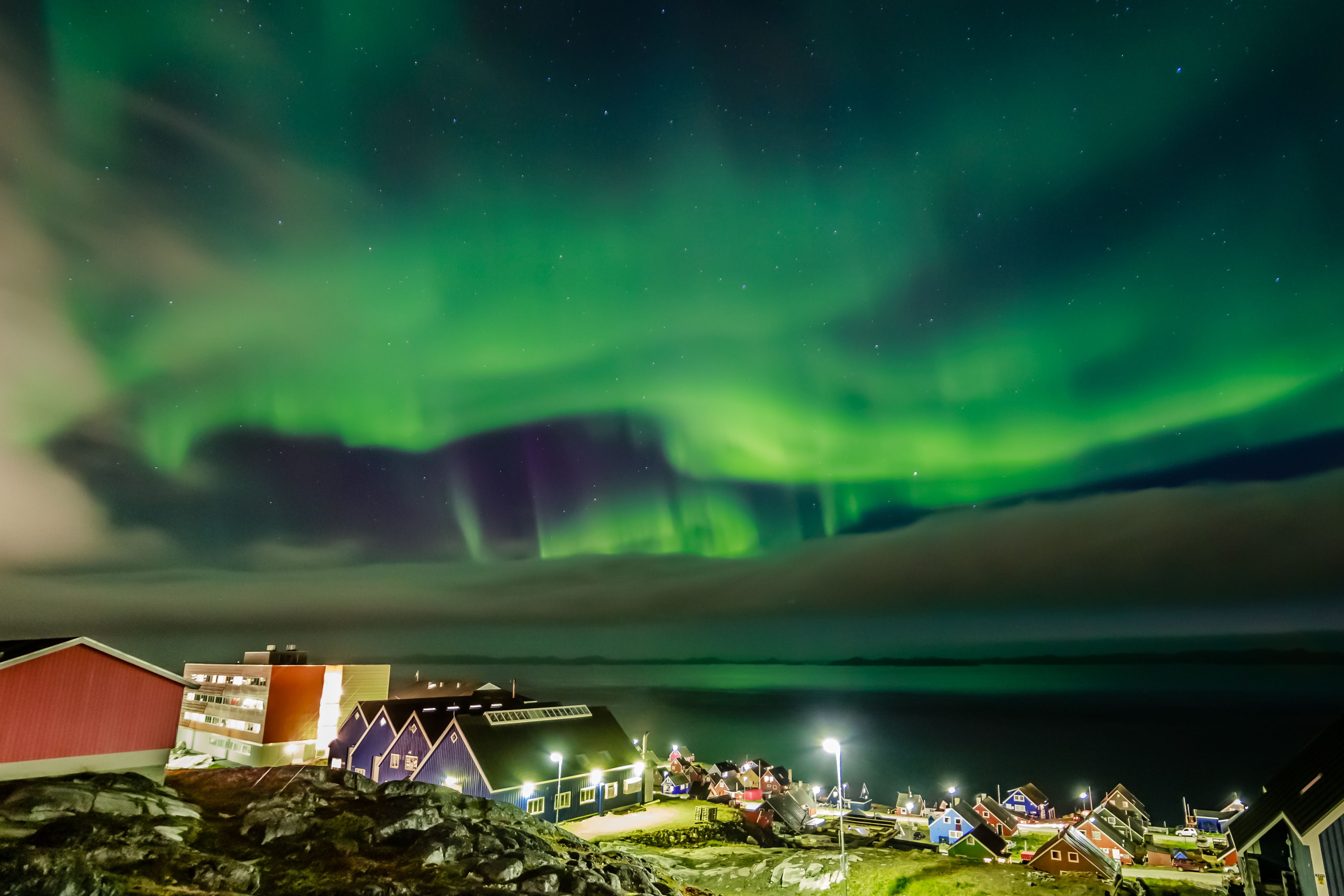 An underrated destination – for everything, not just the northern lights – Greenland is slowly growing into its role as rival to Iceland for snow-based, North Atlantic holidays. Battling Alaska for the longest aurora window, local legend holds that the lights are the dead playing football with a walrus skull.
The following two tabs change content below.
The Press Association
News from the Press Association - the national news agency for the UK and Ireland
Latest posts by The Press Association (see all)
Leave a Comment!
Community Terms & Conditions
Content standards
These content standards apply to any and all material which you contribute to our site (contributions), and to any interactive services associated with it.
You must comply with the spirit of the following standards as well as the letter. The standards apply to each part of any contribution as well as to its whole.
Contributions must:
be accurate (where they state facts); be genuinely held (where they state opinions); and comply with applicable law in the UK and in any country from which they are posted.
Contributions must not:
contain any material which is defamatory of any person; or contain any material which is obscene, offensive, hateful or inflammatory; or promote sexually explicit material; or promote violence; promote discrimination based on race, sex, religion, nationality, disability, sexual orientation or age; or infringe any copyright, database right or trade mark of any other person; or be likely to deceive any person; or be made in breach of any legal duty owed to a third party, such as a contractual duty or a duty of confidence; or promote any illegal activity; or be threatening, abuse or invade another's privacy, or cause annoyance, inconvenience or needless anxiety; or be likely to harass, upset, embarrass, alarm or annoy any other person; or be used to impersonate any person, or to misrepresent your identity or affiliation with any person; or give the impression that they emanate from us, if this is not the case; or advocate, promote or assist any unlawful act such as (by way of example only) copyright infringement or computer misuse.
Nurturing a safe environment
Our Silversurfers community is designed to foster friendships, based on trust, honesty, integrity and loyalty and is underpinned by these values.
We don't tolerate swearing, and reserve the right to remove any posts which we feel may offend others... let's keep it friendly!