How to recognise the 7 signs of breast cancer
Experts say that women should begin to regularly check their breasts for signs of the disease in their 20s.
It's the second most common cause of death for women, and rates are increasing – but do you actually know how to spot the early signs of breast cancer?
New research has shed light on the genetics of the disease, and scientists believe they are now closer than ever to discovering exactly why some women develop breast cancer and others don't.
The OncoArray Consortium, which is the largest collective investigation on the genetics of the disease, has uncovered 65 new gene variants that appear to be responsible for increasing the risk. The results, published in science journals Nature and Natural Genetics, suggest around one in five women are at greater risk of contracting breast cancer because of mutations in their genes – which can be passed on through their families.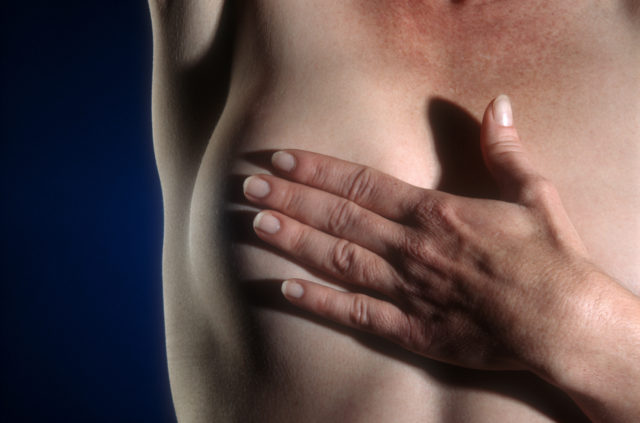 Scientists now believe a simple blood test could identify women who are at a third higher risk of later developing breast cancer, helping them to establish a much earlier diagnosis.
While we may be closer than ever to understanding breast cancer's origins, it's still important to be vigilant when it comes to checking yourself regularly at home, no matter what age you are. Around one in eight women in the UK will be diagnosed with breast cancer during their lifetime, yet many do not know the signs and symptoms that they need to look out for.
So we spoke to Dr Jasmine Just from Cancer Research UK, to find out what you should be looking out for.
1.  Breast lump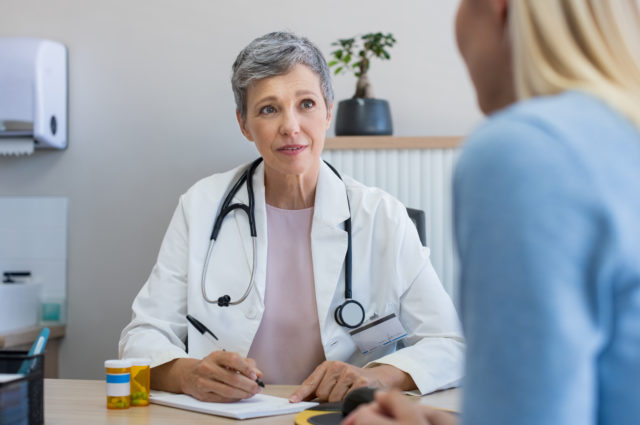 The first symptom of breast cancer for many women is a lump in their breast – but that shouldn't be cause for immediate panic, as it may not necessarily be cancerous. Many of the symptoms of breast cancer, such as lumps, may in fact be caused by normal breast changes. In fact, 9 out of 10 breast lumps are benign (not cancerous). If you do spot a lump, however, you should book in to see your GP straight away to put your fears at ease.

2. Change in size, shape or feel of a breast
The best thing to do is to regularly check your breasts to get a feel for what's normal for you. Remember: everyone's breasts are different shapes and sizes, so the more you check, the easier it will be to identify any changes. You may find that your breast might look bigger or have a different shape than usual. It also might feel different, but many healthy women find that their breasts feel lumpy and tender before their period.
3. Breast pain

Breast pain is a very common issue for women which can be caused by hormonal changes, so it's not a reason to panic. You might get pain in one or both breasts, which may come and go throughout the day. If it continues, make sure to see a doctor.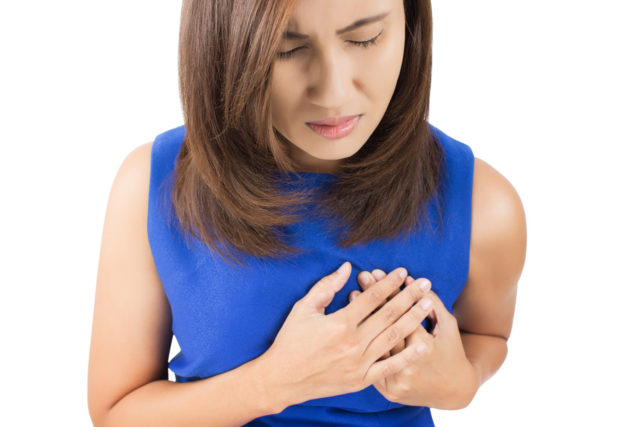 4. Skin changes
Abnormal changes can include everything from puckering, dimpling, a rash, or redness of the skin of the breast. The skin might look like orange peel or the texture might feel different than usual. This can be caused by other breast conditions, but you should get your doctor to check out anything that is not normal for you.
5. Change in the position of your nipple
Another important change to look out for is the positioning of your nipple. Warning signs include the nipple turning in or sinking into the breast – or it could just look or feel different to usual.
6. Fluid leaking from your nipple
Fluid leaking from a nipple in a woman who isn't pregnant or breastfeeding can be a visual sign of cancer, but it can also be caused by other medical conditions – so make sure to consult a doctor if you're unsure.
7. Inflammatory breast cancer symptoms

A rare type of breast cancer called inflammatory breast cancer can have different symptoms to other types. Your whole breast might look red and inflamed and feel sore. The breast might also feel hard and the skin might have the texture of orange peel.
Most breast changes will not be cancer, however, it is important that you consult your GP to find out what's causing the change.
Your GP will be able to examine your breasts and tell you if there is no need for further investigation, or if they think it's necessary to refer you to a breast clinic. This doesn't necessarily mean that you have breast cancer, it may just be that your doctor wants to conduct further tests are needed to find out what is going on.
---
Have you got a health question?
We've teamed up with AXA Health to bring you articles, information and tips from their clinical teams on a wide range of health topics. And if you have a question of your own, their, "Ask the Expert" service allows you to ask the team of friendly, experienced nurses, pharmacists and midwives about any health topic and they'll get back to you with an answer as soon as they're able.* So if you have something that's been bothering you, whether it concerns you or someone close to you, don't hesitate to get in touch.
Click below to submit your query online.

ASK THE EXPERT
* Nurses are available 24/7, 365 days a year. Midwives and pharmacists are available Monday to Friday, 8am to 8pm; Saturday, 8am to 4pm; and Sunday, 8am to 12pm.
Actual response time will depend on the nature of your enquiry and availability of appropriately qualified experts but the team will always aim to get back to you within 24 hours.
Please note that our Expert Help services are there to offer health information and support. They do not diagnose or prescribe, and are not intended to be a substitute for professional medical advice given in the context of an individual consultation.
---
The following two tabs change content below.
The Press Association
News from the Press Association - the national news agency for the UK and Ireland
Latest posts by The Press Association (see all)
Leave a Comment!
Community Terms & Conditions
Content standards
These content standards apply to any and all material which you contribute to our site (contributions), and to any interactive services associated with it.
You must comply with the spirit of the following standards as well as the letter. The standards apply to each part of any contribution as well as to its whole.
Contributions must:
be accurate (where they state facts); be genuinely held (where they state opinions); and comply with applicable law in the UK and in any country from which they are posted.
Contributions must not:
contain any material which is defamatory of any person; or contain any material which is obscene, offensive, hateful or inflammatory; or promote sexually explicit material; or promote violence; promote discrimination based on race, sex, religion, nationality, disability, sexual orientation or age; or infringe any copyright, database right or trade mark of any other person; or be likely to deceive any person; or be made in breach of any legal duty owed to a third party, such as a contractual duty or a duty of confidence; or promote any illegal activity; or be threatening, abuse or invade another's privacy, or cause annoyance, inconvenience or needless anxiety; or be likely to harass, upset, embarrass, alarm or annoy any other person; or be used to impersonate any person, or to misrepresent your identity or affiliation with any person; or give the impression that they emanate from us, if this is not the case; or advocate, promote or assist any unlawful act such as (by way of example only) copyright infringement or computer misuse.
Nurturing a safe environment
Our Silversurfers community is designed to foster friendships, based on trust, honesty, integrity and loyalty and is underpinned by these values.
We don't tolerate swearing, and reserve the right to remove any posts which we feel may offend others... let's keep it friendly!