Struggling with your mental health but anxious about talking to your GP? This is what to do
A psychologist offers advice for men who may not feel ready to speak to their doctor
Mental health issues can take many forms, and during the pandemic, there have been plenty of reasons why you might be feeling down, stressed or not as resilient as usual.
Expert advice always dictates that your doctor should be your first port of call in times of need, but not everyone feels comfortable opening up about psychological issues with the GP that they have to see on a regular basis. For men, in particular, it can be daunting.
"It is a common thing," says Dr Robin Hart, psychologist and co-founder of mental health app Companion. "I still think there's a certain amount of stigma attached to mental health in general, but particularly the mental health of men [because of] cultural stereotypes like 'men are brave', 'men don't cry', 'men don't show vulnerability'. The problem is that they often become more unwell than they need to be because they delay asking for help."
So, what should you do if you want to get help, but don't feel ready to speak to a doctor yet? Dr Hart offers his advice…
Call a helpline
Most importantly, if you're about to reach breaking point or are having suicidal thoughts, call a crisis helpline.
"Call Samaritans or one of the helplines recommended by Mind, where you will be listened to, and hopefully given some constructive advice. Or alert somebody close to you that you're having very significant difficulties."
Talk to someone you trust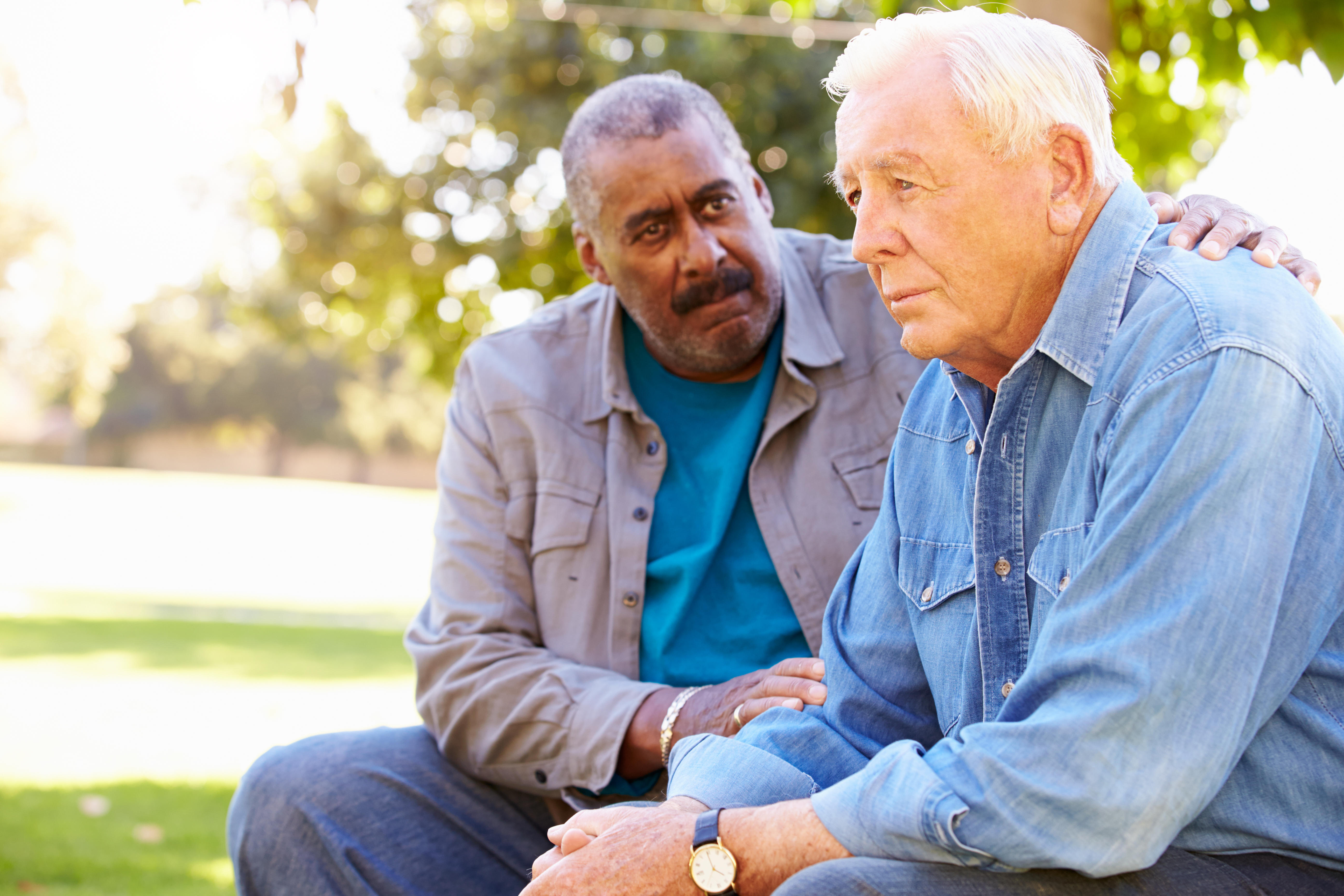 If you're someone who isn't used to talking to others about mental health, reaching out to friends can be really helpful. You may well discover they have issues of their own and you'll both be able to open up about how you're feeling.
"This obviously depends on the individual, because some people will have insightful friends, some people won't, but ideally, you should talk to a friend or family member who you know to be empathic," says Dr Hart.
"I think it's a very good start to say, 'Can I just share something with you? I'm having a really difficult time'. And then hopefully having shared the problem, you can then discuss what you can do next."
Look for resources online
Just as we turn to the internet to solve lots of everyday conundrums, online resources can be extremely useful.
Dr Hart says: "There's a lot of stuff that's accessible on the internet for mental health and mental resilience, apps like Calm, Headspace and Companion.
"Quite a lot of the apps are paid for, and a great number of people wouldn't be able to afford those, but quite a few of them aren't that expensive. It's best to look at well-known apps, look at the reviews, and to go to well-known charities."
Follow supportive social media accounts
In some ways, social media has a bad reputation, and while following lots of celebrities who make you feel envious of their glamorous lifestyles may not have a positive impact on your mental health, there are also plenty of accounts that offer support, solidarity and advice.
People like author Matt Haig, who regularly posts about his own struggles, psychotherapist and activist Rwenshaun Miller and Luke Ambler, who started  Andy's Man Club to help break the taboo around men and mental health.
"I think mental health has probably moved forward 15 years in the last couple of years," says Dr Hart. "Hopefully, the message is gradually getting through to men that it's alright to be sensitive, it's alright to show vulnerability, and it's alright to disclose that you're having difficulties."
The following two tabs change content below.
The Press Association
News from the Press Association - the national news agency for the UK and Ireland
Latest posts by The Press Association (see all)
Leave a Comment!
Community Terms & Conditions
Content standards
These content standards apply to any and all material which you contribute to our site (contributions), and to any interactive services associated with it.
You must comply with the spirit of the following standards as well as the letter. The standards apply to each part of any contribution as well as to its whole.
Contributions must:
be accurate (where they state facts); be genuinely held (where they state opinions); and comply with applicable law in the UK and in any country from which they are posted.
Contributions must not:
contain any material which is defamatory of any person; or contain any material which is obscene, offensive, hateful or inflammatory; or promote sexually explicit material; or promote violence; promote discrimination based on race, sex, religion, nationality, disability, sexual orientation or age; or infringe any copyright, database right or trade mark of any other person; or be likely to deceive any person; or be made in breach of any legal duty owed to a third party, such as a contractual duty or a duty of confidence; or promote any illegal activity; or be threatening, abuse or invade another's privacy, or cause annoyance, inconvenience or needless anxiety; or be likely to harass, upset, embarrass, alarm or annoy any other person; or be used to impersonate any person, or to misrepresent your identity or affiliation with any person; or give the impression that they emanate from us, if this is not the case; or advocate, promote or assist any unlawful act such as (by way of example only) copyright infringement or computer misuse.
Nurturing a safe environment
Our Silversurfers community is designed to foster friendships, based on trust, honesty, integrity and loyalty and is underpinned by these values.
We don't tolerate swearing, and reserve the right to remove any posts which we feel may offend others... let's keep it friendly!