6 pro tips for cleaning your barbecue this summer
The sun is shining and temperatures are on the rise, which means barbecues are being lit and sausages are sizzling all over the country.
But the more you throw burgers, chicken skewers or halloumi on the grill, the more you have to clean it – and why do they seem so difficult to clean?
It's tempting to forget about the gathering grease and burnt bits until you have friends and family around again, but that increases the risk of food poisoning and shortens the life of your beloved grill.
Thankfully, Michelin-starred chef Steve Smith, from Bohemia Bar & Restaurant in Jersey, has some clever tips for cleaning the barbie after it's worked hard for your meaty banquet.
1. Preheat the grill before cleaning it
This way, the grease and food will scrape off easily.
2. Rub vegetable oil over the grill
To prevent rust, clean the grill with soapy water after cooking, then rinse and dry immediately. Then rub vegetable oil across the grill to prevent rust.
3. Use an onion
This may sound bizarre, but to help remove stubborn grit, place a half cut onion on the end of a fork and rub onto a hot grill.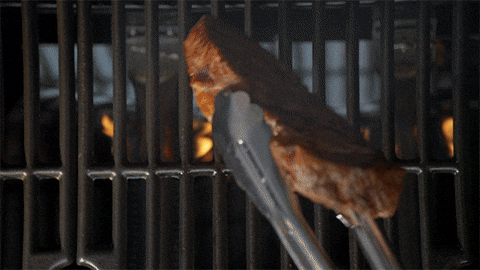 4. Never throw water over the coals
If you're using a charcoal grill, don't throw cold water over the coals after cooking – this will create more of a mess.
5. Clean it with beer
Pour half a bottle of beer over a heated barbecue and rub with newspaper for a clean grill – then you can enjoy the rest of the beer yourself!
6. Mix baking soda and water to burn off food remains
Make a paste with baking soda and water, then cover the grill in it with a wire brush. Let it dry for 15 minutes, before wiping the grill with a dry cloth. Place it over the hot coals for 15 minutes to burn off any remains before cooking the food.
Leave a Comment!
Community Terms & Conditions
Content standards
These content standards apply to any and all material which you contribute to our site (contributions), and to any interactive services associated with it.
You must comply with the spirit of the following standards as well as the letter. The standards apply to each part of any contribution as well as to its whole.
Contributions must:
be accurate (where they state facts); be genuinely held (where they state opinions); and comply with applicable law in the UK and in any country from which they are posted.
Contributions must not:
contain any material which is defamatory of any person; or contain any material which is obscene, offensive, hateful or inflammatory; or promote sexually explicit material; or promote violence; promote discrimination based on race, sex, religion, nationality, disability, sexual orientation or age; or infringe any copyright, database right or trade mark of any other person; or be likely to deceive any person; or be made in breach of any legal duty owed to a third party, such as a contractual duty or a duty of confidence; or promote any illegal activity; or be threatening, abuse or invade another's privacy, or cause annoyance, inconvenience or needless anxiety; or be likely to harass, upset, embarrass, alarm or annoy any other person; or be used to impersonate any person, or to misrepresent your identity or affiliation with any person; or give the impression that they emanate from us, if this is not the case; or advocate, promote or assist any unlawful act such as (by way of example only) copyright infringement or computer misuse.
Nurturing a safe environment
Our Silversurfers community is designed to foster friendships, based on trust, honesty, integrity and loyalty and is underpinned by these values.
We don't tolerate swearing, and reserve the right to remove any posts which we feel may offend others... let's keep it friendly!