8 marvellous – and mystifying – makes from the Blue Peter archives
Here's one I made earlier:
You don't get through 60 years of regular episodes without racking up a few memorable TV moments.
It was, of course, on Blue Peter that Lulu the baby elephant took live television's most notorious toilet break – all over the studio floor – before stomping on a presenter's feet. There was John Noakes pulling down his trousers to inspect a bruise on his leg, only to reveal that he was wearing his wife's lacy knickers (he claimed to have put them on accidentally while getting dressed in the dark).
And parents might remember presenter Simon Groom in 1980 – deliberately, he later admitted – admiring the doors of Durham Cathedral with the line: "What a beautiful pair of knockers."
There were the Blue Peter pets (nine dogs, nine cats, five tortoises and two parrots) and, of course, the 'makes' – DIY instructionals that sent children scrambling for sticky tape and empty toilet rolls.
In fact, these legendary segments have now been celebrated in a new book – naturally called Here's One I Made Earlier: Classic Blue Peter Makes – as the ever popular series marks its 60th anniversary.
So, without further ado, here are eight memorable makes that Blue Peter made much, much earlier…
1. The Advent crown
A Blue Peter Christmas classic, the Advent crown still appears annually in the studio to signal the first Sunday of Advent, the official start of the festive season. Constructed from tin lids, wire, Plasticine and old coat hangers, this magnificent, candlelit ornament tops the list for makes most likely to elicit from friends a: 'How on Earth did you do that?'
You don't, however, want a four-pronged fire hazard swinging above your living room, so if you're tempted to give it a go now, use either fake candles or flame-retardant tinsel and ribbon.
2. Thunderbirds are go!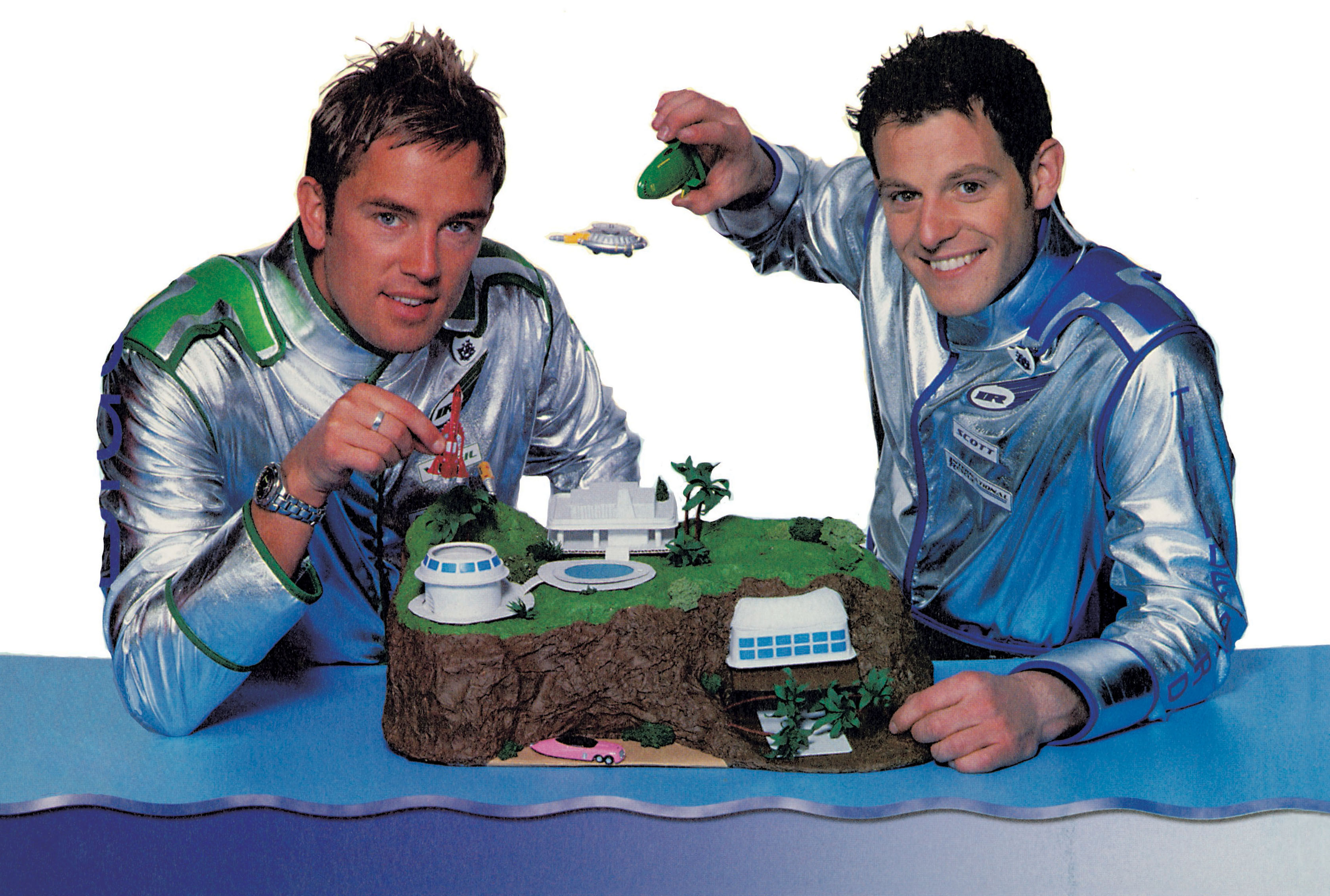 The Savile Row suit, the Château Lafite, the Mercedes Benz S-Class of Blue Peter makes – this giant DIY playset generated 100,000 requests for full instructions when it first aired in 1992. Perhaps the most elaborate make Blue Peter ever aired, the set uses 22 distinct ingredients to create an impressively detailed replica of the Tracy Island base from hit Sixties children's TV show, Thunderbirds. Presenter Anthea Turner later claimed to have been offered £100,000 for her original model – and to have turned it down.
3. Super furry animal coat hangers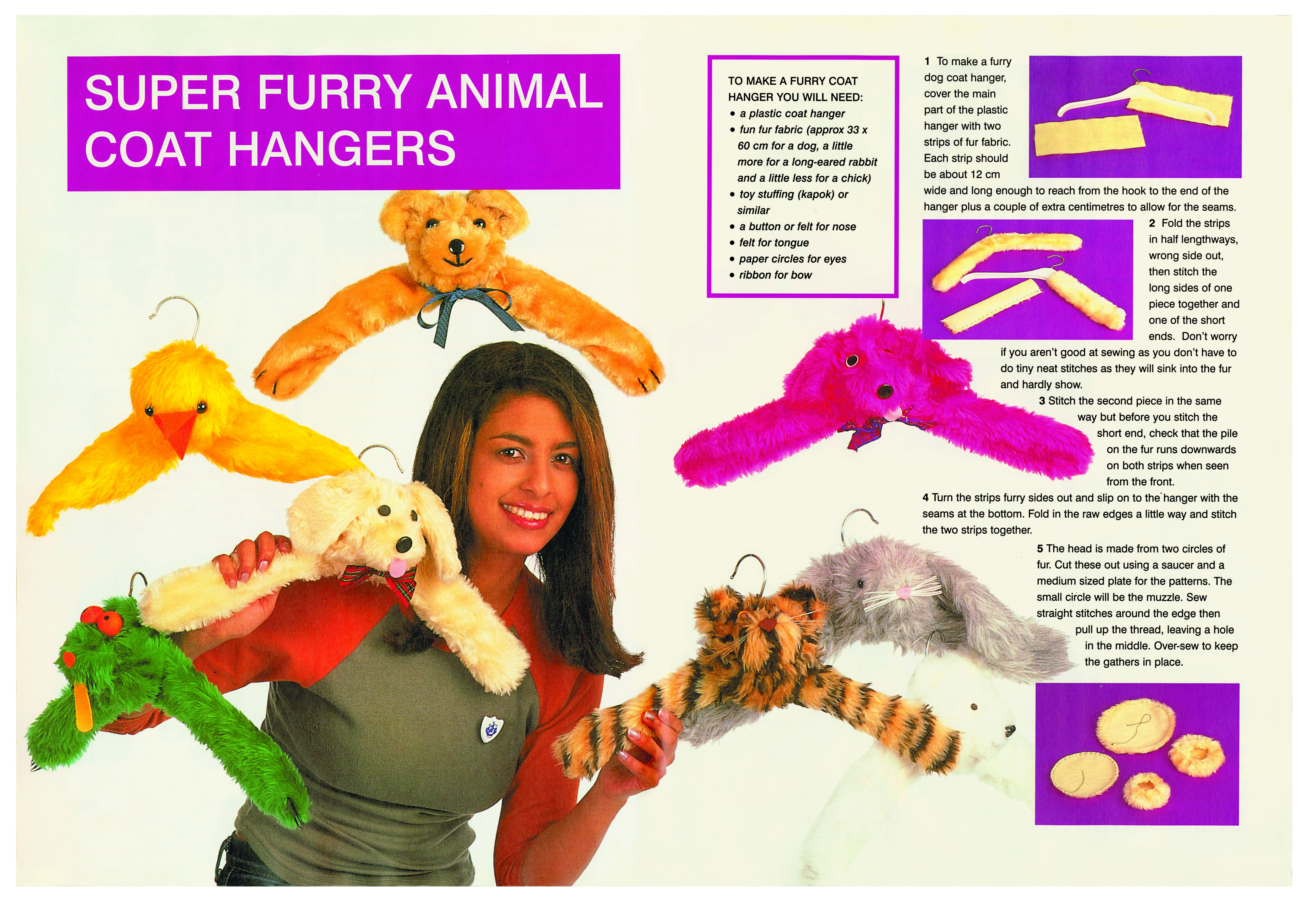 If Tracy Island marked the height of Blue Peter's technical wizardry, the super furry animal coat hangers scoop the prize for cutest. You can probably guess what to expect from this make – felt-covered coat hangers with button eyes and lolling tongues – and it's gratifyingly heart-melting to open your wardrobe on a cold winter's morning to a small flock of fluffy, doe-eyed critters.
For those who don't fancy fashioning animal-appropriate ears – by far the most difficult bit – may I recommend the duckling. A straightfoward yellow pom-pom with an orange triangle for a beak, and probably cutest of the lot.
4. The tabletop Cup Final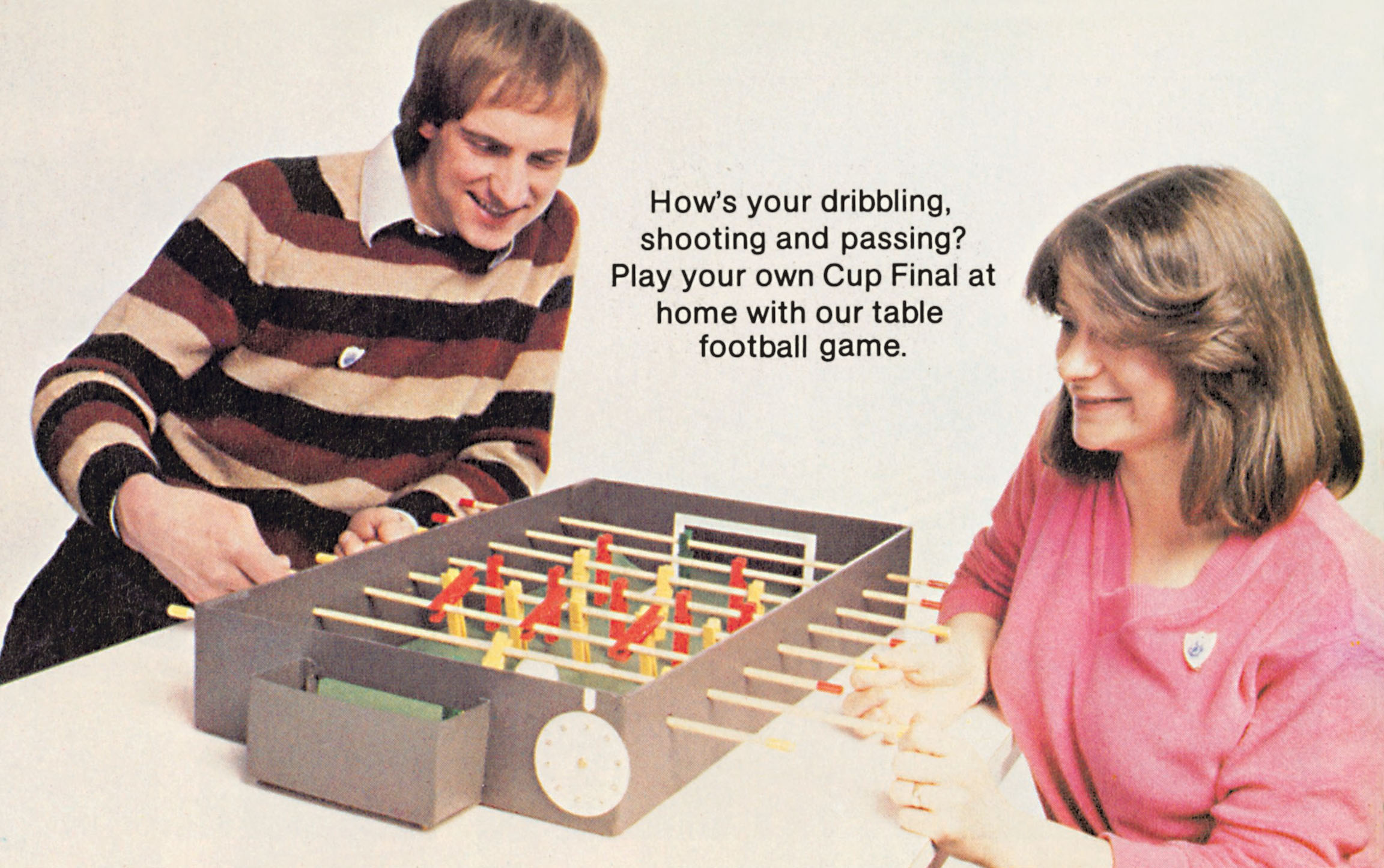 No list of makes could be complete without including at least one shoebox-based design.
So often the foundation for childhood creativity, this make sees the humble shoebox transformed into a football stadium, complete with cardboard score counter, ping-pong ball football, and clothes peg players. One of the more complex Blue Peter creations, this memorable make has excellent shelf-life as a party piece, and should see action at least around every major tournament.
No one grows out of table football: Stop kidding yourselves.
5. Blue pizzas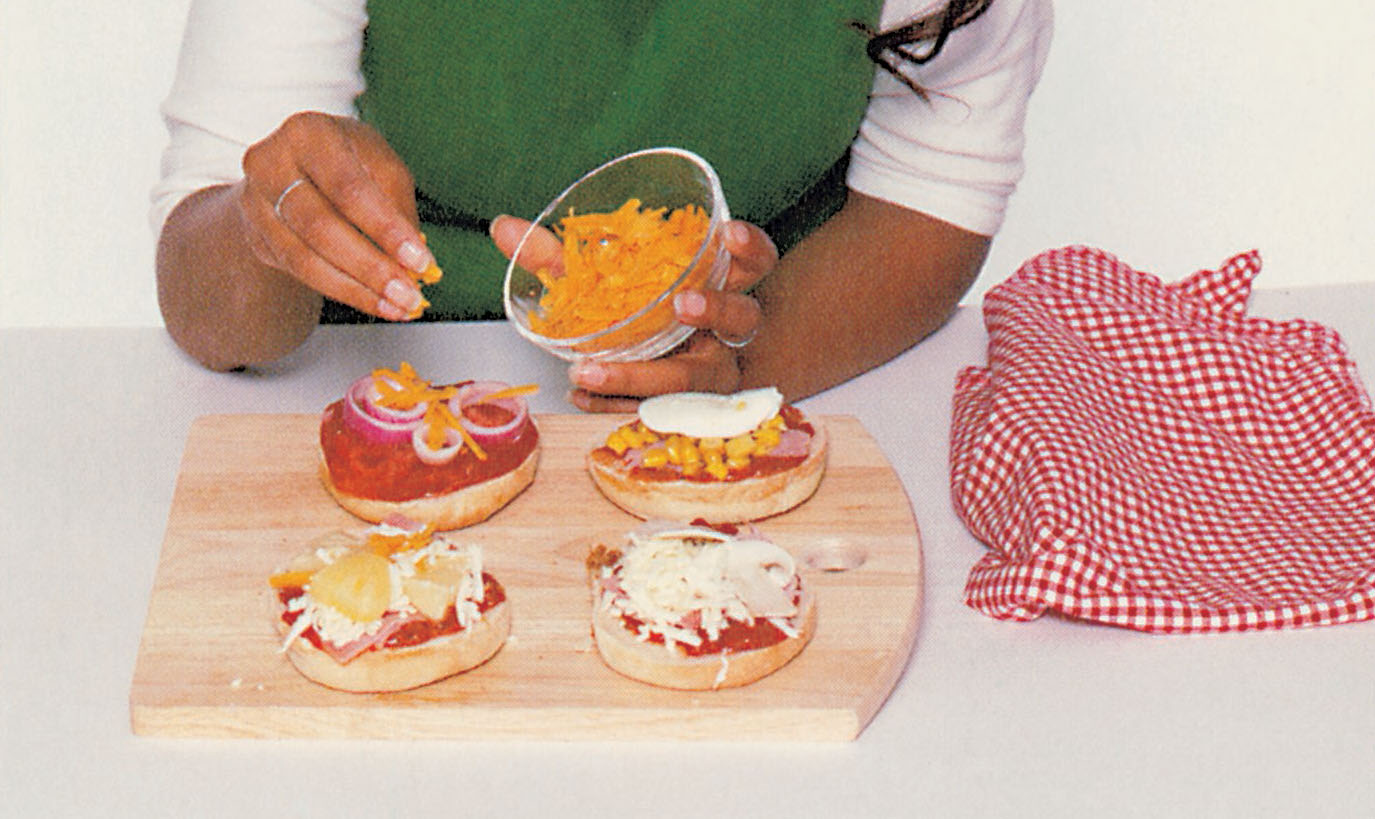 Blue Peter's most enduring makes centred around arts and crafts, but the series' presenters spent almost as much time in the kitchen over the years. Highlights included chocolate apples, tastier-than-they-sound 'granny's biscuits', and a recipe for scone pizza that was mystifyingly pegged to the wedding of Princess Anne. Most popular of all though were the so-called 'Blue Pizzas' – homemade pastries with a mishmash of healthy ingredients, which introduced children early to the idea that pineapple was an acceptable pizza topping. A rare instance of Blue Peter having much to answer for.
6. Drawing the Blue Peter ship
A Blue Peter icon and piece of television history, the show's naval logo debuted in 1963 as a symbol of discovery and exploration. It still adorns telecasts and merchandise, as well as the coveted badges awarded for completing tasks, sending in letters or – and this is a real criteria – saving someone's life. To this day, rare badges circulate on eBay for upwards of £100.
In keeping with the Blue Peter tradition, this beloved boat can be easily drawn with a saucer, a coin, and some classic DIY trickery. Almost the entire design consists of interlocking circles, so sails, prow and deck can be traced with circular household objects of varying size. You might even make a Blue Peter badge of your own (don't worry, we won't tell).
7. Tinsel sweet trees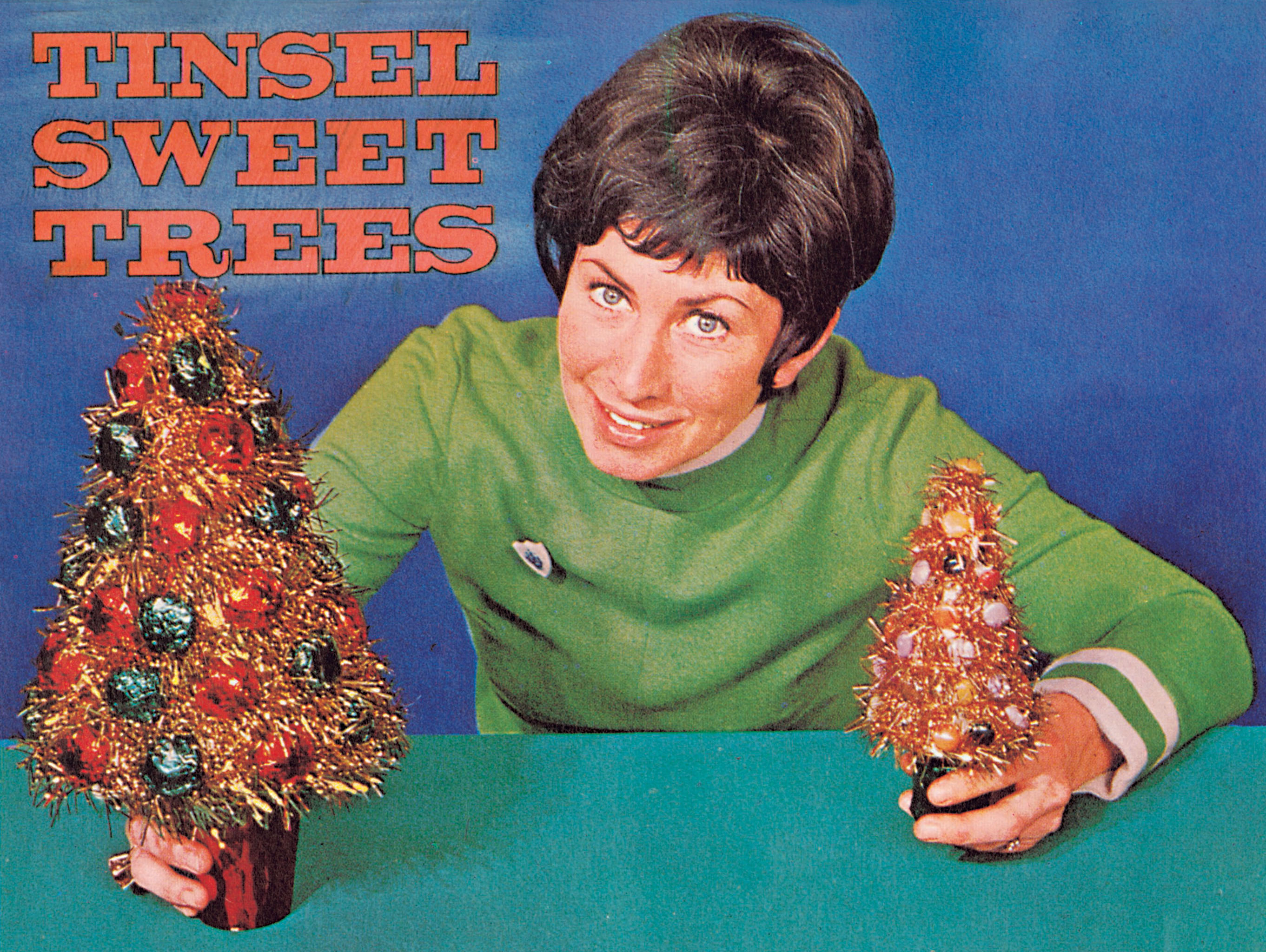 These crowd-pleasing Christmas treats can be constructed from a yoghurt pot, coloured foil, a small stick and a thin sheet of cardboard. With tinsel for leaves and boiled sweets for baubles, each fake tree can last long after a real one's shed its last pine needle, and can be refilled with new 'decorations' year on year. Just be sure to clean your yoghurt pot thoroughly before use – the faint whiff of last year's dairy does not a very merry Christmas make.
8. An unusual pencil case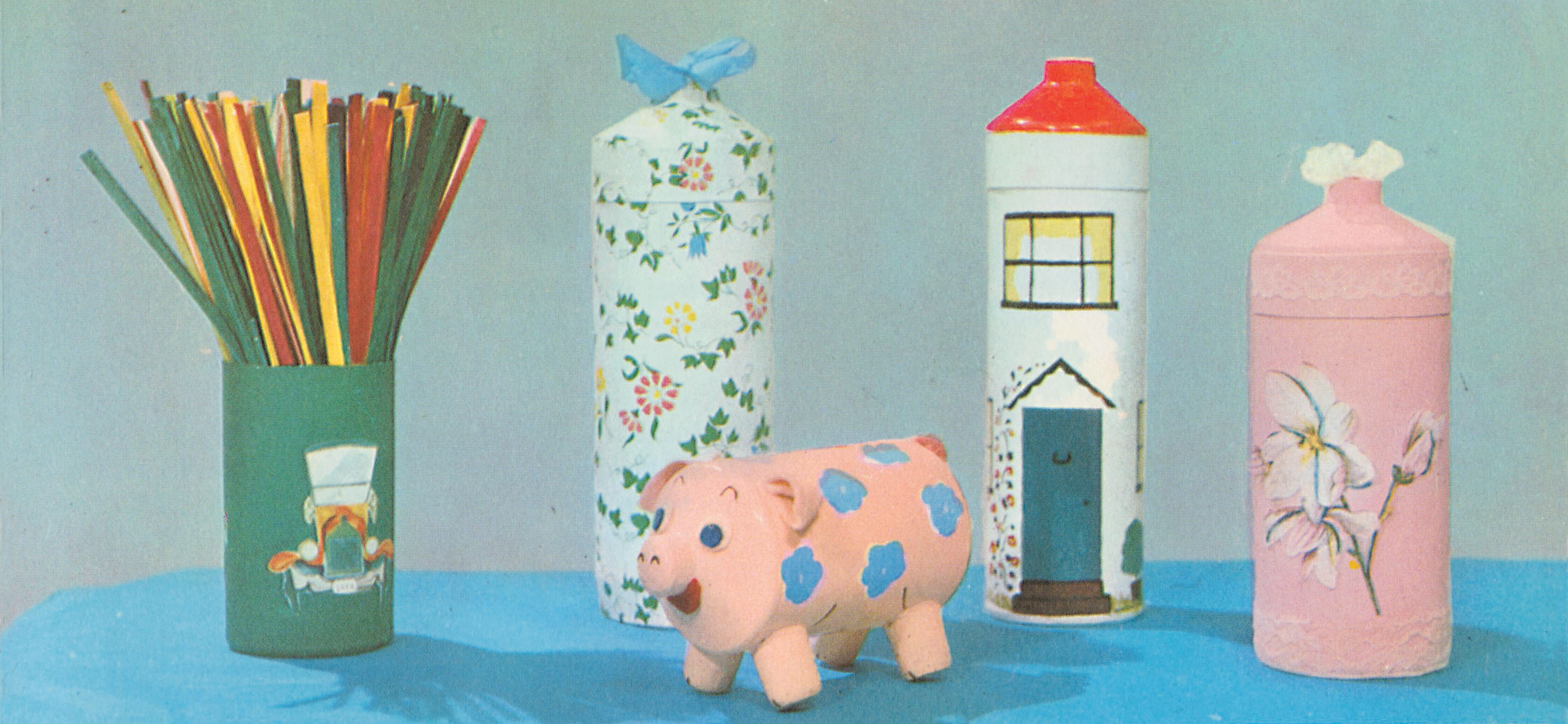 A must-have for Blue Peter-watching schoolchildren eager to impress on a Monday morning, these makeshift pencil holders provide a satisfying mix of aesthetics and practicality. All you need is an empty bottle – a squidgy, old-fashioned washing-up liquid bottle worked wonders – a strip of cardboard, and some paint.
Like all the best design projects, this make gave children simple instructions to follow before encouraging them to cover the product with their own designs and patterns. Beautiful in its simplicity, this cheap and cheerful make takes as long as you're willing to decorate for.
The following two tabs change content below.
The Press Association
News from the Press Association - the national news agency for the UK and Ireland
Latest posts by The Press Association (see all)
Leave a Comment!
Community Terms & Conditions
Content standards
These content standards apply to any and all material which you contribute to our site (contributions), and to any interactive services associated with it.
You must comply with the spirit of the following standards as well as the letter. The standards apply to each part of any contribution as well as to its whole.
Contributions must:
be accurate (where they state facts); be genuinely held (where they state opinions); and comply with applicable law in the UK and in any country from which they are posted.
Contributions must not:
contain any material which is defamatory of any person; or contain any material which is obscene, offensive, hateful or inflammatory; or promote sexually explicit material; or promote violence; promote discrimination based on race, sex, religion, nationality, disability, sexual orientation or age; or infringe any copyright, database right or trade mark of any other person; or be likely to deceive any person; or be made in breach of any legal duty owed to a third party, such as a contractual duty or a duty of confidence; or promote any illegal activity; or be threatening, abuse or invade another's privacy, or cause annoyance, inconvenience or needless anxiety; or be likely to harass, upset, embarrass, alarm or annoy any other person; or be used to impersonate any person, or to misrepresent your identity or affiliation with any person; or give the impression that they emanate from us, if this is not the case; or advocate, promote or assist any unlawful act such as (by way of example only) copyright infringement or computer misuse.
Nurturing a safe environment
Our Silversurfers community is designed to foster friendships, based on trust, honesty, integrity and loyalty and is underpinned by these values.
We don't tolerate swearing, and reserve the right to remove any posts which we feel may offend others... let's keep it friendly!