Holidaymakers can use NHS app to 'prove' vaccine status from Monday
The ban on overseas level travel will be lifted on Monday for people in England
Holidaymakers who have had both doses of a coronavirus vaccine will be able to "prove" their status to other countries, Health Secretary Matt Hancock said.
The Cabinet minister confirmed that people in England who travel abroad will be able to use the NHS app to demonstrate they are fully vaccinated when the ban on overseas leisure travel is lifted on Monday.
The app is currently used to book medical appointments and order repeat prescriptions, and is different from the Covid-19 app.
People who do not have access to a smartphone and know the country they are travelling to requires proof of vaccination status can call the NHS helpline 119 from Monday and ask for a letter to be posted to them.
Mr Hancock told Sky News: "The certification, being able to show that you've had a jab, is going to be necessary for people to be able to travel.
"So, we want to make sure people can get access to that proof, not least to show governments of other countries that you've had the jab if they require that in order to arrive.
"Israel's a good example. They've said that they'll want proof of you having had two jabs for you to go to Israel as and when they open up. They're on the green list of course.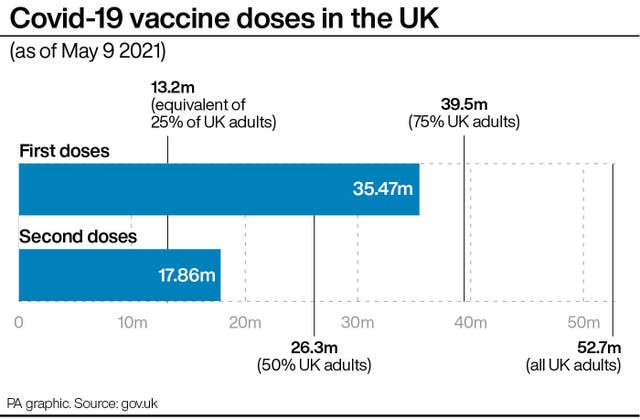 "So we will make sure that you can get access to that, to prove that point."
Mr Hancock said the use of so-called vaccine passports is "different to the question of whether we require people to be certified as Covid-secure before doing things domestically".
He added: "The focus for the time being on this certification question, is making sure that people can travel internationally and show that they've had the jab if that's what another country requires."
Meanwhile, Heathrow published figures showing the number of passengers who travelled through the airport in April compared with the same month in 2019 was down 6.3 million to 0.5 million.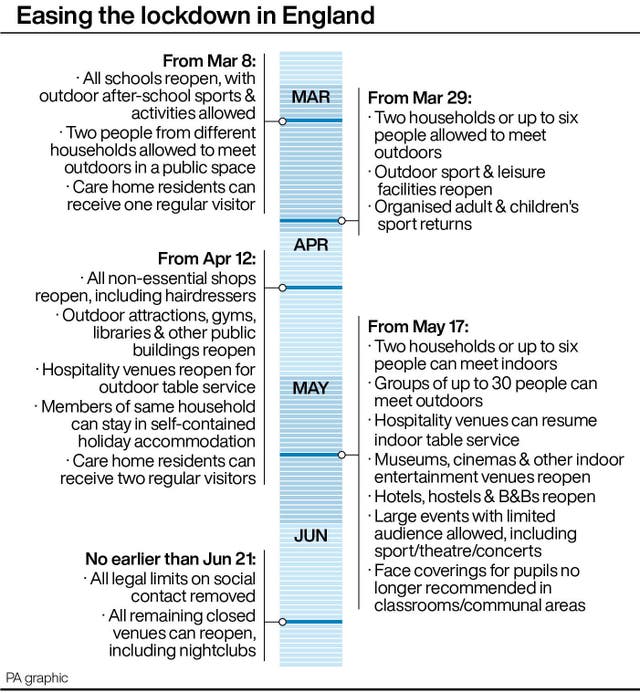 Chief executive John Holland-Kaye criticised the Government's decision to only put a handful of countries on its green travel list, claiming ministers "need to expand it massively in the next few weeks to include other low-risk markets such as the United States".
He added that the decision by the Border Force to warn passengers to accept there will be increased delays when they return from overseas "smack of complacency", adding: "They are completely avoidable if ministers ensure that all desks are staffed at peak times."
Transport Secretary Grant Shapps has said ministers will review the situation every three weeks from Monday "to see if we can expand the green list".
That means the next two dates when major changes could take place are June 7 and June 28.
Paul Charles, chief executive of travel consultancy The PC Agency, said several Greek islands could be added to the green list early next month, with most of Europe put in that tier by the end of June.
"Their rates are coming down and they're starting to really manage their Covid crisis now," he told the PA news agency.
The Daily Telegraph reported that coronavirus data analysis shows additions to the green list on June 7 are likely to be restricted to "a limited number of destinations" including the British Virgin Islands and some Caribbean countries.
Any "big summer holiday getaway" to countries such as Spain, Italy and France is "likely to be delayed until July or even August", the newspaper reported.
Assessments of the travel lists are based on a range of factors, including the proportion of a country's population that has been vaccinated, rates of infection, emerging new variants, and the country's access to reliable scientific data and genomic sequencing.
Do you have the NHS app on your phone?
The following two tabs change content below.
The Press Association
News from the Press Association - the national news agency for the UK and Ireland
Latest posts by The Press Association (see all)
Leave a Comment!
Community Terms & Conditions
Content standards
These content standards apply to any and all material which you contribute to our site (contributions), and to any interactive services associated with it.
You must comply with the spirit of the following standards as well as the letter. The standards apply to each part of any contribution as well as to its whole.
Contributions must:
be accurate (where they state facts); be genuinely held (where they state opinions); and comply with applicable law in the UK and in any country from which they are posted.
Contributions must not:
contain any material which is defamatory of any person; or contain any material which is obscene, offensive, hateful or inflammatory; or promote sexually explicit material; or promote violence; promote discrimination based on race, sex, religion, nationality, disability, sexual orientation or age; or infringe any copyright, database right or trade mark of any other person; or be likely to deceive any person; or be made in breach of any legal duty owed to a third party, such as a contractual duty or a duty of confidence; or promote any illegal activity; or be threatening, abuse or invade another's privacy, or cause annoyance, inconvenience or needless anxiety; or be likely to harass, upset, embarrass, alarm or annoy any other person; or be used to impersonate any person, or to misrepresent your identity or affiliation with any person; or give the impression that they emanate from us, if this is not the case; or advocate, promote or assist any unlawful act such as (by way of example only) copyright infringement or computer misuse.
Nurturing a safe environment
Our Silversurfers community is designed to foster friendships, based on trust, honesty, integrity and loyalty and is underpinned by these values.
We don't tolerate swearing, and reserve the right to remove any posts which we feel may offend others... let's keep it friendly!