Mental Health Awareness Week: Why kindness is good for the mind
Everyone wins.
Whether it's offering your place in the queue to someone who's in a rush, donating money to a friend's charitable cause or even just making a cup of coffee for someone who's cranky without caffeine in the morning, nothing feels better than performing a simple and random act of kindness.
And with this year's Mental Health Awareness Week (18-24 May) focusing on the power and potential of kindness, it feels like a particularly poignant time to think about how we can be a kinder ally to our friends and neighbours.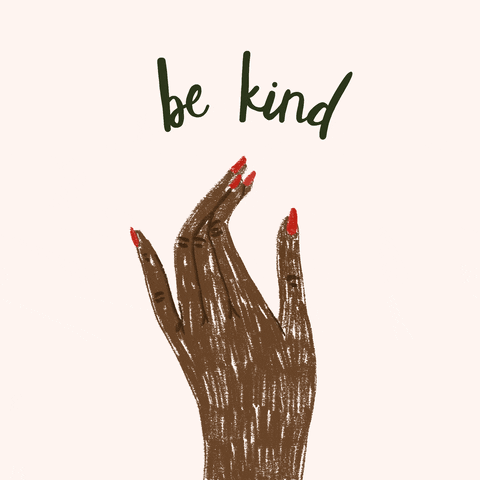 With the psychological and social impacts of our 'new normal', being kind to ourselves and others feels like a matter of public duty – and one that we should all take steps to undertake.
The good news is that going the extra mile for other people isn't totally selfless – it has some benefits for you too, and you don't have to spend lots of time and money to achieve them.
Here are three science-backed benefits of being a kind and conscientious person…
Kindness can reduce stress
After a particularly hectic day at work, you might think about running a bath or cracking open a bottle of wine as a self-care method – but research shows that volunteering your time to others, even in the smallest ways, is secretly a super effective way to beat stress.
A 2015 study published in the journal Sage asked 77 people to keep a mental health diary on their smartphones, charting their mood and stress levels over a number of weeks. The researchers then asked participants to note down how many 'prosocial behaviours' (acts intended to benefit others) they completed each day. These behaviours included little acts of kindness like holding the door for someone or giving an honest compliment to a stranger.
The researchers found that when the participants were stressed, it would have a markedly negative impact on their mood. But on the days when when they performed more prosocial behaviours, the participants found that their moods weren't as negatively effected by stress, and they tended to rate their mental health as being more positive on the whole.
It can help with isolation
A study by the Co-op and the British Red Cross found that over nine million people in the UK – more than the population of London – are either always or often lonely. And with social distancing rules set to last for some time, feelings of disconnection are sadly on the rise.
As well as scheduling in regular Zoom calls with friends and family, taking intentional steps to be nice and help other people could help to tackle feelings of isolation, as studies have found that those who make time to help others actually stop feeling lonely themselves.
For instance, researchers from the University of California San Diego School of Medicine looked at elderly residents in a retirement home, 85% of which felt lonely often, even while participating in communal living.
While studying coping methods, the researchers reported that compassion was key for preventing loneliness, citing it as a proactive way to stay connected to your community.
Kindness can boost your self-esteem
On a day where nothing seems to be going quite right, it's easy to look in the mirror and pick fault with yourself, but science has found that being kind to others can help you to be kinder to yourself – and lift your mood.
A study published in the Journal of Adolescence looked at questionnaires from 681 adolescents, analysing how self-esteem was associated with acts of kindness toward strangers, friends and family.
The researchers found that any act of kindness – regardless of whether it was performed for strangers or friends and family – had a positive impact on self-esteem.
However, the acts of kindness towards strangers, such as helping someone with their shopping or volunteering for a charity,  had a greater positive impact on self-esteem than any other, no matter whether the act was big or small.
Random acts of kindness you can try at home
In challenging times it's common to want to help those around us. We need to distance ourselves to stay safe right now, but that doesn't mean we can't enjoy the benefits of being kind.
Try these five ideas for spreading some positive vibes this Mental Health Awareness Week:
1. Check in via text or email with a friend or family member who may be lonely. Especially those who you haven't heard from in a while. You could send them some photo memories of happy times or a link to a song that reminds you of them. Even the smallest gestures can make a difference.
2. Give someone a compliment. Whether it's a remark on your partner's new DIY haircut or a comment on your friend's latest selfie, an honest compliment can really brighten someone's day – and yours too.
3. Run a 5K for charity. You don't need a big event, fancy finish line or winner's medal to raise some cash for a worthy cause. Simply plot your route in a local park and set up a donation page for friends and family to pledge to electronically.
4. Join a local Facebook group and offer your expertise. There could be someone in your area who needs help with picking up their shopping or collecting their post. If you don't offer, you'll never know.
5. Smile. One of the easiest ways you can make the world a kinder place is to smile often. Make it your mission to acknowledge the cashiers, delivery drivers and neighbours who you come across day-to-day. A little positivity can go a long way.
---
Have you got a health question?
We've teamed up with AXA PPP healthcare to bring you articles, information and tips from their clinical teams on a wide range of health topics. And if you have a question of your own, their, "Ask the Expert" service allows you to ask the team of friendly, experienced nurses, pharmacists and midwives about any health topic and they'll get back to you with an answer as soon as they're able.* So if you have something that's been bothering you, whether it concerns you or someone close to you, don't hesitate to get in touch.
Click below to submit your query online.

ASK THE EXPERT
* Nurses are available 24/7, 365 days a year. Midwives and pharmacists are available Monday to Friday, 8am to 8pm; Saturday, 8am to 4pm; and Sunday, 8am to 12pm.
Actual response time will depend on the nature of your enquiry and availability of appropriately qualified experts but the team will always aim to get back to you within 24 hours.
Please note that our Expert Help services are there to offer health information and support. They do not diagnose or prescribe, and are not intended to be a substitute for professional medical advice given in the context of an individual consultation.
---
The following two tabs change content below.
The Press Association
News from the Press Association - the national news agency for the UK and Ireland
Latest posts by The Press Association (see all)
Leave a Comment!
Community Terms & Conditions
Content standards
These content standards apply to any and all material which you contribute to our site (contributions), and to any interactive services associated with it.
You must comply with the spirit of the following standards as well as the letter. The standards apply to each part of any contribution as well as to its whole.
Contributions must:
be accurate (where they state facts); be genuinely held (where they state opinions); and comply with applicable law in the UK and in any country from which they are posted.
Contributions must not:
contain any material which is defamatory of any person; or contain any material which is obscene, offensive, hateful or inflammatory; or promote sexually explicit material; or promote violence; promote discrimination based on race, sex, religion, nationality, disability, sexual orientation or age; or infringe any copyright, database right or trade mark of any other person; or be likely to deceive any person; or be made in breach of any legal duty owed to a third party, such as a contractual duty or a duty of confidence; or promote any illegal activity; or be threatening, abuse or invade another's privacy, or cause annoyance, inconvenience or needless anxiety; or be likely to harass, upset, embarrass, alarm or annoy any other person; or be used to impersonate any person, or to misrepresent your identity or affiliation with any person; or give the impression that they emanate from us, if this is not the case; or advocate, promote or assist any unlawful act such as (by way of example only) copyright infringement or computer misuse.
Nurturing a safe environment
Our Silversurfers community is designed to foster friendships, based on trust, honesty, integrity and loyalty and is underpinned by these values.
We don't tolerate swearing, and reserve the right to remove any posts which we feel may offend others... let's keep it friendly!