How to make your own pesto
Fresh, homemade pesto is 100 times tastier!
Many types of Italian pesto sold by UK supermarkets contains substitute, and often cheaper, ingredients, an investigation has found.
Which? tested 12 own-brand standard and premium pestos, all made in Italy, and found a range of additions to the sauce's traditional four key ingredients: basil, pine nuts, parmesan and olive oil.
Many pestos tested contained sunflower oil, carrot and even bamboo fibres. Scary stuff. The good news is, making your own at home is easy, much more delicious and means you'll know exactly what's going into it.
You'll need a food processor or a pestle and mortar – either work just as well – and it's a case of chucking everything in and whizzing together. Here's how it's done…
1. Peel and chop (or bash) half a clove of garlic.
2. Roughly chop a big bunch of basil leaves.
3. Lightly toast a handful of pine nuts in a frying pan (no oil necessary).
4. Grate enough parmesan for a heaped handful.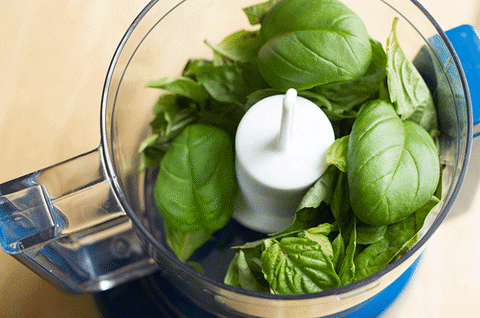 5. Add the garlic, basil, half the cheese and nuts to a food processor or mortar, with a pinch of sea salt, and wizz up or bash with a pestle until it looks like a paste.
6. Drizzle in enough extra virgin olive oil to bind the mixture to make a nice runny consistency.
7. Checking the consistency as you go, add the rest of the cheese and more oil until you're happy with the texture. Remember to keep tasting as you go. Everyone likes their pesto different – more basil, more garlic – so it's all about experimenting.
8. Add salt, pepper and a squeeze of lemon to taste. This will make enough to add to pasta for four people, or it will keep in the fridge in a sealed jar for around two weeks.
The following two tabs change content below.
Mother of three grown-up daughters I am the ultimate multi-tasker and am passionate about my role as Silversurfers Website Editor and Social Media Manager. Always on the lookout for all things that will interest and entertain our community. Fuelling fun for the young at heart!
Latest posts by Sally - Silversurfer's Editor (see all)
Leave a Comment!
Community Terms & Conditions
Content standards
These content standards apply to any and all material which you contribute to our site (contributions), and to any interactive services associated with it.
You must comply with the spirit of the following standards as well as the letter. The standards apply to each part of any contribution as well as to its whole.
Contributions must:
be accurate (where they state facts); be genuinely held (where they state opinions); and comply with applicable law in the UK and in any country from which they are posted.
Contributions must not:
contain any material which is defamatory of any person; or contain any material which is obscene, offensive, hateful or inflammatory; or promote sexually explicit material; or promote violence; promote discrimination based on race, sex, religion, nationality, disability, sexual orientation or age; or infringe any copyright, database right or trade mark of any other person; or be likely to deceive any person; or be made in breach of any legal duty owed to a third party, such as a contractual duty or a duty of confidence; or promote any illegal activity; or be threatening, abuse or invade another's privacy, or cause annoyance, inconvenience or needless anxiety; or be likely to harass, upset, embarrass, alarm or annoy any other person; or be used to impersonate any person, or to misrepresent your identity or affiliation with any person; or give the impression that they emanate from us, if this is not the case; or advocate, promote or assist any unlawful act such as (by way of example only) copyright infringement or computer misuse.
Nurturing a safe environment
Our Silversurfers community is designed to foster friendships, based on trust, honesty, integrity and loyalty and is underpinned by these values.
We don't tolerate swearing, and reserve the right to remove any posts which we feel may offend others... let's keep it friendly!