5 symptoms of kidney cancer everyone should be aware of
With kidney cancer rates rising, an oncologist outlines the warning signs never to ignore.
Kidney cancer is on the rise globally and in the UK, yet many people are unaware of the warning signs.
To mark Kidney Cancer Awareness Week (February 3-7), the Kidney Cancer UK charity is seeking to help tackle this, by highlighting potential symptoms of the disease and the risk factors that could mean a person's more likely to develop it.
It's thought the rise in cases is partly due to lifestyle factors, such as smoking, unhealthy diets and obesity, which are linked to around 42% of kidney cancers. However, wider use of diagnostic imaging techniques (scans) may have contributed to more cancers being detected too.
People aged 45-75 are also at higher risk of kidney cancer, as well as those with a first-degree relative (parent, sibling or child) with a history of the disease. Certain medical conditions, such as high blood pressure and chronic kidney disease, are also linked with raised risk levels.
The disease can often be cured if found early – but as many people are unaware of the symptoms, diagnosis often doesn't occur until the cancer has progressed. And as the kidneys filter waste from the blood, create urine, control blood pressure and create red blood cells, damage to these vital organs can be extremely serious.
Here, Dr Ekaterini Boleti, consultant medical oncologist at the Royal Free London NHS Foundation Trust, outlines five of the most common symptoms of kidney cancer…
1. Blood in urine
"One of the most common symptoms of kidney cancer is blood in the urine, medically named haematuria. It's not always easy to spot as the blood may not present as red, and can appear in your urine as pink or even brown. The presence of blood in your urine may also be inconsistent, appearing about every other day. And for some people, the amount of blood will be so small, it can't be detected by the human eye," says Dr Boleti.
Remember though – spotting blood in your urine doesn't automatically mean you have cancer, but it is definitely something you want to get checked out quickly. "There are several other more common causes of blood in the urine, including bladder or kidney infections, kidney stones, cysts, or injury to the kidney – it's unlikely that it will be cancer, but you should always see a doctor if you spot blood in your urine," she adds.
"If you fall within the at-risk bracket for kidney cancer (i.e. aged over 40, a smoker, overweight, have a family history of the condition and/or have high blood pressure), you should organise a urinalysis (a laboratory test that can help doctors detect any blood in your urine). If you're concerned you're at risk for kidney cancer, you're entitled to a urinalysis test on the NHS, or for a small fee you can order your own online."
2. Anaemia and fatigue
"Fatigue is a common symptom of any number of cancers. Of course, busy lives and hectic schedules can cause anyone to feel tired – but cancer fatigue is different from just feeling tired due to lack of sleep. Cancer-related fatigue is persistent and interferes with daily activities. It also tends to intensify as time goes on," says Boleti.
"Anaemia is another common symptom of kidney cancer, meaning many people with the condition will experience a low red blood cell count, and this can also lead to fatigue. Normally functioning kidneys signal to your body to make red blood cells, however cancer can make the kidneys behave differently and interfere with this signalling. Symptoms of anaemia include shortness of breath, dizziness, and pale skin."
3. Abdominal lump
"Some people with kidney cancer may notice a lump or a mass in the abdomen, side, or back. This can feel like a hard, thickening or bulging bump under the skin.
"Kidney lumps can be hard to feel, especially in the early stages, because the kidneys sit deep in the abdomen. If a lump is discovered, the doctor will likely order diagnostic tests (usually an ultrasound or a CT scan). These tests may help to determine the cause of the lump, but in most cases a biopsy will be required to confirm diagnosis.
"It's important to remember that not all lumps are cancer, but it's always important to see a doctor if you're concerned about a new lump anywhere in or on your body."
4. Lower back pain
"There are lots of different reasons why you may be experiencing back pain. One of the less common causes is kidney cancer, but it's always worth having back pain checked out to rule out an underlying problem, and get the right treatment for your symptoms.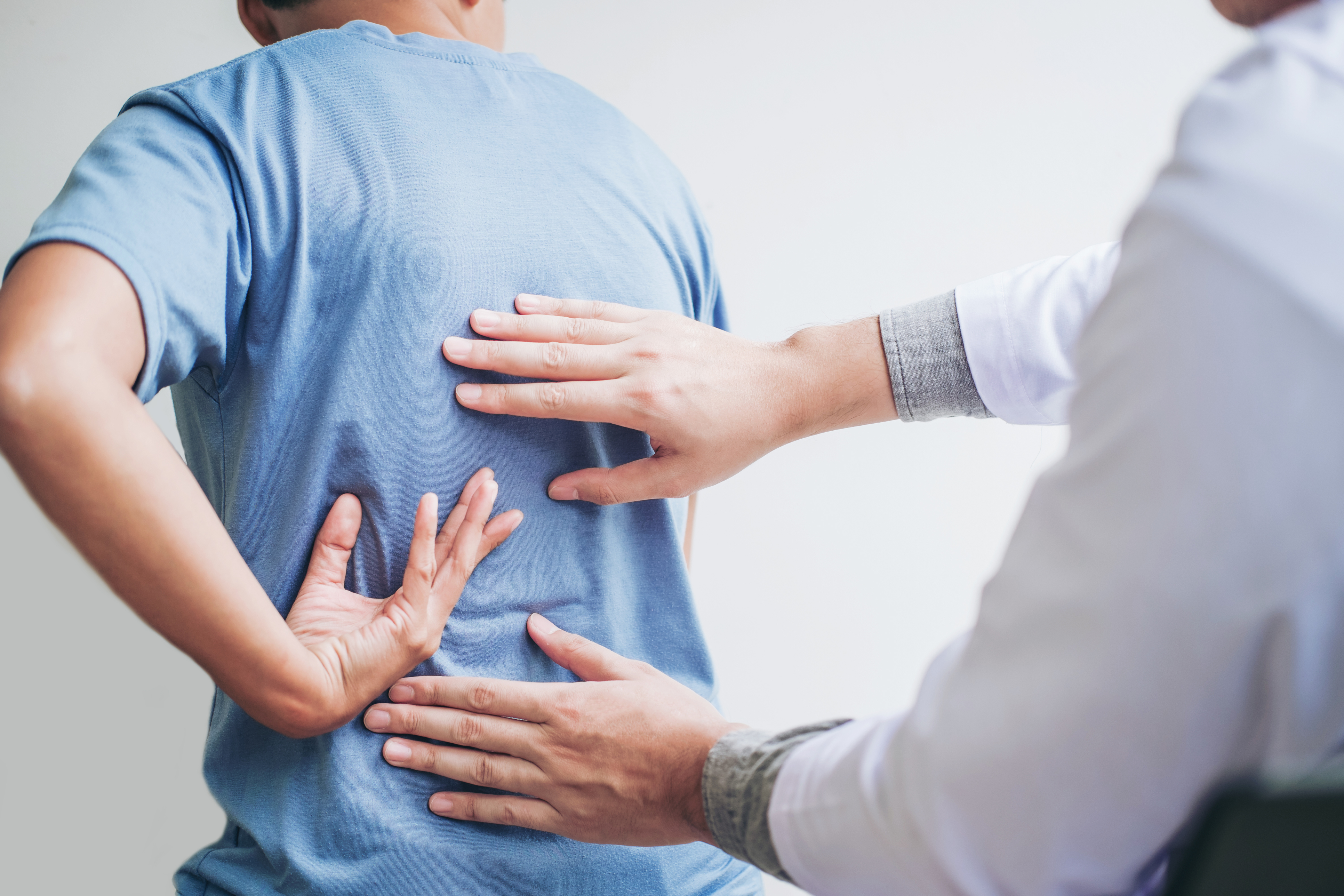 "Back pain caused by kidney cancer can range from a dull ache to a sharp stab below the ribs on your back, or on one side of your flank," she adds. "The flank is the area between your lower back and the bottom of the backside of your ribs. This may also feel like side pain.
"If you experience any sudden pain that's persistent and lasts more than a few days, you should visit a doctor to get to the bottom of it, even though it's unlikely to be cancer."
5. Unexpected weight loss
"Unexplained weight loss is another key characteristic of nearly all cancers – so it's definitely a symptom to look out for. In kidney cancer, a lot of people that have the condition will report weight loss. You may also suddenly lose interest in eating, which can contribute to this.
"If you're experiencing symptoms of kidney cancer, it's key to see your GP – particularly if you have risk factors for the disease."
---
Have you got a health question?
We've teamed up with AXA PPP healthcare to bring you articles, information and tips from their clinical teams on a wide range of health topics. And if you have a health related question of your own - about your or your family's health, medication or upcoming procedures, for example - you can also access their, "Ask the Expert" service. Available around the clock, 365 days a year this free resource allows you to ask the team of friendly and experienced nurses, midwives and pharmacists about any health concerns you may have - whenever you need them, 24 hours a day, every day. Please get in touch now.
Click below to submit your question online.

ASK THE EXPERT
---
SUBSCRIBE FOR AXA HEALTHCARE
AXA PPP healthcare ensure that, once you have a GP referral, you can choose who to see and where to go, from a list of approved specialists and hospitals. Making sure you get the treatment you need giving you the flexibility to manage your health around your lifestyle.
AXA PPP Private health insurance, put simply, offers you quick access to eligible health treatment, from seeing a specialist for diagnosis to having a comfortable stay while you're in hospital.
2 Months free healthcare cover for Silversurfers subscribers Plus a choice of FREE gift when you join*
The following two tabs change content below.
The Press Association
News from the Press Association - the national news agency for the UK and Ireland
Latest posts by The Press Association (see all)
Leave a Comment!
Community Terms & Conditions
Content standards
These content standards apply to any and all material which you contribute to our site (contributions), and to any interactive services associated with it.
You must comply with the spirit of the following standards as well as the letter. The standards apply to each part of any contribution as well as to its whole.
Contributions must:
be accurate (where they state facts); be genuinely held (where they state opinions); and comply with applicable law in the UK and in any country from which they are posted.
Contributions must not:
contain any material which is defamatory of any person; or contain any material which is obscene, offensive, hateful or inflammatory; or promote sexually explicit material; or promote violence; promote discrimination based on race, sex, religion, nationality, disability, sexual orientation or age; or infringe any copyright, database right or trade mark of any other person; or be likely to deceive any person; or be made in breach of any legal duty owed to a third party, such as a contractual duty or a duty of confidence; or promote any illegal activity; or be threatening, abuse or invade another's privacy, or cause annoyance, inconvenience or needless anxiety; or be likely to harass, upset, embarrass, alarm or annoy any other person; or be used to impersonate any person, or to misrepresent your identity or affiliation with any person; or give the impression that they emanate from us, if this is not the case; or advocate, promote or assist any unlawful act such as (by way of example only) copyright infringement or computer misuse.
Nurturing a safe environment
Our Silversurfers community is designed to foster friendships, based on trust, honesty, integrity and loyalty and is underpinned by these values.
We don't tolerate swearing, and reserve the right to remove any posts which we feel may offend others... let's keep it friendly!