Cervical cancer and HPV myths: 7 things everybody needs to know
Thousands of cervical cancer cases are prevented each year thanks to smear tests – so why are so many women still skipping them? 
Although cervical cancer is rare, thousands of women in the UK and Ireland are diagnosed each year. The disease is highly preventable though – mainly thanks to smear tests – and it's hoped the relatively recent introduction of HPV vaccination programmes will help slash these figures even further in the future.
But there's still a lot of confusion around cervical cancer and HPV (the virus is a key risk factor for the disease), and many women still don't attend their smear tests.
As Cervical Cancer Prevention Week begins, Imogen Pinnell, health information manager at Jo's Cervical Cancer Trust, talks us through some of the main myths around the disease…
1. Only people with a lot of sexual partners get HPV
HPV is extremely common. Pinnell says "80% of men and women will have some type of HPV at some point in their lives" and because it's so widespread, anyone who's been sexually active could get it. This includes non-penetrative sex, straight sex and gay sex, and using condoms doesn't provide absolute protection as the virus can be spread via touching too.
2. You'd always know if you have HPV
While 80% of people will have HPV at some point, the number who experience symptoms is much lower. Pinnell says this is "because there are no symptoms of simply having HPV and it often doesn't cause any problems – it just lives in our body for a bit and gets cleared by our immune system. It's only if you go on to develop a condition linked to HPV, whether that's something like genital warts or cancer, that you'd really know."
3. So having genital warts means you're high-risk for cervical cancer
More than 100 different types of HPV are currently identified, Pinnell highlights, and the types associated with cervical cancer and genital warts are not the same. "HPV is split into two categories – low-risk types and high-risk types – and only a few of these can cause cancer," she explains. "If you've had genital warts, which is caused by low-risk types, that doesn't mean you'd then go on to develop cancer or be at higher risk of that happening."
That said, it is possible to get multiple strains of HPV, so having genital warts doesn't mean you won't ever catch a high-risk HPV too.
4. People with high-risk HPV could definitely get cancer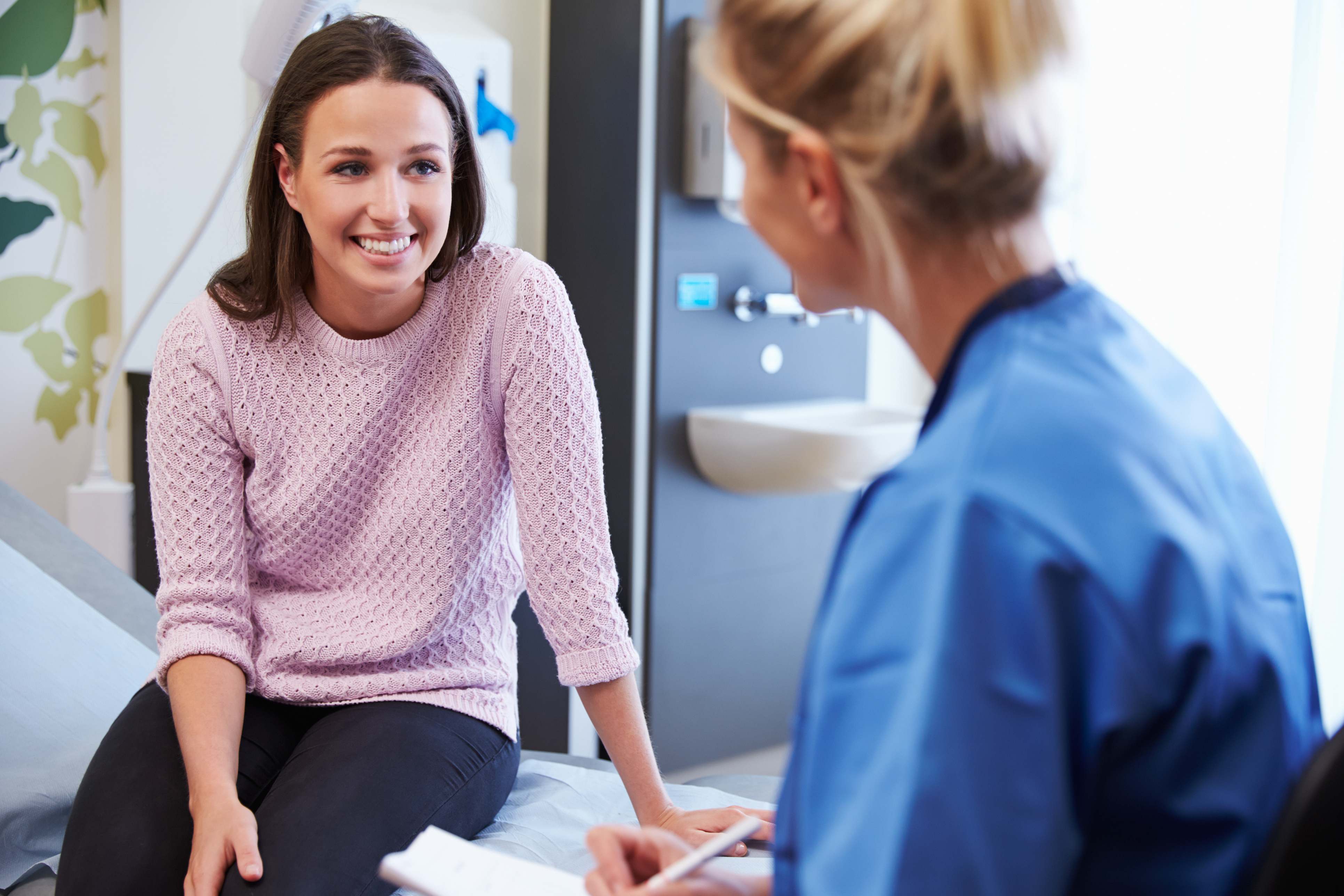 More than 3000 women are diagnosed with cervical cancer in the UK and Ireland each year and, according to Jo's Cervical Cancer Trust, around 99.7% of all cases are caused by high-risk HPV. So HPV is certainly a key factor but it's important to keep the figures in perspective, as the majority of women with HPV will not develop cancer.
In 2019, changes were introduced to the smear programme, meaning samples are now screened for high-risk HPV before being checked for cell changes. If cell changes are detected, women may be invited for further tests and treatment as required. If high-risk HPV is detected but not any cell changes, they'll be invited back for another test in 12 months' time.
"In around nine in 10 cases, your body will get rid of the HPV within two years," says Pinnell. "Even high-risk types of HPV, it doesn't mean you will definitely get cancer because most of us will clear it, our immune system will fight the infection off."
It's understandable to be anxious if you find out you've got high-risk HPV, but Pinnell reassures: "The important thing to remember is that your cells have been looked at, the virus isn't causing any changes at the moment and it could be that your body is simply in the process of fighting it off, so we'll bring you back in a year [to check again]. It's very unlikely something will have developed in a year, but we'll monitor you and make sure you're getting the right care and support."
5. Smear tests are designed to diagnose cervical cancer
Smear tests are mainly about preventing cancer. "They're a preventative test that aims to identify abnormal cell changes before cancer develops, rather than being there to diagnose cancer," says Pinnell.
The disease results in almost 900 deaths a year – a figure which would be much higher without smear tests, which are believed to prevent around 75% of cervical cancers from even developing. There's still room for improvement though, as around one in four (a quarter) of eligible women skip their smears.
6. You only really need a smear if you're having symptoms
Again, the purpose of smears is to detect cell changes before cancer, and therefore any symptoms, develops – so nobody should skip a smear on the basis of thinking they're fine.
7. Cervical cancer only really affects older women
Like many cancers, cervical cancer is more common among older age groups, but it certainly can still occur in younger women. "Overall, cervical cancer is classed as a rare cancer, in part thanks to the screening programme which prevents so many cases. But cervical cancer is still one of the most common cancers in women under 30, which is why our screening programmes starts at age 25," says Pinnell.
Regardless of when your next smear is due however, and whatever your age, Pinnell says everybody should see their GP if they notice any unusual changes or symptoms, such as bleeding between periods or after sex, pain, and unusual lumps, bumps or swelling in your abdomen, vulva or vagina. Bleeding after menopause should always be checked out quickly.
"Even though it's unlikely it's cancer, if it's something that's unusual for you or if it's causing any anxiety, go and get it checked out so your GP can give you any support or information or treatment you might need."
For more information about Cervical Cancer Prevention Week and the #SmearForSmear campaign, visit jostrust.org.uk/ccpw and jostrust.org.uk/smearforsmear.
---
Have you got a health question?
We've teamed up with AXA PPP healthcare to bring you articles, information and tips from their clinical teams on a wide range of health topics. And if you have a health related question of your own - about your or your family's health, medication or upcoming procedures, for example - you can also access their, "Ask the Expert" service. Available around the clock, 365 days a year this free resource allows you to ask the team of friendly and experienced nurses, midwives and pharmacists about any health concerns you may have - whenever you need them, 24 hours a day, every day. Please get in touch now.
Click below to submit your question online.

ASK THE EXPERT
---
SUBSCRIBE FOR AXA HEALTHCARE
AXA PPP healthcare ensure that, once you have a GP referral, you can choose who to see and where to go, from a list of approved specialists and hospitals. Making sure you get the treatment you need giving you the flexibility to manage your health around your lifestyle.
AXA PPP Private health insurance, put simply, offers you quick access to eligible health treatment, from seeing a specialist for diagnosis to having a comfortable stay while you're in hospital.
2 Months free healthcare cover for Silversurfers subscribers Plus a choice of FREE gift when you join*
The following two tabs change content below.
The Press Association
News from the Press Association - the national news agency for the UK and Ireland
Latest posts by The Press Association (see all)
Leave a Comment!
Community Terms & Conditions
Content standards
These content standards apply to any and all material which you contribute to our site (contributions), and to any interactive services associated with it.
You must comply with the spirit of the following standards as well as the letter. The standards apply to each part of any contribution as well as to its whole.
Contributions must:
be accurate (where they state facts); be genuinely held (where they state opinions); and comply with applicable law in the UK and in any country from which they are posted.
Contributions must not:
contain any material which is defamatory of any person; or contain any material which is obscene, offensive, hateful or inflammatory; or promote sexually explicit material; or promote violence; promote discrimination based on race, sex, religion, nationality, disability, sexual orientation or age; or infringe any copyright, database right or trade mark of any other person; or be likely to deceive any person; or be made in breach of any legal duty owed to a third party, such as a contractual duty or a duty of confidence; or promote any illegal activity; or be threatening, abuse or invade another's privacy, or cause annoyance, inconvenience or needless anxiety; or be likely to harass, upset, embarrass, alarm or annoy any other person; or be used to impersonate any person, or to misrepresent your identity or affiliation with any person; or give the impression that they emanate from us, if this is not the case; or advocate, promote or assist any unlawful act such as (by way of example only) copyright infringement or computer misuse.
Nurturing a safe environment
Our Silversurfers community is designed to foster friendships, based on trust, honesty, integrity and loyalty and is underpinned by these values.
We don't tolerate swearing, and reserve the right to remove any posts which we feel may offend others... let's keep it friendly!