First World War centenary: 6 poignant sites to visit in remembrance
With Remembrance Sunday almost upon us, here are some of the most moving places at which to pay your respects.
In large swathes of Belgium and France, battlegrounds, cemeteries and memorials still stand as a testament to the horrors of the First World War. Thousands flock every year to visit these foreign fields, and in the centenary year of the Armistice, their message is particularly important.
These magnificent, heartbreaking sites will remind you just how heavy the weight of history can be.
1. Tyne Cot Cemetery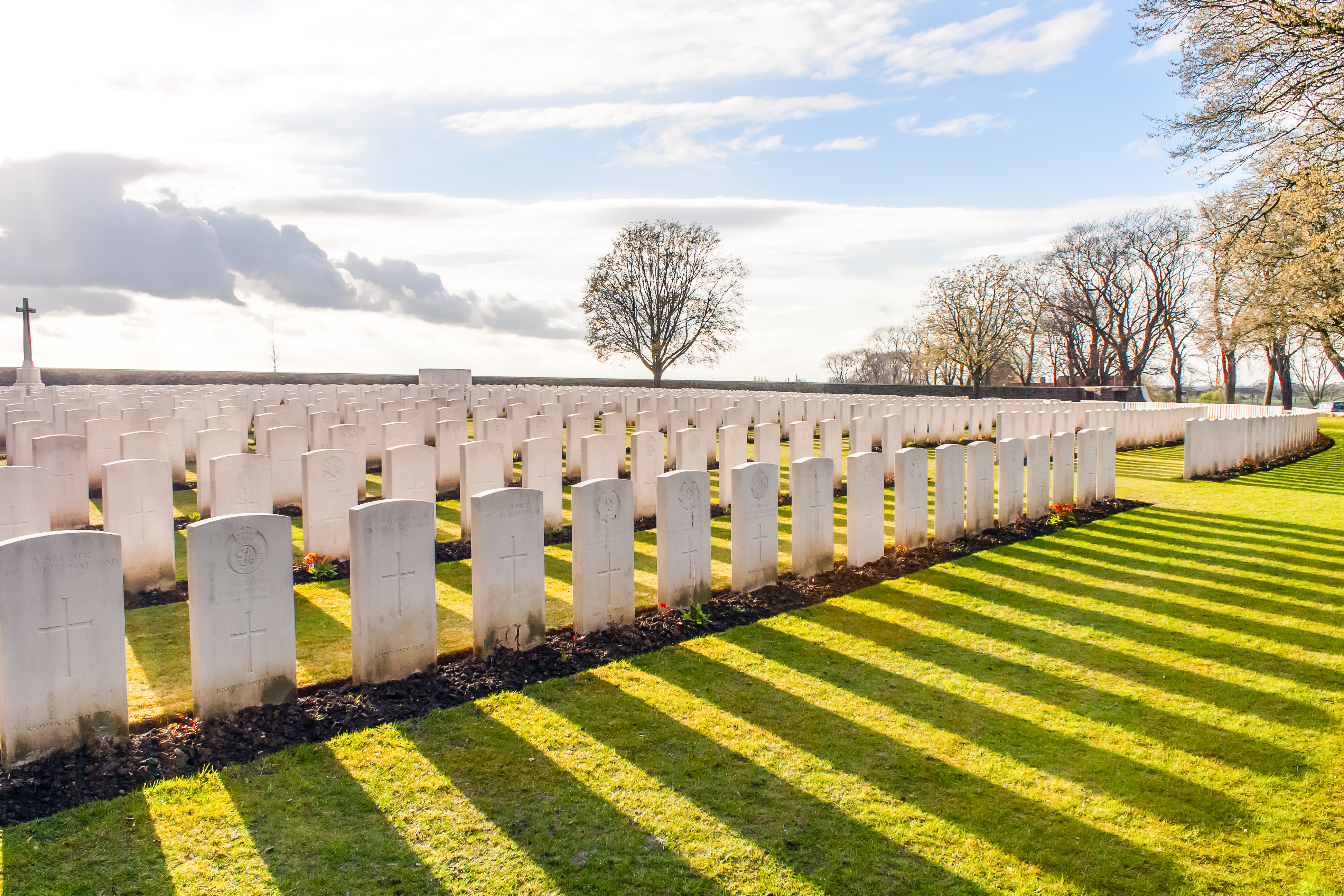 There are few places on Earth that capture tragedy on quite this scale. The largest Commonwealth cemetery in the world, Tyne Cot marks the final resting places of nearly 12,000 Commonwealth servicemen, most killed at Passchendaele and Langemarck.
2. The Somme battlefield
A byword for the futility of war, the Somme was one of the deadliest conflicts in human history, and one of the most miscalculated initiatives from Commonwealth command.
The so-called 'Remembrance Circuit' takes in several of the major flash points, giving a whistle stop but nevertheless harrowing tour of the mud, bullets and blood that defined this infamous battleground. If tackling the site independently, do not attempt to digest it all in one go – neither your feet nor constitution will manage.
3. The Thiepval Memorial
Standing guard over the Somme River lies the monolithic memorial at Thiepval. What Tyne Cot is for the dead, Thiepval is for the missing, alphabetically listing the name, rank and regiment of more than 72,000 soldiers with no known grave.
Thiepval is a notoriously tough place to visit: Most can find a soldier who bears their name, and it is common for guests to be unexpectedly confronted with a deceased relative.
4. The trenches of Vimy Ridge
Though often overlooked in GCSE history classes – its 10,000-odd Commonwealth casualties dwarfed by the Somme and Passchendaele – Vimy Ridge was an historic victory for Canadian forces that broke through enemy lines that had long repelled their British and French comrades.
Today, the site features some of the best-preserved trenches of the war, allowing visitors to gain insight into the subterranean claustrophobia, and make the short walk across no-man's land.
5. The Last Post at Menin Gate
At 8 o'clock every evening in the Belgian town of Ypres, trumpeters at the Menin Gate Memorial sound the Last Post – the slow, solemn bugle call that has symbolised commemoration ever since the Armistice.
The ceremony is a point of local pride, and there is something uniquely moving about standing united in remembrance, surrounded by people of all different backgrounds and nationalities.
6. HMS M.33
If you can't make the trip across the channel, Portsmouth's HMS M.33 is an option for some homegrown remembrance. Launched in 1915, this little 'monitor' ship is now the sole survivor of that year's catastrophic Gallipoli Campaign, and the only World War One warship currently open to the public.
Her well-earned retirement is spent alongside HMS Victory in the Portsmouth Historic Dockyard, where she was opened to the public in 2014.
The following two tabs change content below.
The Press Association
News from the Press Association - the national news agency for the UK and Ireland
Latest posts by The Press Association (see all)
Leave a Comment!
Community Terms & Conditions
Content standards
These content standards apply to any and all material which you contribute to our site (contributions), and to any interactive services associated with it.
You must comply with the spirit of the following standards as well as the letter. The standards apply to each part of any contribution as well as to its whole.
Contributions must:
be accurate (where they state facts); be genuinely held (where they state opinions); and comply with applicable law in the UK and in any country from which they are posted.
Contributions must not:
contain any material which is defamatory of any person; or contain any material which is obscene, offensive, hateful or inflammatory; or promote sexually explicit material; or promote violence; promote discrimination based on race, sex, religion, nationality, disability, sexual orientation or age; or infringe any copyright, database right or trade mark of any other person; or be likely to deceive any person; or be made in breach of any legal duty owed to a third party, such as a contractual duty or a duty of confidence; or promote any illegal activity; or be threatening, abuse or invade another's privacy, or cause annoyance, inconvenience or needless anxiety; or be likely to harass, upset, embarrass, alarm or annoy any other person; or be used to impersonate any person, or to misrepresent your identity or affiliation with any person; or give the impression that they emanate from us, if this is not the case; or advocate, promote or assist any unlawful act such as (by way of example only) copyright infringement or computer misuse.
Nurturing a safe environment
Our Silversurfers community is designed to foster friendships, based on trust, honesty, integrity and loyalty and is underpinned by these values.
We don't tolerate swearing, and reserve the right to remove any posts which we feel may offend others... let's keep it friendly!