5 of the best book to TV adaptations
Obviously, this list has to include Colin Firth as Mr Darcy in Pride and Prejudice.
The highly anticipated adaptation of Sally Rooney's novel Normal People is about to hit our screens.
If you've yet to read the Irish author's 2018 book, it follows the complicated relationship of Connell and Marianne, who go to the same high school in a small town and then both study at Trinity College Dublin. The show will be available as a boxset on BBC iPlayer from April 26.
TV adaptations are tricky, particularly when a book is as beloved as Normal People. We've all seen our favourite book get lost in translation for TV, but when it's done right it can be amazing.
To get ready for Normal People, here are some other adaptations which nailed some of our favourite books…
1. Alias Grace
The Handmaid's Tale is the biggest Margaret Atwood adaptation on television, but chances are you've already seen it. What about Alias Grace, one of Atwood's lesser known books?
Netflix brought the 1996 novel to the small screen in 2017. The story follows Grace, a poor Irish immigrant to Canada. Based on real-life events, Grace works as a cleaner and is accused of murdering her employer and his housekeeper. She's sent to prison, and the show is a look into criminal psychology as well as class and gender issues of the time. As with The Handmaid's Tale, many of Alias Grace's themes also work as a commentary on today's society.
Available on Netflix.
2. His Dark Materials
This isn't the first adaptation of Philip Pullman's trilogy, but it might be the best. With a stellar cast of James McAvoy, Ruth Wilson and Lin-Manuel Miranda, the eight-part series follows Lyra, a young orphan living in an Oxford college. She soon gets caught up in a dangerous scheme in search of her missing friend. The show is gripping and the animation of each character's daemon – their animal companion – is perfect.
Now is definitely the time to watch His Dark Materials, as it's already been renewed for a second series.
Available on BBC iPlayer.
3. Pride and Prejudice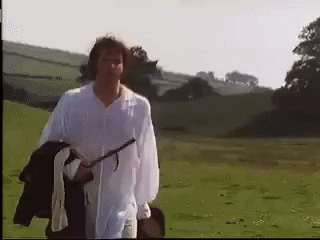 If you want to go old school, few things are more comforting than watching the 1995 adaptation of Pride and Prejudice. Yes, this is the one with the iconic scene of Colin Firth as Mr Darcy walking out of the lake with his white shirt clinging to him.
Pride and Prejudice has seen so many interpretations – from zombies to Christmas versions – sometimes it's nice to go back to basics and watch a faithful, unadulterated adaptation of Jane Austen's classic.
Available on Netflix.
4. A Series of Unfortunate Events
Even though Lemony Snicket's novels are ostensibly for children, this Netflix adaptation really is for everyone. It's a faithful portrayal of Snicket's weird and wonderful tales which follow orphans Violet, Klaus, and Sunny Baudelaire, who go through a string of guardians after their parents mysteriously die in a fire. They're followed by the malevolent Count Olaf – who Neil Patrick Harris plays with a delightful amount of hammy evilness.
It's dark, funny, and Netflix have certainly put a lot of money into making it, meaning each new set is more astounding than the last.
Available on Netflix.
5. The Night Manager
If you missed the phenomenon that was the BBC's 2016 adaptation of John le Carré's The Night Manager, now is the time to catch up – or even watch it again. With a star-studded cast of Tom Hiddleston, Hugh Laurie, Olivia Colman, Tom Hollander and Elizabeth Debicki, the six-part series follows Hiddleston, a night manager at a luxury hotel in Cairo who is recruited to infiltrate the inner circle of an illegal arms dealer.
There's a reason this version of The Night Manager won so much acclaim and awards – it's got that 'can't put down' feeling of a good book, and is phenomenally well acted.
Available on Amazon Prime.
The following two tabs change content below.
The Press Association
News from the Press Association - the national news agency for the UK and Ireland
Latest posts by The Press Association (see all)
Leave a Comment!
Loading Comments