7 apps that help you to live smarter and feel happier
Smartphones often get a bad rep for having a negative impact on our time, mood and happiness, and while this is often the case when it comes to scrolling endlessly on social media feeds, there are some apps that can actually change your life for the better.
Whether you're stressed on your commute, are struggling to save money or need something to help make you more productive, your smartphone can provide a cheap but effective solution for all manner of organisational and wellbeing issues – think of it like the life coach that you'd never otherwise be able to afford.
So where to start? Here, we've run down just a few apps that promise to help banish stress, restore harmony, and give your time the upgrade it's probably long overdue…
1. Pocket yoga
How many times have you resolved to wake up early to exercise before work? If getting to the gym for that 6am sunrise yoga session still feels like a struggle, take baby steps by lighting a few candles, rolling out a mat in your living room and trying an app workout instead.
This one recreates the experience of being in a professional studio with soothing music, a gentle audio guide and helpful animations to help you to correctly sink into every pose. You don't need a Wi-Fi connection either, meaning you can deepen your practice wherever in the world you might be. Visit pocketyoga.com.

2. Stop, Breathe And Think
They say there's an app for everything, and now there's even one for inhaling correctly. Stop, Breathe And Think is a handy app that reminds you to check in with your breath during moments of stress and anxiety throughout the day, helping you stop negative or unhelpful thoughts from spiralling out of control.
Every time you log in, you'll be asked to rate your mood, so the app can pair you up with the most helpful mindfulness exercises for that moment. As you continue using the app, it tracks your mood over time, helping you identify patterns. Visit stopbreathethink.com.

3. Monzo
Is there anything more anxiety-inducing than shielding your eyes from your  bank balance as you try to take money out of a cash machine? If this happens on a monthly basis, it's probably time to download a money organising app to help get on top of your finances.
Monzo helps you to set a reasonable budget for the month, and uses easy-to-decipher graphics to show you exactly where your money is being spent – from food and drink to shopping and travel; it's a great way to get an overview of how and where you can save. You don't have to plug in multiple passwords and identification code either, which makes it easier to keep checking on your balance throughout the day. Visit monzo.com.
4. Super Better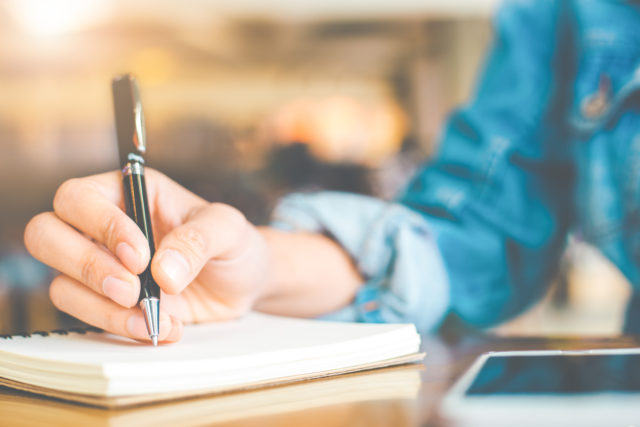 The summer's coming to an end, a new school year is about to roll around, and Christmas is still ages away – it's no wonder that this time of the year can often feel like a bit of a dead end. Thankfully, being happy is a skill that you can cultivate even during dullest of seasons, or so believe the creators of Super Better.
Once you sign up, you can choose a goal you want to work towards, and add 'quests' to your account that can help you brain-train your way to a more positive mindset. As you progress, you'll earn points in different character areas, like mental, emotional, social, and physical resilience. Visit superbetter.com.

5. Evernote
If you're always looking for a pen and an old receipt to jot down something interesting, you really should invest in a note taking app – and Evernote is one of the best ones out there.
It's a handy place where you can digitally dump everything you might want to save for a later date, like to-do lists, interesting web links, photos of business cards or snippets of audio. When you need to come back to it, it's really easy to search and filter through your old notes – much less stressful than searching around on your knees for that errant receipt you wrote on months ago. Visit evernote.com.

6. My Possible Self
If you're struggling with anxiety or depression, this app is a good tool to have on-hand for moments where you need a pocket therapist. Following an initial assessment, you'll be given three emotions to track over time, like irritability, loss, motivation and confidence. It's up to you to then build your own customised plan, and work through modules of exercises to help ease the negative feelings that come with stress and change.
The 'moments' is pretty cool too; it allows you to keep photos, videos, input diary entries or pin your favourite quote to one safe space. Visit mypossibleself.com.

7. Waterlogged 
Forever leaving yourself 'must drink more water' notes on your fridge? Then you really need to download an app that can help ensure you keep well hydrated. This one lets you set your daily goal and then log how many glasses you drink per day. If you often get sidetracked from regular sink breaks, it also has an alert feature that can buzz you every time you need a top up. Bottoms up. Visit waterlogged.com.
The following two tabs change content below.
The Press Association
News from the Press Association - the national news agency for the UK and Ireland
Latest posts by The Press Association (see all)
Leave a Comment!
Loading Comments