Winter vegetable soup recipe with dumplings
What could be better on a chilly day than a warming bowl of soup?
Bursting with flavour and topped with steamed dumplings, this hearty soup, from the Hairy Bikers' new veggie cookbook, is a real winter warmer. Plus it can be made vegan by using vegetarian suet instead of butter in the dumplings.
Winter vegetable soup with dumplings recipe
Ingredients:
(Serves 4)
2tbsp olive oil
1 onion, finely chopped
1 celery stick, finely chopped
600g root vegetables, such as carrots, parsnips, swede, turnips, celeriac and potatoes, sliced or diced
150g beetroot (100g peeled and diced, 50g grated)
3 garlic cloves, finely chopped
1tsp dried thyme or 2 sprigs of fresh
50g barley
Up to 1.5L vegetable stock
1tsp Marmite
2 leeks, finely sliced
100g kale, shredded
Sea salt and black pepper
To make the dumplings:
150g self-raising flour
75g butter or vegetarian suet
1tsp caraway seeds (optional)
1tsp dried thyme
To serve:
Finely chopped dill or parsley
Dollops of mustard or horseradish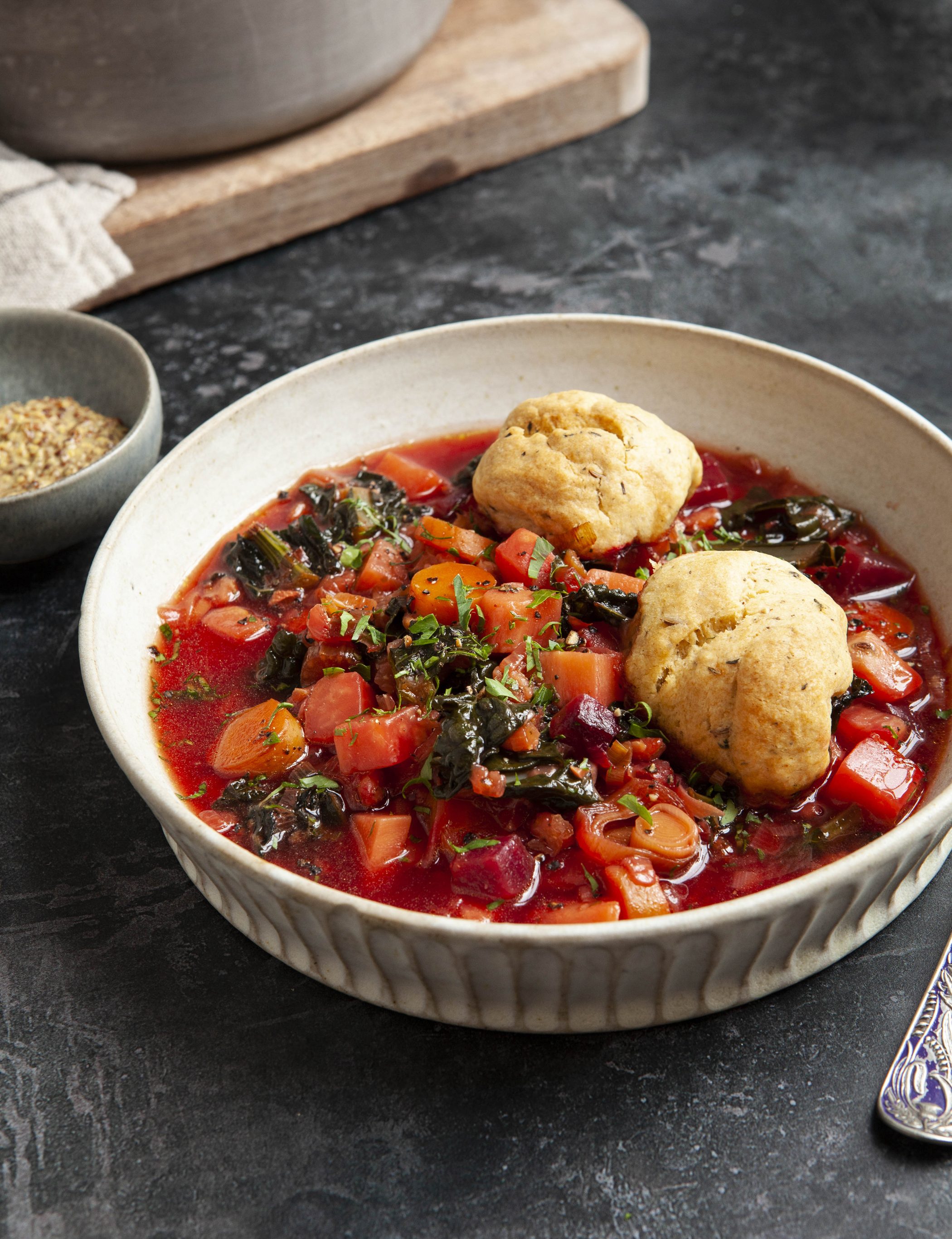 Method:

1. Heat the oil in a saucepan or a flameproof casserole dish. Add the onion and cook gently over a medium-high heat until it starts to take on some colour. Add the root vegetables, including the diced beetroot, but not the grated, and continue to cook, stirring regularly, for another 10 minutes until they start to reduce in volume.
2. Stir in the garlic, thyme and barley and cook for another couple of minutes. Pour in 1.2 litres of the stock and season. Bring to the boil, then turn down to a fast simmer. Stir in the Marmite (the heat will melt it off the spoon) and partially cover the pan with a lid. Simmer for about 20 minutes until the vegetables start to soften.
3. Add the leeks and kale. Continue to cook until the barley is swollen and slightly al dente and the vegetables are tender – this should take 15–20 minutes. Add more liquid if the soup gets too thick.
4. Meanwhile, make the dumplings. If you want the dumplings firm and lightly browned, preheat the oven to 200°C/Fan 180°C/Gas 6, or you can just steam them on top of the soup. Put the flour into a bowl and add the butter or suet. Rub in the fat, then season well. Add the caraway seeds, if using, and the thyme and just enough water to make a slightly tacky dough. Divide the
dough into eight pieces and roll into balls.
5. Stir the grated beetroot into the soup. Drop the dumplings on top of the soup and either put the pan in the oven for about 15 minutes until the dumplings are puffed up and lightly browned, or cover and leave to simmer on the hob for 15–20 minutes. Garnish with dill or parsley and serve with dollops of mustard or horseradish.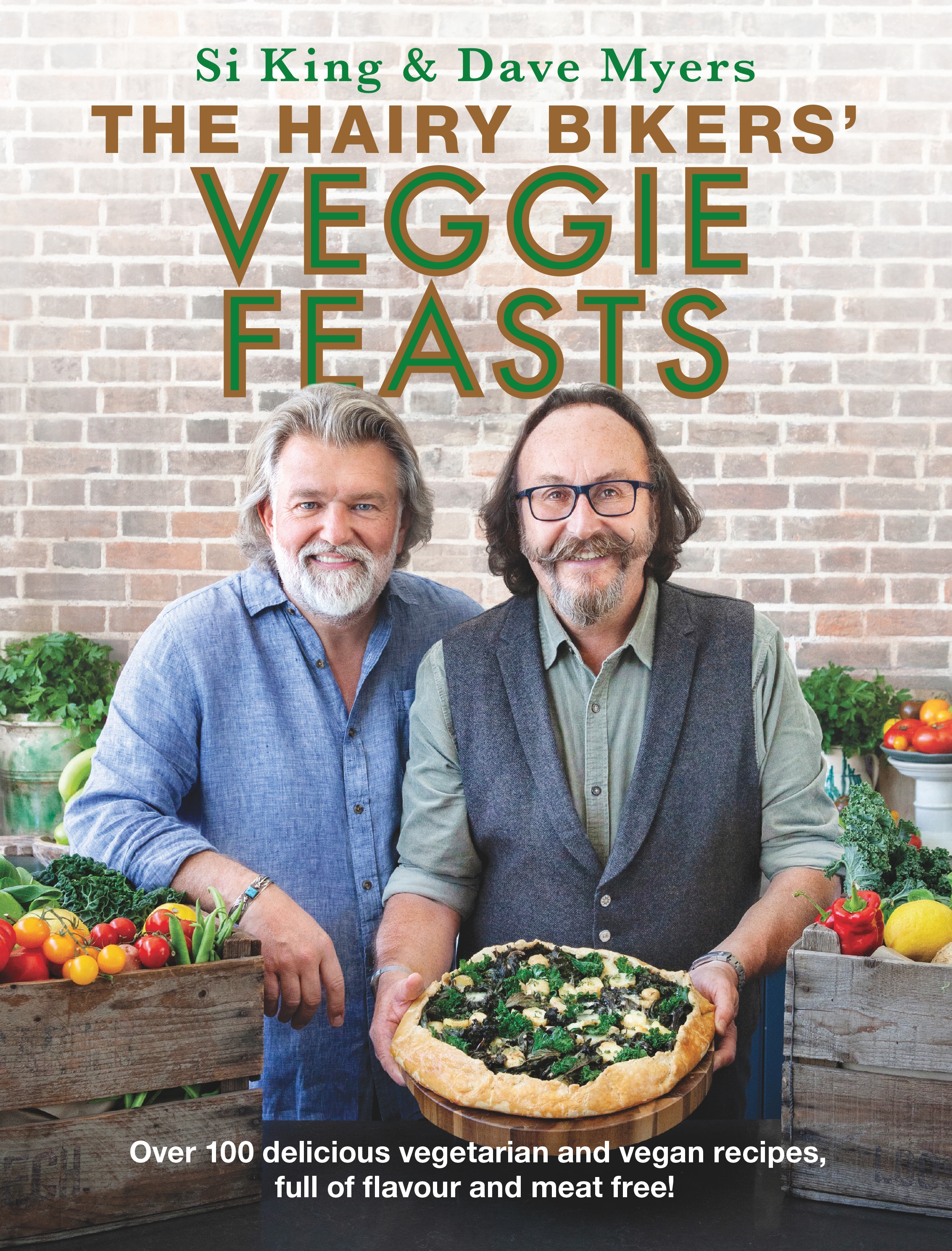 The Hairy Bikers' Veggie Feasts by Si King and Dave Myers, photography by Andrew Hayes-Watkins. Available now 
Leave a Comment!
Community Terms & Conditions
Content standards
These content standards apply to any and all material which you contribute to our site (contributions), and to any interactive services associated with it.
You must comply with the spirit of the following standards as well as the letter. The standards apply to each part of any contribution as well as to its whole.
Contributions must:
be accurate (where they state facts); be genuinely held (where they state opinions); and comply with applicable law in the UK and in any country from which they are posted.
Contributions must not:
contain any material which is defamatory of any person; or contain any material which is obscene, offensive, hateful or inflammatory; or promote sexually explicit material; or promote violence; promote discrimination based on race, sex, religion, nationality, disability, sexual orientation or age; or infringe any copyright, database right or trade mark of any other person; or be likely to deceive any person; or be made in breach of any legal duty owed to a third party, such as a contractual duty or a duty of confidence; or promote any illegal activity; or be threatening, abuse or invade another's privacy, or cause annoyance, inconvenience or needless anxiety; or be likely to harass, upset, embarrass, alarm or annoy any other person; or be used to impersonate any person, or to misrepresent your identity or affiliation with any person; or give the impression that they emanate from us, if this is not the case; or advocate, promote or assist any unlawful act such as (by way of example only) copyright infringement or computer misuse.
Nurturing a safe environment
Our Silversurfers community is designed to foster friendships, based on trust, honesty, integrity and loyalty and is underpinned by these values.
We don't tolerate swearing, and reserve the right to remove any posts which we feel may offend others... let's keep it friendly!